Meeting the Preferences of All your Thanksgiving Guests!
Thanksgiving and the challenge of a menu that meets all the preferences of invited guests-that's the dilemma I'm facing this year.
And the preferences of my invited guests? Two mainly: 1) meat eaters that LOVE their ham and roast turkey, and 2) non-meat eaters (aka vegans) that love their whole foods-especially veggies. (BTW: Have you noticed more and more vegans showing up around our dinner tables lately? Folks are discovering the practical and health reasons for eating more fruits and vegetables and are eating less meat today.)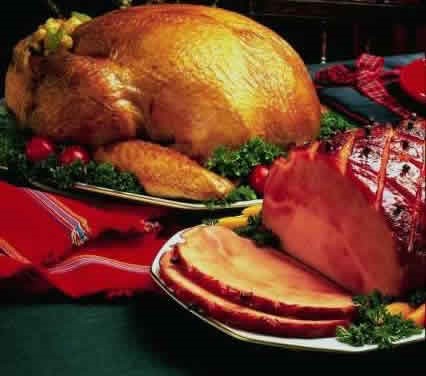 Anyway, the traditional ham and turkey recipes and their presentation are no problem. It's been going on for years in our house and with great success. But now it's time to present some veggie dishes that are not just scrumptious, but that look as good as they taste (the way ham and turkey does).
Well lucky me. I discovered just the help I was looking for in a series of articles in The New York Times. Sam Sifton was sharing the advice. Whenever I find anything he's written, I pay attention because he knows his stuff. He's the founding editor of New York Times Cooking, food writer for The Sunday Times Magazine, national editor, restaurant critic and culture editor of The New York Times, and author of Thanksgiving: How to Cook It Well.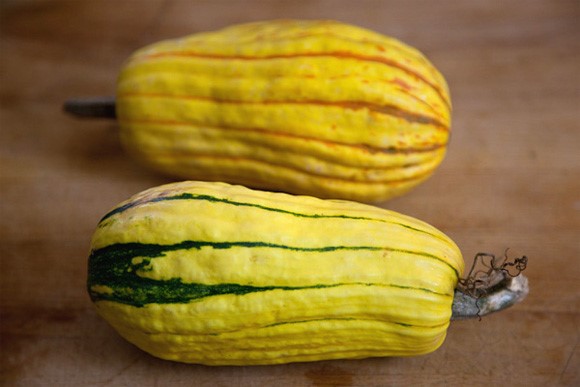 For instance, here's his recipe for a vegetarian dinner course of impressive size and heft, to rival any stuffed chicken, roasted turkey or glazed ham. The interior is a riff on a kale salad run through with croutons, dried cranberries, blue cheese and a spray of maple-scented pecans that complement the sweet flesh of the squash. You could use small sugar pumpkins for the main event, or really any sweet-fleshed winter squash, but delicata squash is Sam's favorite option for reasons of taste and beauty. Unless you are serving it as a side dish, avoid the temptation to cut the squash vertically, to create boats for the stuffing. Boats are for side dishes. They are halves of a whole. For a main course, serve a squash per person, standing tall on each plate.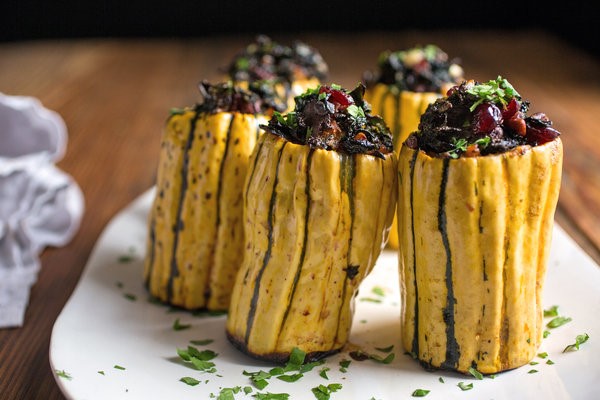 WHOLE ROASTED DELICATA SQUASH (serves 6)
6 small delicata squash, about 1 pound each
Kosher salt and ground black pepper, to taste
Olive oil, for the baking sheet
4 tablespoons unsalted butter
2 medium onions, diced
1 bunch kale (about 1 pound), trimmed and chopped
6 ounces whole-grain bread, cut into 3/4-inch cubes (about 3 cups), from a good-quality loaf
½ cup crumbled blue cheese
½ cup dried cranberries
½ cup pecans, roughly chopped
2 tablespoons pure maple syrup
2 tablespoons chopped parsley, for garnish
Cut 1 inch off the top and bottom of each squash. Use a melon baller or small spoon to scrape out the seeds. Sprinkle the inside of the squash with salt and pepper, then stand them upright on an oiled baking sheet.
Heat oven to 425°F. In a large saucepan set over medium-high heat, melt 2 tablespoons of the butter. When it foams, add onions to pan and sauté, stirring frequently, until they begin to soften and turn translucent, approximately 6 to 8 minutes. Add kale to pan and continue to cook, tossing, until kale begins to wilt, about 5 minutes. Remove pan from heat and put vegetables into a large bowl.
Meanwhile, place bread cubes on a sheet pan and toast in the oven until they begin to crisp on the outside, approximately 7 to 9 minutes. Add bread cubes to the bowl with the vegetables, and then add blue cheese and cranberries. Stir to combine.
Put pecans in a dry sauté pan set over medium heat and toast the nuts until they begin to darken and turn fragrant, approximately 4 to 6 minutes. Stir in maple syrup and allow to cook for 1 minute, then scrape into the bowl with the rest of the stuffing and toss to combine. Taste and season the mixture with salt and pepper.
Lower oven temperature to 400°F. Divide the stuffing between the squash. Cut the remaining 2 tablespoons of butter into 6 pieces, and top each squash with a dot of butter. Roast squash until the flesh has softened and you can easily pierce it with a fork, approximately 45 minutes. If the squash is browning too quickly, lay a sheet of aluminum foil over the top to prevent burning.
Sprinkle parsley over the squash. Serve 1 whole squash per person as a main course, or 1/2 squash or less as a side dish.
Then there was a recipe by Martha Rose Shulman, the author of the NYTimes weekly column, "Recipes for Health." It's a soufflé made with sweet potatoes. Martha says it's not too sweet to serve as a starter for your Thanksgiving meal, but it also makes an impressive dessert and it's easier than pie to make. Cool-two dishes for the price of one recipe! And she says you can make individual soufflés (as shown) or one large one.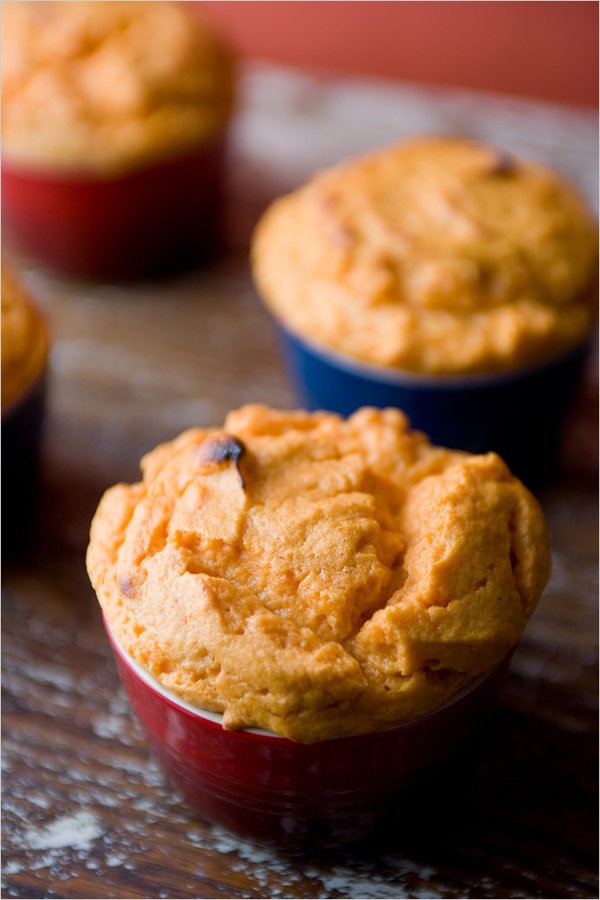 SWEET POTATO SOUFFLE (serves 6)
2 pounds sweet potatoes
1 tablespoon unsalted butter
3 tablespoons sugar
¼ cup mild honey, such as clover
½ teaspoon ground cinnamon
¼ teaspoon freshly grated nutmeg
⅛ teaspoon salt
¼ teaspoon ground ginger
¼ cup plain low-fat yogurt
2 teaspoons freshly squeezed lime juice
8 egg whites, at room temperature
⅛ teaspoon cream of tartar
Preheat the oven to 425ºF. Scrub the sweet potatoes and pierce in several places with a sharp knife. Line a baking sheet with foil and place the potatoes on top. Bake for 45 minutes to an hour, depending on the size of the potatoes, until thoroughly soft and beginning to ooze. Remove from the heat and let cool.
Adjust the rack to the lower third of the oven and turn the oven down to 400ºF. Rub the inside of a 2-quart soufflé dish or six 1- or 1 1/2-cup soufflé dishes with butter and dust with 2 tablespoons of the sugar, tilting the dish to coat evenly.
Peel the potatoes and puree in a food processor fitted with the steel blade. Add the honey, cinnamon, nutmeg, salt, ginger, yogurt, and lime juice and mix together well.
Begin beating the egg whites at medium speed in a standing mixer fitted with the whisk attachment or with an electric beater. When they begin to foam, add the cream of tartar. When soft peaks begin to form, slowly add the remaining tablespoon of sugar while beating and continue to beat until the egg whites form stiff but not dry peaks. Stir one fourth into the sweet potatoes, and gently fold in the remainder. Scrape into the soufflé dish (or dishes). Place on a baking sheet and bake a large soufflé for 20 to 25 minutes, small soufflés for 15 minutes, or until puffed and just beginning to brown. Serve at once. The soufflé should be runny on the inside.
And I'll conclude with one more of Martha Rose Shulman's recipes (see below). This is a creamy, comforting winter soup that Martha says is incredibly simple to make. (SIMPLE is good when it comes to the time-consuming meal prep Thanksgiving dinner takes, don't you think?) All you need to do is blend together broth and roasted vegetables and heat through. You can make the soup with other roasted vegetables as well, but Martha says the sweet combination of the carrots and parsnips is amazing. The recipe calls for about 4 cups of roasted vegetables.
Armed with these recipes (and enough time to practice them before the big day) I think the dilemma is solved-I think the dining preferences of all our guest will be met!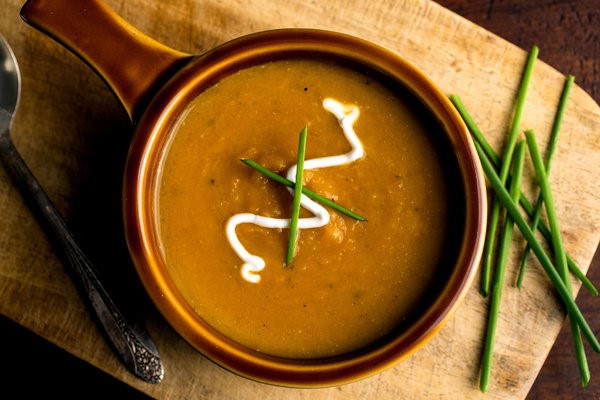 ROASTED CARROT, POTATO, AND PARSNIP SOUP (serves 6)
1 ½ pounds carrots, peeled and cut in 3/4 inch pieces
½ pound (2 large) parsnips, peeled, quartered, cored and cut in 3/4 inch pieces
1 medium or large red onion, cut in large dices
1 medium Yukon Gold potato, quartered
2 garlic cloves, in the skin
2 tablespoons extra virgin olive oil
Salt and freshly ground pepper, to taste
6 cups chicken or vegetable stock or broth
Chopped fresh herbs, such as parsley, thyme, tarragon or chives, for garnish
Crème fraîche or yogurt for garnish (optional)
Preheat oven to 425 degrees. Line a sheet pan or a baking dish with parchment or foil. Toss vegetables, including garlic cloves, with olive oil and salt and pepper to taste. Spread in baking dish or on sheet pan in an even layer and place in oven. Set timer for 20 minutes.
After 20 minutes, stir vegetables and turn heat down to 400 degrees. Roast for another 20 to 30 minutes (or longer; I have found every oven I've used to be different, thus the range), or until very tender and caramelized on the edges, stirring every 10 minutes. Remove from the heat. You should have about 4 cups roasted vegetables.
Hold garlic cloves with a towel so that you don't burn your fingers. Squeeze out the pulp into a blender. Add half the vegetables and 2 cups of the stock. Cover the top of the blender with a towel pulled down tight, rather than airtight with the lid, because hot mixture will jump and push the top off if the blender is closed airtight. Blend until smooth and transfer to a soup pot. Repeat with the second half of the roasted vegetables. Transfer to the pot and whisk in remaining broth. Season to taste with salt and pepper and heat through. Serve each bowl with a sprinkle of chopped fresh herbs and if you wish, a swirl of crème fraîche or yogurt.
TIP: For a really smooth puree, after you blend the soup put it through a medium strainer.
Add Recipe to Cook'n
Sources:
www.chezpim.com
www.trim-ritemeats.com
www.cooking.nytimes.com

Alice Osborne
Weekly Newsletter Contributor since 2006
Email the author! alice@dvo.com