BEST Chex Mix EVER. GREAT gift idea

SO…..
I just made the BEST CHEX MIX EVER! I thought it was so tasty. I think you might have seen this one recently, but I decided to make it and just had to share it with you. It has every thing good you have ever tried mixed into one bowl. Hallelujah!
We were having a movie night and I had to bring a treat to share. I knew I would be a little stressed for time. I was worried at first to make this because it seemed a little involved, but don't get worried! It was just a matter of pulling out a few bowls and melting a few things.
Tips:
Melt the chocolate in small intervals so it doesn't seize up. It will be really hard to drizzle if it seizes. However, if it does seize, add a little bit of oil or shortening and it will usually help. It won't end up with as crunchy of a texture, but it will at least be drizzable. Margarine will probably have the opposite effect as it has lots of water in it.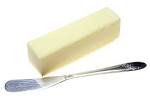 Don't eat some of the Chex beforehand like I did, YOU WON"T END UP WITH 8 CUPS. Oops. It's just so yummy I couldn't help myself. You might even need to buy 2 boxes to be safe.
You can buy caramel bits, but I think caramels might taste better. Just chop them with kitchen shears before and they will actually melt really easily.
I added golden grahams, too and made it somewhat of a s'mores mix. If there is any other things you think are to die for, add them in the mix. They'll probably fit. My aunt has done Rolo's
Make sure you have enough of all the ingredients. I was a little short on the marshmallows and was bummed. I think the marshmallows are surprisingly one of my favorite parts.

LISTEN to the part that says wait to add the Reese's until cool. I thought it was good enough but they did start to melt a bit. Really let it cool all they way.
You can easily use this as a gift. I have already decided I'm probably going to get cute cellophane bags and make this stuff to give out at Christmas time. It's pretty and I haven't met anyone who doesn't like it. It's bascially a lot of chocolate and caramel. So it's pretty easy to like. I like that it makes a lot but doesn't take a lot of time or effort. Don't we need more of that in the holidays?
Better than Almost Anything Chex Mix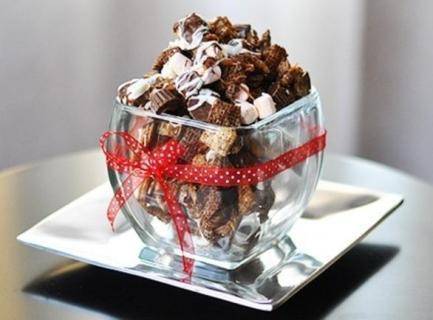 Ingredients:
8

cups

, chocolate chex

mixes

3/4

cup

, brown

sugar

, firmly packed

6

tbsp

butter

, softened

3

tbsp

corn syrup

, light

1/4

teaspoon

baking soda

1

cup

, reese's

peanut butter cup

, mini size

1

cup

, miniature marshmellows

1/2

cup

, caramel bits

1

tbsp

heavy cream

1/2

cup

, milk

chocolate

chips

1/2

cup

, vanilla

chocolate

chips

1

teaspoon

coarse sea

salt
Directions:
Directions Step-By-Step 1 Into large microwavable bowl, measure cereal; set aside. Line cookie sheet with waxed paper or foil. In 2-cup microwavable measuring cup, microwave brown sugar, butter and corn syrup uncovered on High 1 to 2 minutes, stirring after 1 minute, until melted and smooth. Stir in baking soda until dissolved. Pour caramel mixture over cereal, stirring until evenly coated. Microwave on High 3 minutes, stirring every minute. Spread on cookie sheet. Cool 10 minutes. Break into bite-sized pieces. Make sure Chex mixture is cool to the touch (so candy doesn't melt.) Evenly sprinkle mini peanut butter cups candy and miniature marshmallows over Chex mixture. In small microwavable bowl, microwave caramel baking bits and cream uncovered on High about 1 minute or until chips can be stirred smooth. Use a spoon or fork to drizzle over snack. Microwave the milk chocolate baking chips next, starting with 20-seconds and stirring, then at 20 second intervals until the mixture is completely smooth (microwave temps vary, so watch the chocolate and stir frequently until it's of drizzling consistency). Drizzle over the snack mixture. Then microwave the vanilla (white) baking chips in 20-second intervals, stirring until smooth, and drizzle that over the snack mixture. (Note: The vanilla and milk chocolate chips should not need cream added.) Quickly sprinkle coarse salt over all while candy drizzles are still wet. Refrigerate until set. Break apart and store in tightly covered container. Perfect for gift giving! 2 DESSERT IDEA: Create parfait desserts by layering Chex mix and lightly sweetened whipped cream!

Add Recipe to Cook'n
Sources:
https://encrypted-tbn2.gstatic.com/images?q=tbn:ANd9GcRovtE9RlT4CgfJorS57yudr_LINCds1-XKFC0XIiWtytoOQ3idhm2PrJqY
https://encrypted-tbn1.gstatic.com/images?q=tbn:ANd9GcSJKnZ2fA0CmGfDqTZ7rdg8ukH8oEFhm8Ln1YrnQt19IewkUcE6NaeRQ1zm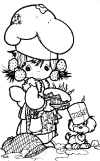 Sydney Hill
Weekly Newsletter Contributor since 2012
Email the author! sydney@dvo.com
---