Kitchen Tool--- TOO COOL
There is a kitchen tool I've been dying to tell you about for months. And now some of you may be harvesting your tomatoes, so I thought it might be a good time to share. (even if you're not, this tool is too cool, it's always a good time to use it. )
What is it? A manual food processor.
Many of you might have these, or maybe some of you have a food chopper. But let me tell you why I like this one and why I bought it. It's a version from Pampered Chef.
This little guy is little. No need to take up your counter and cabinet space with a big ol' thing. It's probably about 8 inches by 8 inches (not exact measurements, but I just know it's not big).
Only three simple parts. It makes it very easy to clean. There's no weird nooks and crannies for food to disappear into.
Most of it is Dishwasher safe (can you hear the hallelujah chorus singing?) Hallelujah! The lid is the only part that is not, but it doesn't get super dirty anyway and is very easy to wipe off.
You can make a plethora of things! From mixing dressings to making salsa, to chopping onions, you have a lot of bases covered.
You can chop more onion than in a food chopper. You have to do little bits at a time with a food chopper, so the food processor is faster.
SO easy on the hand! I remember my mom using the food chopper. It could wake up a cow! You have to hit it so hard that it's loud and it hurts your hand. With the processor the mechanism works similar to a salad spinner. You just gently push down on a lever, and it does the rest. And it's still powerful.
With all of this said, I don't want you to completely disregard a food chopper. It still serves it's purpose in chopping to the size you want, etc. It is still kitchen worthy.
I just love the food processor enough that I wanted people to know about it!
And look what else you can do with it! Just in time for Halloween, too!
I would like to ask a question, and I don't know how many people will respond because I don't know how many have tried both. No matter the type of chopper or processor you own or have tried, which do you prefer? How many are for chopper's? How many are for processors? If you have comments on either, please feel free to post opinions or experiences in the comments.
Sources:
http://t0.gstatic.com/images?q=tbn:ANd9GcSpnTyZVH1N5q4VAUOeMORa_i6CFRqVXFV-oBykNGq1LI3pd2kmeDsoTl0
http://t3.gstatic.com/images?q=tbn:ANd9GcQkG86u7PHqQH2L4DfFIC8LP2deQ99_dHUMFqLCsTjAdNDPHvoZ4gPNXu8
http://t1.gstatic.com/images?q=tbn:ANd9GcRFnjIkY3NBuGvbT3Pr8Hz8eLqRlHnSa8MglpoKTTAZSyMMSfeAbhDEwnE
http://t0.gstatic.com/images?q=tbn:ANd9GcSU-mJVXqKTczpDZEOvtPRB2Ubdv1dmkY8-QMBTfr7AmhhX0q6Aa1ALWJI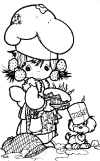 Sydney Hill
Weekly Newsletter Contributor since 2012
Email the author! sydney@dvo.com