"Fall" In Love With Your Kitchen
In the spring I wrote an article about making your kitchen feel and look and smell like spring- and I thought maybe I should do the same thing for fall! I love when people really get into the holidays and seasons and deck out their homes accordingly- it just makes things so much more fun! And the autumn season is no exception :).
Here are some ideas for your kitchen to help things feel a little cozy as it gets a little nippier outside:
Leaves, leaves, and more leaves. This is probably the most obvious one. Nothing says fall like a bunch of colored leaves! And there are so many things you could do with fall leaves. You could make a garland for your table, which could help accent any centerpiece you have whether fall-related or not; you could create a wreath to hang on the wall or above a window, or you could simply sprinkle your table with colored leaves to add a festive fall look.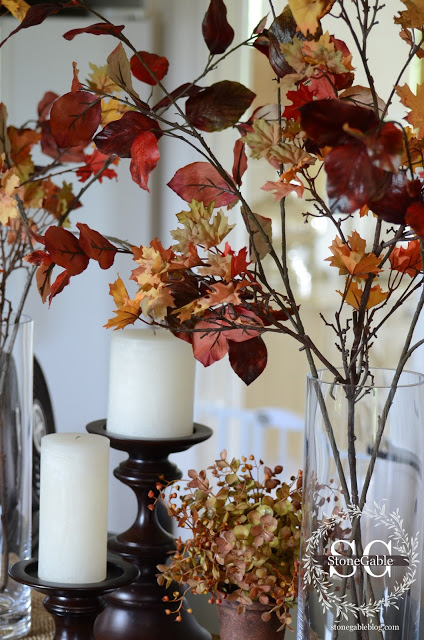 Anything outdoorsy. You may not have access to all the leaves you might want, but you could tie in anything from the great outdoors to make it more festive. Acorns, pinecones, twigs, etc. could all add a touch of fall to any decorations you might have.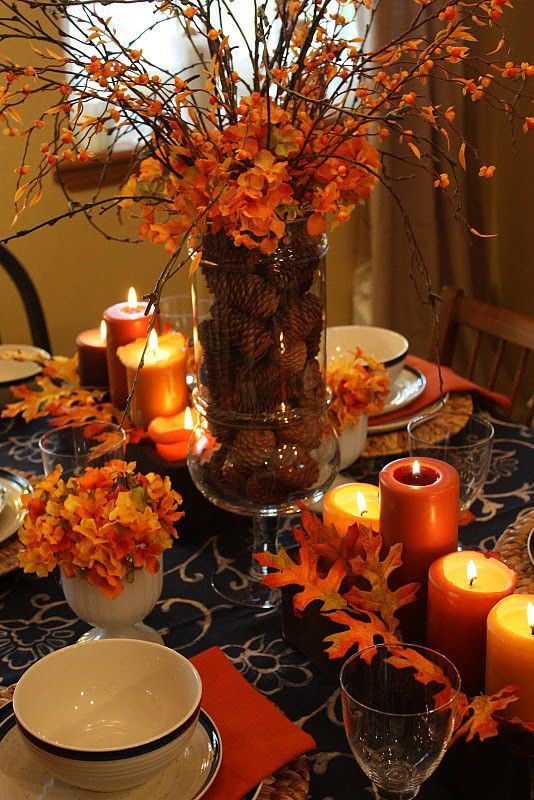 Think red, yellow, orange, brown. And the occasional hint of green:). Even if you don't have specific fall items such as leaves and pumpkins, you could still add an autumn ambiance to your kitchen by throwing in hints of fall colors. You could use a colored tablecloth, placemats, red, orange and yellow candles, wooden décor, or anything that brings those beautiful autumn colors into your kitchen.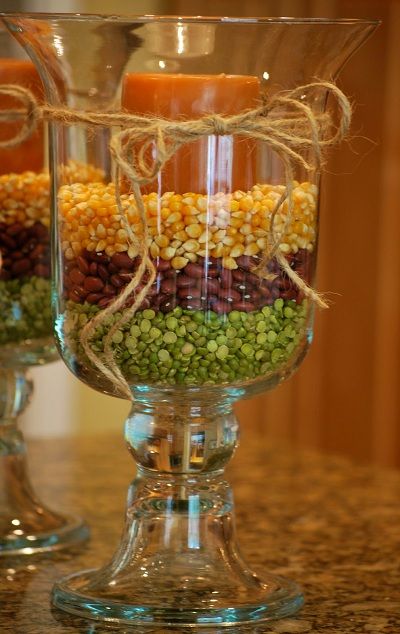 Pumpkins. This could be as easy as putting a pumpkin or two in the middle of your table as a centerpiece (accompanied by some leaves), or you could go all out and get several pumpkins to sprinkle all over your kitchen.
Signs of gratitude. I feel like fall is a great time to remember all the things we have, and show gratitude for those things; not just because of Thanksgiving, but also because we get to enjoy a beautiful earth and many of us get to enjoy a bountiful (or maybe not quite as bountiful;) ) harvest from our gardens. Put little decorative signs up that remind you to show gratitude for the many blessings in your life. I even saw a cute idea where someone used a vase of twigs with fall covered leaves as their table centerpiece- but they also attached pictures of the things they were grateful for (family, friends , etc).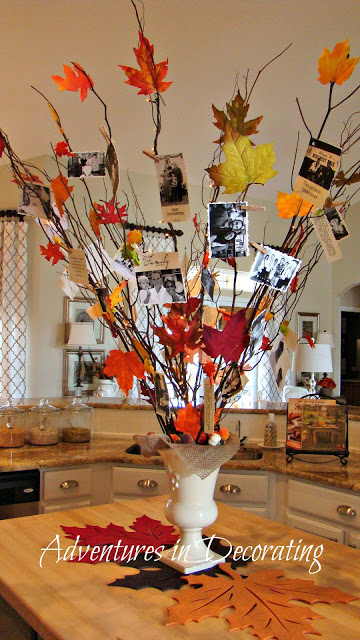 Festive treats . You may not have the time to always have a set of pumpkin cookies on display (and that could be dangerous for your waistline too;) ), but you could fill little glass jars with orange, red and/or yellow candies. My grandma has a big glass pumpkin on her living room coffee table that she fills with those small candy corn pumpkins- and as a kid I loved it! I knew it was officially fall when the candy pumpkins were on display;).
Potpourri . The smell of apple cinnamon can be quite intoxicating! You could boil an assortment of all kinds of foods and spices. Try apple slices, orange slices, cinnamon sticks, nutmeg, cloves, vanilla or almond extract, pumpkin spices or just plain pumpkin- anything that makes you think of fall!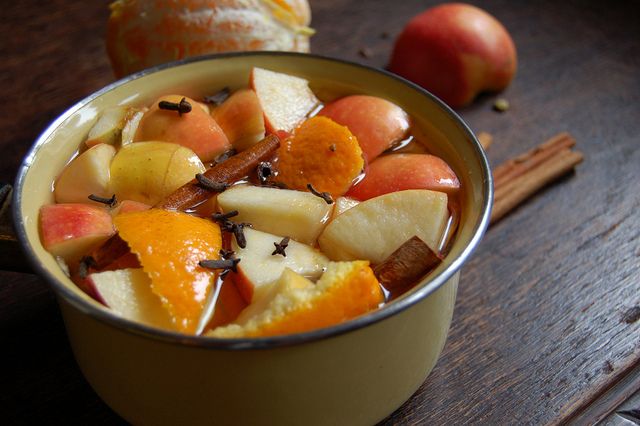 Music. I don't know about you, but for me there is certain music that makes me think of autumn. My mom is a Christmas fanatic, and we always pulled out Christmas music a littler earlier than most people;). However, the first CD she always pulled out was George Winston's December album. It's truly beautiful, and it makes me think of my childhood every time I listen to it; particularly Halloween and fall, because that's usually when she pulled it out. I listen to this album anytime it's a rainy day or anytime I feel happy because it's autumn time! Nothing else signifies to me that it's officially fall more than listening to this music from my childhood.
What other ideas would you add to this list?
Sources:
http://www.pinterest.com/pin/185773553348573056/
http://diana212m.blogspot.com/2013/09/the-perfect-fall-potpourri.html
http://ana-rosa.tumblr.com/image/57060699458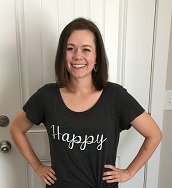 Camille Hoffmann
Weekly Newsletter Contributor since 2014
Email the author! camille@dvo.com