Is There Such a Thing as PERFECT Brown Rice?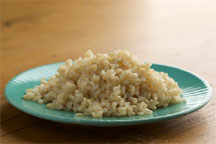 Am I naive to want to turn out perfectly cooked brown rice? I mean, IS there such a thing as perfect brown rice? Believing this wasn't an oxymoron, I scoured the Internet for advice on how to create just such a dish. And I wasn't disappointed. On a great website, saveur.com, I found the best instructions:
"Cooking brown rice, or at least cooking it well, is tricky. The goal is to soften the texture of each grain's fibrous bran coating - a process that takes longer than that called for in the cooking of white rice - without causing the rice to become mushy.
"Unfortunately, the labels on most packaged brown rice recommend an ineffective method that suggests boiling water and rice in a two-to-one ratio (two cups water to one cup rice), then allowing the mixture to simmer for 40 minutes or more, until all the liquid is absorbed. We followed those directions and ended up throwing away more than a few pots of unsatisfying rice.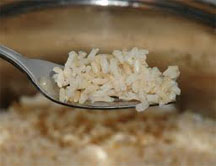 "What we ultimately found is that brown rice looks and tastes the best when it has been boiled and drained like pasta and then steamed in the small amount of moisture that remains in the pot. The boiling cooks the rice, while the subsequent steaming allows the grains to retain their integrity and come out light and fluffy."
Then the authors shared their instructions on how to actually do what they advise. Using 1 cup of short, medium, or long-grain brown rice, and Kosher salt to taste, this is the technique: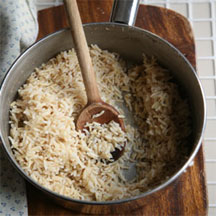 Rinse rice in a strainer under cold running water for 30 seconds. Bring 12 cups water to a boil in a large pot with a tight-fitting lid over high heat. Add the rice, stir it once, and boil, uncovered, for 30 minutes. Pour the rice into a strainer over the sink.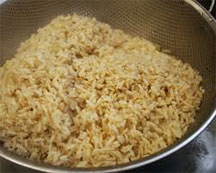 Let the rice drain for 10 seconds, then return it to the pot, off the heat. Cover the pot and set it aside to allow the rice to steam for 10 minutes. Uncover the rice, fluff with a fork, and season with salt.
So now we know how to make PERFECT brown rice - what a great side dish this was always meant to be. But for those of you that would just like a couple delicious brown rice recipes, here's one for one of the best soups I've ever had, and one for a wonderful brown rice fritter.
---
Brown Rice, Lentil, and Spinach Soup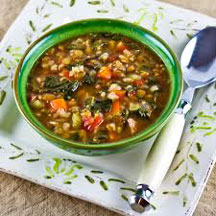 What a delicious way to combine 3 very healthy, cancer-fighting foods!
Ingredients:
1/4 cup

extra virgin

olive oil
2

carrots

finely chopped
2

ribs

celery

finely chopped
1

large yellow

onion

finely chopped
1/2 teaspoon
1 teaspoon

dried

thyme
1

chile de arbol, dried
12 cups
chicken broth
1 cup

long grain

brown rice

rinsed well
3/4 cup

brown

lentils

rinsed well
kosher

salt

, to taste
freshly ground

pepper

to taste
1 pound

fresh

spinach

coarsely chopped
Directions:
1. Heat oil in a 5-quart pot over medium-high heat; add carrots, celery, and onions, along with cumin, thyme, and chile de arbol. Cook, stirring, until lightly browned, 10-15 minutes. Add chicken broth, rice, and lentils and season with salt and pepper to taste.
2. Bring to a boil, lower the heat to medium-low, and cook, partially covered, stirring occasionally, until rice and lentils are soft, about 45 minutes. Stir in spinach and cook until wilted, about 1 minute.

Recipe formatted with the Cook'n Recipe Software from DVO Enterprises.
---
Brown Rice Fritters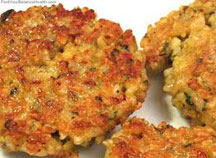 What an unusual and tasty way to use leftover rice!
Ingredients:
2 cups

cooked, short grain

brown rice
1/2 cup

Parmigiano-Reggiano, grated

cheese
1/2 tablespoon

fresh, chopped

oregano
1/2 teaspoon

kosher

salt
1/4 teaspoon

freshly ground

pepper
1/2 cup
flour
1/4 cup

extra virgin

olive oil
3 tablespoons

butter

plus more for garnish
finely chopped flat-leaf

parsley

for garnish
Directions:
1. Combine rice, parmigiano-reggiano, oregano, salt, pepper, and egg. Form rice mixture into eight 2" round cakes. Transfer cakes to a sheet tray and refrigerate for 30 minutes to allow them to firm up.
2. Put flour on a plate; dredge cakes in flour. Heat oil and 3 tbsp. of the butter in a 10" skillet over medium-high heat. Working in 2 batches, fry cakes, turning once, until golden brown, about 4 minutes per side.
3. Garnish each cake with a thin slice of softened butter and sprinkle with finely chopped flat-leaf parsley leaves.

Recipe formatted with the Cook'n Recipe Software from DVO Enterprises.
---
Sources:
www.pinchmysalt.com
www.thecookinggeek.com
www.saveur.com
www.angrychicken.typepad.com
www.kalynskitchen.com
www.findyourbalancehealth.com
---
---
---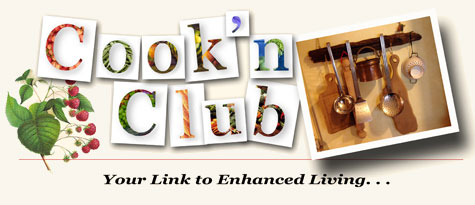 Contribute to the Cook'n Club!
DVO would love to publish your article, prose, photography and art as well as your cooking, kitchen and nutrition tips, tricks and secrets. Visit the Newsletter Submission / Win Win for All section in our Forum for more information and details.