Tips for Smart and Better Baking
Aunt Annie passed on to me her love for cooking and cooking-tips-collecting. She saved all the cooking tips from her favorite cooking magazine, Cook's Country. Here are a couple from one of her issues that I've been using for a long time: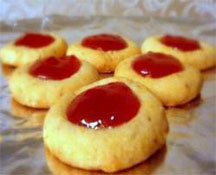 First, if you like making Thumbprint Cookies, don't do what the recipe says as far as applying the jam. Most tell you to dollop in the jam with two spoons - that is such a messy and time-consuming approach. Instead, fill your turkey baster with jam. Squeezing the bulb quickly allows you to neatly squirt just the right amount of jam onto your cookies.
Next, an easy way to blind-bake a pie crust. But before I get into that, do you know what blind-baking a pie crust is? I didn't, until Aunt Annie taught me. Blind baking is baking an unfilled pie shell to produce a partially- or fully-baked crust (banana and coconut cream pies call for this crust, for instance). Blind baking the crust prevents the crust from becoming soggy from custard based fillings, and is necessary for pies which have the fillings either cooked separately or not at all (quiche is another example).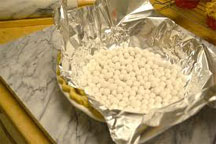 To blind bake a crust, once your crust is prepared and placed in your pie pan, prick a few holes (this is called "docking") or fill it with pie weights (do one or the other; if you fill it with weights, you don't need to dock), and bake until browned (or just for several minutes if your goal is a partially-baked crust).
Now for the blind-baking tip Aunt Annie taught me from her Cook's Country magazine: Instead of lining your unbaked pie crust with aluminum foil, use a disposable aluminum pie plate instead. Then fill it with pie weights. Set it in the pie crust to be baked and prebake bake the crust as usual. This works beautifully and you can reuse the "disposable" pie plate over and over for this - well, at least a dozen times.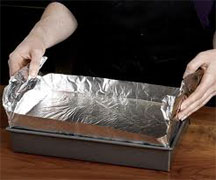 And one more smart and better baking tip from former monthly newsletter author, Jeanne Wolfley: When baking brownies, bars, and sheet cakes, line your baking pan with heavy-duty aluminum first. Then spray it well with cooking spray. (I like to sprinkle a good layer of sugar on top of the spray, as opposed to coating the oil with flour.) Then add your batter. Spread to all corners and sides and bake as usual. Cool the product on a cooling rack, and when completely cool, left the entire thing out of the pan and onto a large cutting board. Spread the foil out, away from the baked product. Then ice the bars or cake, and then cut into squares. This process eliminates that stressful and messy step of trying to get that first square out of the pan (without crumbling, etc.).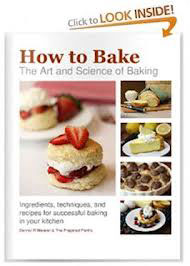 And finally, for the ultimate in smart and better baking, take a few minutes to download the free and best ebook ever, Dennis Weaver's "How to Bake: The Art and Science of Baking." Dennis is the baker supreme and founder/owner of The Prepared Pantry, a wonderful online all-things-cooking-and-baking site (www.preparedpantry.com).

This is no infomercial - just a solid recommendation from a long-time fan of The Prepared Pantry. There's no remuneration whatsoever in it for me when I applaud this 318 page book. I just love how it explains so simply the art and science behind great baking. You'll also get kitchen-tested recipes, tips, and photos. And it offers culinary school information - stuff we ought to know but don't, because we don't know enough to ask!
Baking season is upon us, so try these tips, go to www.preparedpantry.com for your free ebook, and spend this upcoming holiday season enjoying smarter and better baking!
Sources:
www.mannonsfoods.com
www.bakerwithacause.com
www.finecooking.com
www.preparedpantry.com