HOMEMADE Cream of Chicken Soup Mix - to Store!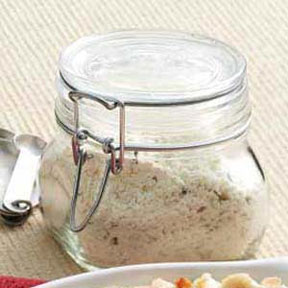 That's right. This is not just a chicken soup recipe, this is a state of the art soup mix recipe. It can be stored for later use or used right away. You could package it with the cliche yet wonderful phrase, "Just add water!" It's great for food storage or when you just don't have time to make a nice meal. A tasty, cheap, alternative to the can.
---
Cream of Chicken Soup Mix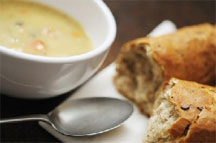 Ingredients:
2 cups

nonfat

dry milk powder
3/4 cup
cornstarch
1/4 cup

instant reduced sodium

chicken broth

granules or beef broth granules
1/2 teaspoon

dried

thyme

leaves
1/2 teaspoon

dried

basil

leaves
1/4 teaspoon
white pepper
Directions:
Combine all ingredients together and store in an airtight container. You can add more or different spices, if desired.
When ready to use, just add 1 3/4 cup water to 1/3 cup mix in a saucepan. Whisk until smooth and slowly heat until thickened. One recipe equals one can of cream of chicken soup.

Recipe formatted with the Cook'n Recipe Software from DVO Enterprises.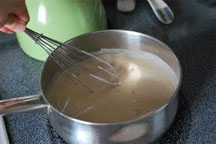 ---
Jar image:
http://www.realfood4realpeople.com/images/exps34128_CFT950584D16A.jpg
Prepared image:
http://www.savvyhomemade.com/image-files/cream-of-chicken-soup.jpg
Whisk image:
http://t0.gstatic.com/images?q=tbn:ANd9GcThCqYojXN-ETKaQ-vmsjOxHlnZ3lGmOV6c3g23WVcfEiLIhVCeowJOMGjUXA
---