Smelly Secrets of Stainless Steel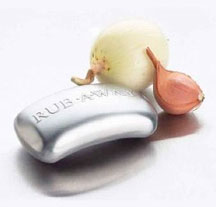 When I was in foods class, and now at home, I always pass the chore of cutting onions to another. It's not that I don't like chopping and dicing, I actually enjoy it. But when it comes to chopping onions, that's another ball game. That's signing up for literally days of the wreaking smell of onions on my hand. Ick. Gross. Onions do NOT smell good when it's a lingering scent on the hands. Maybe you have the same issue.
So, here's some news. Yes there are scent removers, baking soda, vinegar (NOT together), but here's another one to add to your list: Stainless Steel.
Stainless steel is great! It's stainless! But it also helps rid your hands of odor. Now THAT's great. I'll be honest, I don't know how it works, and as I was researching, it looks like a lot of people don't. All I can say is that it does help. Not foolproof, but it does help. I'd add it to my thanksgiving thankful list (see Things to be Thankful for... from the Kitchen)
All you do is take that steel and rub it on your hands while they're running under cool water. If it still is not getting the smell off, try using those other miracle workers (like baking soda), or try repeating. Once again, not foolproof, but worth a try.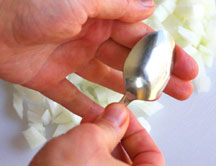 There are actual stainless steel bars that are shaped like soap (which are nice to just keep by the sink), but you can use a spoon, too. Or, pretty much any other utensil. Don't use a knife though, or any other sharp tool for that matter!
References:
http://chemistry.about.com/cs/howthingswork/f/blstainlessodor.htm
http://chemistry.about.com/cs/howthingswork/f/blstainlessodor.htm
Stainless Steel image:
http://www.luxuryhousingtrends.com/wp-content/uploads/2009/05/stainless-steel-soap.jpg
Spoon image:
http://farm3.static.flickr.com/2646/3923756807_a653586ca6_o.jpg