Pastry Brushes - Silicone or Natural?
A good pastry brush makes some jobs fast and easy. I used to butter the tops of my fresh-out-of-the-oven rolls using a wad of paper towel dabbed in butter. Messy and inefficient. (I know, you're thinking "DUH!")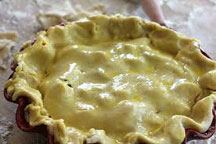 A good pastry brush does the job so much better. And then there's coating your unbaked pie crust with egg white so it bakes up with that nice glossy sheen we all like. Nothing does the job like a good pastry brush. And don't we love to baste our grilling veggies, kabobs, steaks, etc. with our favorite marinade or sauce? A good pastry brush does a thorough job of this, too.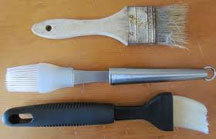 But did you catch the key word here - "good" pastry brush? How do you know if the one you're thinking of buying is "good?" Bottom line: You want one that will hold the basting liquid and do the job without hairs, fibers, strands, etc. falling out of the brush head and onto your food.
There are a lot of choices out there, so it's a bit overwhelming when trying to come to a decision. But here's what my research turned up: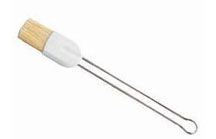 The favorite of professional chefs, avid foodies, and commercial cooks in the natural fiber department is the Rosle brand. They all had the same comment: "Finally a pastry brush that doesn't lose its bristles!" They come in various sizes (1.4-inch, for instance), and the real, natural bristles all hold basting liquid well and clean up well. Reviewers said they liked how easy it was to baste with and doesn't retain any stains or odors. The only drawback I can see is its price; it's $16 on amazon.com. I might think about this, though. I'm not a big fan of some of the other options out there.
And the other options? Either nylon or silicone. Nix the nylon - it melts if the liquid is too hot, etc. So silicone is the other choice. And there are folks that just LOVE silicone. So I researched this material as well.
Of all the brands available, Danesco came out on tops. Stay away from OXO's Good Grips line. Every reviewer complained about it for one reason or another. (That's the one I bought - darn! And yup, while it's easy to clean, it doesn't hold the basting liquid well, which is annoying.)

Folks said the Danesco silicone basting mini brush holds liquid well and cleans up well with just hot water. It can also be put in the dishwasher, something you don't want to do with a natural bristle brush. And the best part, it's only $2 on amazon.com.
So now it's down to deciding. And we can, because we know what to look for!
Sources: www.onehundreddollarsamonth.com www.homemakersdaily.com www.amazon.com