A Comfort Food & Health Power-House
All in One Package
Not to "dis" zucchini and yellow summer squash, but the health benefits of fall-harvest squashes, especially butternut, far out-weigh their summer cousins.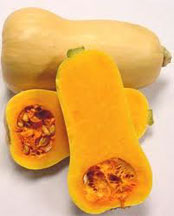 So let's talk about this particular squash. Butternut squash is technically a fruit because it contains seeds. But when you cut into its pale, yellow-beige hard skin, though, you'll discover a beautiful orange flesh that's much denser than that of its relatives.
It's low in fat, rich in phytonutrients, antioxidants, and vitamins. It's loaded with fiber, and is exceptionally heart-healthy. It provides significant amounts of potassium, important for bone health, and vitamin B6, essential for the proper functioning of both the nervous and immune systems. The folate content adds yet another boost to its heart-healthy reputation and helps guard against brain and spinal-cord-related birth defects such as spina bifida.
But back to its beautiful color: Butternut's most noteworthy health perk, its color, signals an abundance of powerhouse nutrients known as carotenoids, shown to protect against heart disease. In particular, the gourd boasts very high levels of beta-carotene (which the body automatically converts to vitamin A), identified as a deterrent against breast cancer and age-related macular degeneration, as well as a supporter of healthy lung development in fetuses and newborns. What's more, with only a 1-cup serving, you get nearly half the recommended daily dose of antioxidant-rich vitamin C.
Also, butternut squash has anti-inflammatory effects because of its high antioxidant content. So working more of this hearty winter staple into your diet could help reduce risk of inflammation-related disorders such as rheumatoid arthritis and asthma.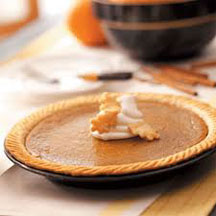 There's its flavor, so succulent it warrants the label "butternut." Fresh butternut squash is to fall and winter what fresh asparagus and strawberries are to spring and summer. And finally, we can't overlook the versatility of butternut squash. I've used it to make an amazing pie, quick bread, cookies, and souffle. No question about it, this graceful, hourglass-like gourd is the perfect addition to an autumn meal.
My good friend and neighbor, Cindy Pack, shared a fantastic recipe for a butternut squash soup that you might want to try. This may become one of your favorites and is certainly a terrific way to work this powerhouse food into your winter diet!
---
Creamy Butternut Squash Soup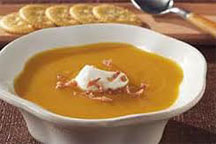 Creamy and hearty, this healthy soup will likely become a family favorite.
Ingredients:
1

butternut

squash

unpeeled, cubed
4 1/2 cups

, vegetable

chicken stock

, or bouillon
1/2 cup

raw

almonds
1 1/2 teaspoons
curry powder
1/2 teaspoon

sea, fine

salt
1/8 teaspoon

fresh ground

black pepper
2

tart, fresh green

apples

chopped
Directions:
Put squash and 3 C. of vegetable stock in a large pot. Bring to a simmer over medium heat, then reduce heat, cover and cook until the squash is tender, (15-20 minutes). Remove from heat and let squash cool in cooking liquid.
Using a slotted spoon, remove the squash from the pot and peel and set aside. Also set cooking liquid aside.
Blanch almonds, (place in boiling water for 30 seconds then into ice water) Drain and squeeze the almonds between your fingertips to remove skins. Discard skins. Put the blanched almonds and the remaining 1 1/2 C. of vegetable stock into a blender. Blend until smooth (about 1 minute) Add the cooked squash, curry, salt and pepper and process until smooth.
Add the squash mixture from blender to the pot of cooking liquid and bring just to simmer over medium heat. Add bean flour and coconut milk if desired to thicken and add creamy texture and flavor. (it is wonderful with or without this.)
Optional ingredients Cindy adds when she makes this: bean flour to thicken (if needed) and coconut milk (to taste, for additional creamy texture and taste.)
Serve hot, garnished with parsley sprigs and a finely diced tart apple.

Recipe formatted with the Cook'n Recipe Software from DVO Enterprises.
---
Sources
www.aroundcrownsville.com
www.cheftoddfisher.com
www.tasteofhome.com
www.kraftrecipes.com