Lemon Knot Cookies
Hello, I'm trying to get a hold of a recipe for Lemon Knot Cookies. Please Help.
---
I've posted the recipe below. Sounds yummy!...
Lemon Knots
Serves: 40
Makes 3 1/3 dozen
Every Italian bakery in Brooklyn, New York, made these refreshing Sicilian lemon cookies when I was growing up. I like to serve them with iced tea. If the weather is hot and humid, the icing may refuse to firm up at room temperature. In that case, store the cookies in the refrigerator.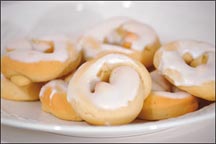 4 cups all-purpose flour
4 teaspoons baking powder
1 cup sugar
1/2 cup solid vegetable shortening
3 large eggs
1/2 cup milk
2 tablespoons lemon juice
2 teaspoons grated lemon zest
Icing
1 1/2 cups confectioners' sugar
1 tablespoon freshly squeezed lemon juice
2 teaspoons grated lemon zest
1. Sift together the flour and baking powder onto a piece of wax paper.
2. In a large bowl, with an electric mixer at medium speed, beat the sugar and shortening until light and fluffy, about 2 minutes. Beat in the eggs one at a time until well blended. Stir in the milk, lemon juice, and zest. Scrape the sides of the bowl. Stir in the dry ingredients until smooth, about 2 minutes. Cover with plastic wrap and refrigerate at least 1 hour.
3. Preheat the oven to 350 degrees F. Have ready 2 large baking sheets. Pinch off a piece of dough the size of a golf ball. Lightly roll the dough into a 6-inch rope. Tie the rope into a knot. Place the knot on an ungreased baking sheet. Continue making the knots and placing them about 1 inch apart on the sheets.
4. Bake the cookies 12 minutes or until firm when pressed on top but not browned. Have ready 2 wire cooling racks.
5. Transfer the baking sheets to the racks. Let the cookies cool 5 minutes on the baking sheets, then transfer them to the wire racks to cool completely.
6. Combine the confectioner's sugar, lemon juice, and zest in a large bowl. Add milk 1 teaspoon at a time and stir until the mixture forms a thin icing with the consistency of heavy cream.
7. Dip the tops of the cookies in the icing. Place them on a rack until the icing is hardened. Store in airtight containers up to 3 days.
From "1,000 Italian Recipes." Copyright 2004 by Michele Scicolone. Used with permission of the publisher, Wiley Publishing, Inc. All Rights Reserved.
Desi @ DVO
---
---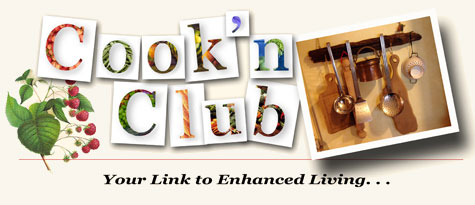 Contribute to the Cook'n Club!
DVO would love to publish your article, prose, photography and art as well as your cooking, kitchen and nutrition tips, tricks and secrets. Visit the Newsletter Submission / Win Win for All section in our Forum for more information and details.