10 Things You Can Do with This "Dinner Insurance"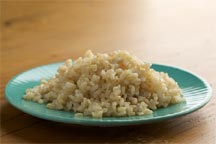 When you're pressed for time, tired, or just not in the mood to cook, dinner can still go on, if there's extra rice in the fridge. Rice is affordable, healthy, freezes well, and the possibilities are endless. So many possibilities, in fact, that I call it "dinner insurance."
Before talking about why rice makes such a great "dinner insurance," let's look at its benefits. First of all, it is easy to digest, no matter what type or color you use. Rice has a good amount of fiber as well, so it's also good for the digestive system.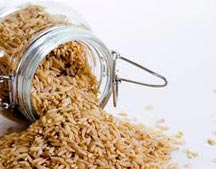 But when talking rice benefits, usually it's brown rice that's the standard. We all know that the difference between brown rice and white rice is more than color! A whole grain of rice has several layers, and when only the outermost layer, the hull, is removed, the result is brown rice. This process is the least damaging to the nutritional value of the rice and avoids the unnecessary loss of nutrients that occurs with further processing.
So when brown rice is further milled to remove the bran and most of the germ layer, the result is a whiter rice, one that has lost many more nutrients. But at this point, however, the rice is still unpolished. It's the polishing that produces the white rice we are used to seeing. Polishing removes the aleurone layer of the grain - a layer filled with health-supportive, essential fats. Because these fats, once exposed to air by the refining process, are highly susceptible to oxidation, this layer is removed to extend the shelf life of the product. The resulting white rice is simply a refined starch that is largely bereft of its original nutrients.
So long story a little shorter, that's why when we talk benefits of rice, we're really talking benefits of brown rice. Brown is an excellent source of manganese, and a good source of the minerals selenium and magnesium. It has lots of vitamin B3, vitamin B1, vitamin B6, phosphorus, iron, and dietary fiber and essential fatty acids.
Health factors, then, is one reason it's good "dinner insurance." But as mentioned above, what really makes it shine as a menu addition is its versatility. Consider these 10 applications for leftover rice: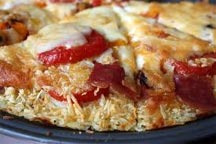 1. HEALTHY, GLUTEN-FREE PIZZA CRUST: Add an egg to brown rice and press it into a greased pizza pan lightly sprinkled with cornmeal. Bake ten minutes. Decorate with sauce and your favorite pizza toppings. Then bake until toppings are done.
2. SOUP ADDITIVE: Add it to any soup (canned or from scratch) to increase serving sizes and for a health boost.
3. STUFFED PEPPERS: Chop up mushrooms and jalapenos, shred favorite cheese, mix and stuff hallowed out green peppers and bake or put on barbecue until tender.
4. BREAKFAST CEREAL: Warm it up in microwave for 20 seconds, sprinkle with granulated sugar, and add milk. Eat with a spoon like your morning cereal. Try it!
5. SHEPHERD'S PIE: Instead of using mashed potatoes to top the ground beef, use the leftover rice.
6. MEATLOAF: Add it to your meatloaf recipe to make two instead of one meatloaf. Freeze extra for following week.
7. MEATBALL ACCOMPANIMENT: In a deep pot add 18 cooked mini meatballs, 1 chopped onion, 1 chopped zucchini, 1 can of tomato soup, 1/2 can water, sprinkle of garlic power, pepper and cardamom. When heated add 2 cups leftover basmati rice. Heat and serve.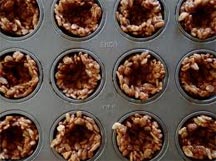 8. MEATBALL CUPS: Grease a 6 cup muffin pan. Use an ice-cream scoop and put a dollop of rice into each muffin cup. Make a depression in each cup and add a precooked meatball, 1 tablespoon of frozen peas of carrots, and another dollop of rice. Press down. Top with a teaspoon of parmesan cheese and a sprinkle of oregano and garlic powder. Bake 20 to 30 minutes until heated through.
9. STIR FRY: Add some veggies then add rice.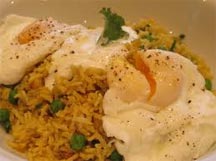 10. POACHED EGG BED: Use as bed for poached eggs instead of bread. Drizzle with hollandaise or cheese sauce.