Fruit Sauces and Pudding Magic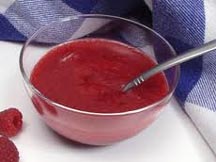 Fresh fruit sauces are simple to make and add elegance, color, and delicious aroma to desserts. They are the perfect approach to dessert for the insulin resistant, for that matter, because they include the whole fruit - there's plenty of fiber to slow down absorption! And just about any fruit can be blended into a rich vitamin-filled sauce.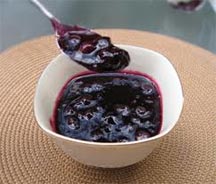 For instance, fresh raspberries and blackberries are scrumptious floating in a creamy pineapple sauce. Or drizzle strawberry sauce over plain Greek yogurt. Oh my. Fruit sauces add true sparkle to baked fruit, pies, pancakes, and fruit-sweetened ice cream and sherbet.
All this said, 4 helpful hints to making successful fruit sauces:
1) Skip the bargain basket when choosing fruit. For the most flavorful sauces, choose good-quality ripe fruit.
2) Wash fruit thoroughly before removing the skin, core or pit. Chop and whip in a food processor or blender until smooth.
3) Flavor sauces with a sprinkle of spice or juice. Nutmeg, cinnamon, cloves, and ginger add a special zing. Apple, pineapple, banana, and pear especially perk up with a dash of spice. And papaya, guava, and mango just love a splash of lemon or lime juice.
4) Use as soon after blending as possible - this is when the sauces are at their flavor and texture peak.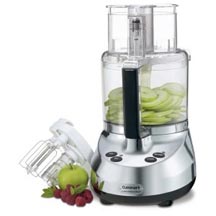 And the beauty of a fruit sauce is that many do not even need cooking - just whip them in a food processor or blender and immediately add to your dessert. Apples, bananas, blueberries, cherries, mangos, papayas, peaches, pears, pineapples, plums, and strawberries all make delicious fresh fruit sauces.
Then there's fruit puddings. They stand alone as a light, healthy, and delectable dessert as well as an excellent filling for cream pies and puff pastry. And any fruit sauce can be transformed into a rich and thick pudding.
Just combine your sauce (blended fruit) with a thickening agent (arrowroot - a fine white powder with no noticeable flavor of its own, cornstarch - another fine white powder with little to any noticeable flavor of its own, and flour - a convenient and easy-to-use thickener but it tends to add a flavor of its own when used in substantial amounts). TIP: When using arrowroot or cornstarch to thicken, substitute half as much as the required amount of flour.
All the fruits mentioned above, plus guava, make excellent sugar-free puddings. Before I close with one of our family favorites (that we've used in pies, cobblers, over ice cream, and frozen as popsicles), I'll just suggest that you might want to create a new chapter in your Cook'n Recipe Organizer Version 10 title "No More Blood Sugar Blues." As I've looked back over the months'-worth of articles and tips to help us with our insulin resistance, it occurred to me that this important information needs to be easily accessible - Cook'n version 10 is the best place for it, don't you think?
---
Southern Peach Pudding
Serves 6
An easy yet elegant pudding that easily satisfies the sweet tooth.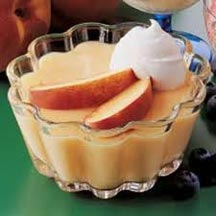 6 C chopped peaches (about 10, peeled and pitted)
1/4 C cornstarch
Cinnamon or nutmeg (optional)
Top with:
1/2 pint heavy cream
1 C lightly chopped pecans
Put half chopped peaches in blender or food processor and blend with cornstarch until smooth. (Add cinnamon or nutmeg to taste at this point.) Pour into the top of a double boiler, bring to a boil over medium setting, and stir constantly. Mixture will thicken. Add remaining chopped peaches and cook just until tender. Spoon into individual sherbet dishes and chill. Shortly before serving, whip heavy cream (add a pinch of stevia if a sweeter cream is desired) and spoon over pudding. Top with pecans and serve immediately. (Or you can garnish with reserve thin peach slices.)