Crazy Apple Pie!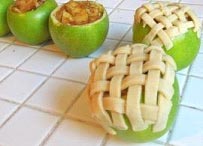 Just when you think you have seen it all, someone comes along with a spectacular recipe for apple pie. No, not your grandma's apple pie, but a new version of the old recipe using of all things, apples! Just take a look:
---
Crazy Apple Pie
6 Granny Smith apples
1 pie crust
1/4 cup sugar
1 Tablespoon brown sugar
1/4 - 1/2 teaspoon cinnamon - depending on taste
Cup off the top of 4 apples and discard
Carefully remove the inside of each apple so as not to pierce the skin
Remove the skin from the other 2 apples
Thinly slice the "meat" of the 2 apples. These slices will make up the filling.
Mix the sliced apples with sugars and 1/4 - 1/2 teaspoon cinnamon
Spoon this mix into the 4 hollowed out apples
Roll out the pie crust and slice it into 1/4 inch strips
Cover the top of each apple in a lattice pattern. See the picture for an example.
Place the apples in an 8x8 inch pan
Add enough water to cover the bottom of the pan
Cover the pan with the apples in it, with foil
Bake at 350 degrees for 20-25 minutes
Remove the foil and bake for another 20 minutes or until the crust is a rich golden brown, and the sliced apples are soft
Enjoy!