Wow, What A

Slow-Cooking Genius!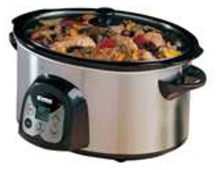 I love using my slow cooker — or as some people call it, my crock pot. Toss everything into the pot, and go about your business. However, I have not been too creative when it comes to recipes. Turns out, someone else was being creative for me. Meet Stephanie O'Dea.
She would be the first to tell you, through her blog CrockPot365.blogspot.com, A Year of Slowcooking, that she isn't a professional chef, or even a very good cook. She's a mom who liked her slow cooker and started a blog about using her cooker for 365 days. Remember the movie about the writer who loved Julia Child, and decided to cook every one of Julia's recipes for one year and write about the experience? Well, this is what Stephanie did—minus the French use of butter, cream and more butter.
O'Dea's blog became quite popular so she created a cookbook of some of the best recipes from her yearlong experiment with slow cooking. The book includes recipes for classic slow-cooked fare, like soups and stews, plus lots of surprising recipes like peppercorn steak, Rice Krispies treats, baby food and even crayons. WOW! She also has most recipes using gluten free substitutes. Recently seen on Rachael Ray, O'Dea is getting quite a bit of exposure thanks to her cook book. Not bad for someone who doesn't think she's a very good cook!
I'm including a few of her recipes for your consideration, just as she wrote them; casual and fun. Sorry, couldn't find the one for crayons, but I'll keep looking!
---
Slow Cooker Corn Bread Stuffing
Serves 4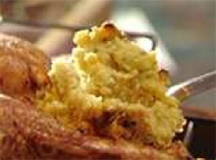 8-inch pan of baked cornbread (I used a gluten-free cornbread mix)
4 slices of toasted bread (I used brown rice bread)
2 cups chopped celery
1 large yellow onion, diced
1 tablespoon poultry seasoning
1⁄2 teaspoon kosher salt
1⁄2 teaspoon black pepper
4 tablespoons (1⁄2 stick) butter, melted
3 large eggs, beaten
2 cups chicken or vegetable broth, plus additional 1⁄4 cup, if needed
1. Use a 6-quart slow cooker. Bake the cornbread according to package directions. Cut cornbread and sliced bread into cubes and bake at 300 degrees F for 20 to 30 minutes, or until toasty.
2. While the breads are toasting, put the celery and onion into the stoneware. Add the poultry seasoning, salt and pepper. Mix the melted butter together with the eggs. Stir into veggies and seasonings. Toss cubes of bread well with the ingredients in the stoneware. Pour in broth, and stir gently to combine. Cook on high for 2 hours. This can be on warm successfully for another 2 hours. If you'd like a more moist dressing, add up to 1⁄4 cup of broth before serving.
---
Apricot Glazed Chicken
Serves 6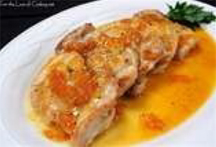 11 oz jar of apricot preserves
1 t dried minced onion flakes
1 T dijon mustard
1 T soy sauce (La Choy and Tamari wheat free are gluten free)
1/4 t ginger
1/4 to 1/2 t red chili flakes (optional)
6 chicken thighs or equivalent body parts
Drop the chicken into your crockpot. In a small bowl, mix all the other stuff. Pour on top of the chicken cover and cook on low for 6-8 hours, high for 4-6 - if your chicken isn't frozen, your dinner will cook faster. Serve with white or brown rice and veggies.
---
Granola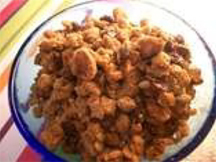 5 cups oats (if gluten free be sure the oats are certified GF.)
1/4 cup honey * (see note below)
1/4 cup melted butter * (see note below)
1 T flax seeds
1/4 cup slivered almonds
1/4 cup raw pumpkin seeds
1/4 cup raw sunflower seeds
1/4 cup unsweetened coconut
1/2 cup dried fruit (I used raisins and cranberries)
Put all the dry ingredients into your crockpot. You'll need at least a 4 quart.
Melt the butter in the microwave, and add. Add the honey. Toss well.
*note: if you add this amount of honey and butter, the granola will be cereal-like, and not trail-mix like. If you'd rather the granola clump together in pieces, you'll need to add more honey and butter. I tried it with the honey and butter doubled (1/2 cup each) and it still didn't clump much--so if you'd prefer your granola that way, you'll need to add at least 3/4 cup of honey. I didn't want that much sugar, and my kids are cool with eating it like this.
Cover, but vent with a chopstick. Cook on high for 3-4 hours, stirring every so often.
If you can smell the granola cooking, go stir. It will burn if you don't keep an eye on it. But it won't burn as quickly as it does in the oven!
(ask me how many batches of granola I've had to throw out after burning in the oven. go ahead, ask. )
7. at least 7. I am no good with the oven.
Dump out on some parchment paper and let cool. Eat with milk like cereal, warmed with milk like oatmeal, or as is. Seal well in an air-tight container or in a ziplock. Granola freezes well.
---
---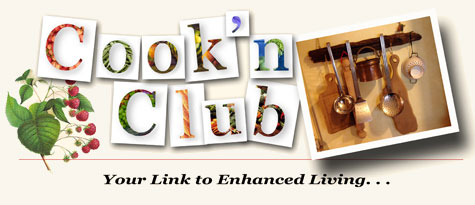 Contribute to the Cook'n Club!
DVO would love to publish your article, prose, photography and art as well as your cooking, kitchen and nutrition tips, tricks and secrets. Visit the Newsletter Submission / Win Win for All section in our Forum for more information and details.