Fruit Cocktail:

A Can of Surprises!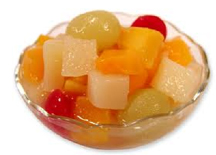 Fruit cocktail or fruit cup is a mix of diced or sliced fruit and sometimes syrup. It is often sold canned and is a staple of cafeterias, but can also be made fresh. The use of the word "cocktail" in the name does not mean that it contains alcohol, but refers to the secondary definition
"An appetizer made by combining pieces of food, such as fruit or seafood"
.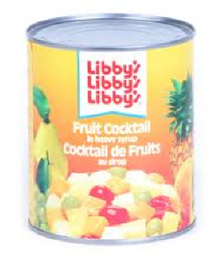 In the United States, the USDA stipulates that canned "Fruit cocktail" must contain pears, grapes, cherries, peaches, and pineapples, otherwise it cannot be called fruit cocktail. It should contain fruits in not less nor more than, the following percentages:


30% to 50% diced peaches, any yellow variety
25% to 45% diced pears, any variety
6% to 16% diced pineapple, any variety
6% to 20% whole grapes, any seedless variety
little to no cherry halves, any light sweet or artificial red variety
Both William Vere Cruess of the University of California, Berkeley and Herbert Gray of the Barron-Gray Packing Company of San Jose, California have been credited with the invention of fruit cocktail.
We've all eaten fruit cocktail in Jello and Ambrosia salad, and even straight from the can, but have you ever had it in cake, in a pie, or in a breakfast bar?
It's a smart idea to have a wide fruit cocktail repertoire, because this is one canned fruit most everyone loves. The unassuming fruit combination goes on sale frequently, and will store for up to a year or more. Take a look at these recipes and you'll see why you want fruit cocktail on hand!
---
Aunt Annie's Fruit Cocktail Cake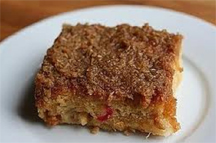 Mix together:
2 C flour
2 C sugar
2 tsp soda
Pinch of salt
Add:
2 beaten eggs
1 tsp vanilla
1 large can fruit cocktail, with juice (about 2 ½ C)
Mix well and pour into a greased and floured 9x13 pan. Bake at 325 degrees for 1 ½ hrs. Cake may be topped with 1 ½ C brown sugar and 1 ½ C chopped nuts before baking. This is our favorite approach to this delicious cake.
---
Fluffy Fruit Cocktail Pie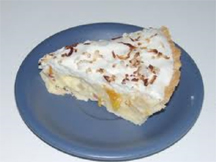 1 pkg (8 oz) cream cheese, softened
1 box Jell-o, (4 oz) instant vanilla pudding mix
2/3 C nonfat dry milk powder
1 C water
1 C sweetened whipped cream — divided
1can (16 oz) fruit cocktail, packed in its own juice, drained
1 graham-cracker crust
Shredded coconut (sweetened or unsweetened) for garnishing
In large bowl, stir together cream cheese, pudding mix, dry milk, and water. Fold in ½ C whipped cream. Add fruit cocktail. Mix gently to combine. Pour mixture into piecrust. Sprinkle with coconut. Chill until ready to serve. Serve with the remaining whipped cream. You can vary the flavors of pudding, fruit, and crust. Chopped nuts sprinkled on top instead of the coconut, works well also.
---
Fruity Breakfast Bars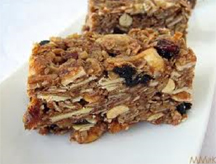 2 C grape nuts cereal
½ C oat fashioned oats
3 Tbsp raw honey
16 oz goat milk yogurt with fruit
1C fruit cocktail
2/3 C nonfat dry milk powder
Spray an 8-inch square pan with vegetable cooking spray. Mix Grape Nuts and oats together and line pan with about 3/4 cup of the cereal mixture. In a blender, combine honey, yogurt, fruit, and milk powder. Blend until smooth. Fold in 1 cup of the cereal. Pour yogurt mixture into pan, and sprinkle with remaining cereal. Freeze for at least 4 hours. Cut into rectangles; they will look like ice cream sandwiches. Servings: 8.
---
Fruit Cocktail Bars
1 can (8oz) fruit cocktail
¼ C butter, softened
1/3 C sugar
1 large egg
¼ tsp vanilla
1 ¼ C whole grain flour
¼ tsp baking powder
¼ tsp baking soda
1 Tbsp Maraschino Cherry juice
½ C flaked coconut, unsweetened
½ C Maraschino Cherries, chopped
Drain fruit; reserve 1/3 cup of syrup. Chop fruit; set aside. Cream butter and sugar; beat in egg and vanilla. Stir flour with baking powder, soda and 1/4 t salt. Mix reserved syrup with cherry syrup. Add flour mixture alternately with syrups to creamed mixture; mix well. Stir in fruit, coconut, and cherries. Spread in greased 9 X 9 X 2-inch baking pan. Bake at 350 degrees for 30 to 35 minutes. Cool. If desired, sift powdered sugar over top and cut into bars. Makes 24 bars.
---
---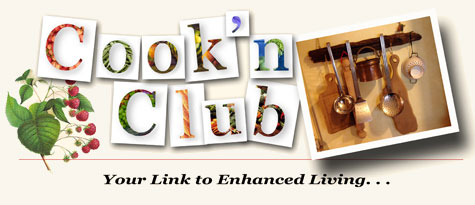 Contribute to the Cook'n Club!
DVO would love to publish your article, prose, photography and art as well as your cooking, kitchen and nutrition tips, tricks and secrets. Visit the Newsletter Submission / Win Win for All section in our Forum for more information and details.