Pears Glorious Pears!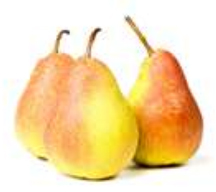 The glorious pears of fall are now at a supermarket near you. What a treat to be able to bite into one and savor the juicy goodness! Whether we eat them as a snack, or incorporate them into creative recipes, pears are a nutritional addition to our diets.
Taleggio and Pear Panini
Giada De Laurentiis
Serves 4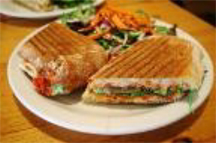 1 (1-pound) loaf ciabatta bread (or 8 slices country bread)
1/4 cup olive oil
8 ounces Taleggio cheese or brie, sliced
2 large pears, apples or peaches, cored and cut into 1/4-inch wedges
2 tablespoons honey
Pinch salt
Pinch freshly ground black pepper
3 ounces arugula or spinach
Preheat the panini machine. Cut the ciabatta loaf into 4 equal pieces. Halve each piece horizontally to make 4 sandwiches. Brush the bread on both sides with olive oil and place the bottom-half of the bread slices in the panini machine in a single layer. Heat until golden, about 3 to 4 minutes. Continue with the remaining top slices of bread.
While the top slices of the bread are in the Panini machine, begin forming the sandwiches. Divide the cheese among the warm bread. Cover the cheese with slices of fruit. Drizzle the fruit with honey. Sprinkle with salt and pepper. Top with a handful of arugula. Place the warmed top half of the bread over the arugula and return the competed sandwich to the panini machine for 1 to 2 minutes more to finish melting the cheese. Remove from the panini machine. Cut the sandwiches in half and serve immediately.
---
Pear and Blue Cheese Salad
Serves 4-6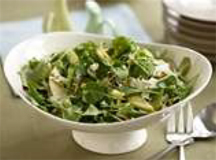 2/3 cup nuts (walnuts, pecans, almonds, or cashews)
1 bunch watercress
1 bunch arugula
1 tablespoon cider vinegar
2 teaspoons whole-grain mustard
1/4 teaspoon kosher salt, plus more to taste
Freshly ground black pepper
3 tablespoons extra-virgin olive oil
1 Belgian endive
2 ripe pears, such as Anjou, Bartlett, or Comice
2 ounces mild blue cheese (about 1/2 cup loosely packed crumbles)
Preheat oven to 350 degrees F. Spread the nuts on a sheet pan in a single layer. Bake, shaking the pan occasionally, until the nuts are toasted and fragrant, about 7 to 10 minutes. Let the nuts cool, and then coarsely chop.
Trim the stems of the watercress and arugula. Wash and dry the leaves.
Meanwhile, whisk the vinegar and mustard together in a large salad bowl. Season with the 1/4 teaspoon salt and some pepper. Gradually whisk in the olive oil, starting with a few drops and then adding the rest in a steady stream, to make a smooth, slightly thick dressing.
Halve the endive lengthwise, cut out core, then thinly slice crosswise and add all the lettuces to the bowl. Quarter and core the unpeeled pears and thinly slice; add to the salad.
Scatter the cheese and nuts over the salad, and season with salt and pepper, to taste. Toss the salad gently to evenly dress all the greens. Divide among 4 plates and serve immediately.
---
Pear Quesadilla
Makes 8 Appetizer Servings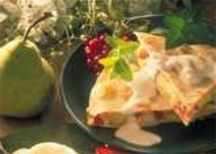 4 flour tortillas (8 inches in diameter)
½ cup each shredded pepper jack and crumbled blue cheese
3 tablespoons sliced fresh basil leaves (1 tablespoon if dried)
2 tablespoons chopped onion
2 tablespoons chopped hazelnuts
1 Yellow Bartlett USA Pear, cored and very thinly sliced
2 teaspoons olive oil
On half of each tortilla, sprinkle one-fourth of the cheeses, basil, onion, and hazelnuts; top with pear slices. Fold in half and brush both sides with olive oil. Heat in non-stick skillet 2 to 3 minutes on each side or until cheese melts and tortilla browns. Cut each quesadilla into four pieces. 
---
---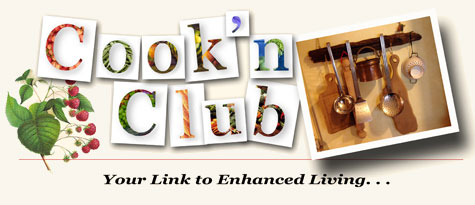 Contribute to the Cook'n Club!
DVO would love to publish your article, prose, photography and art as well as your cooking, kitchen and nutrition tips, tricks and secrets. Visit the Newsletter Submission / Win Win for All section in our Forum for more information and details.