Pumpkins are so versatile! After all, there are hundreds of pumpkin recipes. Amazing dishes ranging from the standard pumpkin pie to intriguing recipes like pumpkin pancakes, soups, chili and pasta. Aside from all these wonderful, versatile recipes using pumpkin, their greatest gift to us is a health benefit. We had fun with pumpkin recipes this month. I hope you enjoy them as much as our family did.
Health Benefits
Pumpkins are full of antioxidants and are anti-inflammatory.
Pumpkins are high in vitamin C.
High in fiber.
Contain high levels of potassium and zinc.
Vitamin A.
Last, but not least, the pumpkin contains L tryptophan which triggers a feeling of well-being.
Pumpkin is good and good for you! Oh yes, bring on the pumpkin dishes!
Enjoy these delicious pumpkin recipes. We would love to know what your favorite pumpkins recipes are. We made an amazing Pumpkin Pie Rolls with Brown Butter Icing. For the recipe, check out our blog at http://everydaygourmetbyyou.com/. They are amazing!
---
Pumpkin Trifle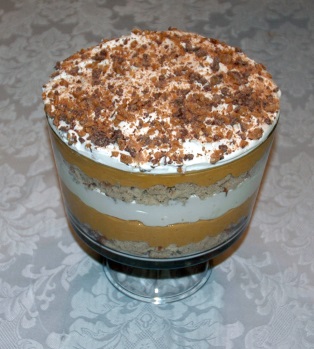 This trifle is a good make-ahead dessert. It can be made quickly by using a store-bought cake and Cool Whip or you can take the time to make your own cake from scratch and use fresh whipped cream. I have included a recipe for homemade spiced pound cake below.
Serving size:

10


Calories per serving:

290




Ingredients:
1 box

spiced

pound cake mix
Filling
2 cups

pumpkin purée
3 boxes
butterscotch pudding
6 cups
milk
Whipped Cream filling
2 1/2 cups
whipping cream
1 teaspoon
vanilla extract
1/4 cup
powdered sugar
Directions:
Preheat oven to 350 degrees. Grease and flour 2 bread pans. In a large bowl, cream butter with the sugar until it is light and fluffy. Beat in flour, buttermilk, eggs and spices. Add salt and baking powder. Beat at high speed for 2 minutes. Bake at 350 degrees for 40-50 minutes.
For Filling: Whisk pudding and milk together and blend in pumpkin puree.
For Whipped Cream Filling: Beat cream, powdered sugar and vanilla together until cream has formed stiff peaks.
To assemble:
Cut cake into cubes. Layer cake cubes, pumpkin filling and whipped cream.

Recipe formatted with the Cook'n Recipe Software from DVO Enterprises.
---
Sweet Pumpkin Dip
Serving size:

10


Calories per serving:

256




Ingredients:
2 (8-ounce) packages

cream cheese

(softened)
2 cups
powdered sugar
1 teaspoon
cinnamon
1/2 teaspoon
pumpkin pie spice
Directions:
In a large mixing bowl, beat softened cream cheese, until smooth. Add powdered sugar and spices. Mix well. Cover and refrigerate.
Serve with ginger cookies.

Recipe formatted with the Cook'n Recipe Software from DVO Enterprises.
---
Guiltless Alfredo Sauce
Recipe from Our Best Bites by Kate Jones

We had a group of high school kids over to our home on Saturday night for dinner. They did a "Murder Mystery Dinner," a Who Dunnit game! The main course was Chicken Alfredo. We had made more than enough, so with the leftovers we decided to make Pumpkin Alfredo for Sunday dinner. The Pumpkin Alfredo recipe calls for 1 1/2 cups of the Guiltless Alfredo Sauce and then you add onion, chicken broth, sage, thyme and last, but not least, canned pumpkin. This is a fun fall dinner. We love it!
Serving size:

10


Calories per serving:

85




Ingredients:
2 cups

low-fat

milk
1/3 cup

(3 ounces) low-fat

cream cheese
1 teaspoon

kosher

salt
1 tablespoon
butter
3 cloves

garlic

, minced
1 cup

freshly grated

Parmesan cheese
Directions:
1. In a blender, blend the milk, cream cheese, flour, and salt until smooth and set aside.
2. In a large, nonstick saucepan, melt butter on medium-high heat and add the garlic. Sauté the garlic for about 30 seconds, stirring constantly to prevent garlic from sticking and burning.
3. Add the milk mixture to the pan. Stir constantly for 3-4 minutes or until it just comes to a simmer. Keep stirring and let it cook for a few minutes more or until the sauce thickens, about 6-7 minutes.
4. Once the sauce has started to thicken, remove from heat. Whisk the cheese into the sauce and immediately cover the pan.
5. Allow the sauce to stand for at least 10 minutes before using. It will continue to thicken upon standing.
6. Serve immediately. Refrigerate leftovers for up to 5 days. The sauce will become very thick once refrigerated. To use it, reheat the sauce and add a little milk until the desired consistency is reached.
Best Bites say that this sauce is great drizzled over vegetables or used as dip for bread sticks.

Recipe formatted with the Cook'n Recipe Software from DVO Enterprises.
---
Pumpkin Alfredo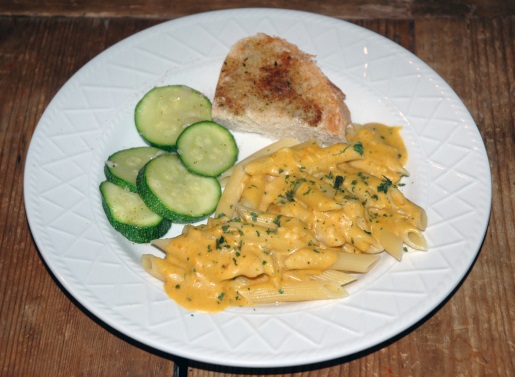 Serving size:

10


Calories per serving:

101




Ingredients:
1 (8-ounce) package

fresh

pasta

(cheese ravioli are wonderful! although I used penne pasta)
1 1/2 cups

(1/2 batch) Guiltless Alfredo Sauce
1/2 tablespoon
butter
1/4 cup

finely chopped

onion
2 tablespoons
chicken broth
1 tablespoon

freshly chopped

sage

(or 1/2 teaspoon dry sage leaves)
1/2 tablespoon

fresh

thyme

(or 1/2 teaspoon dried thyme)
1/2 cup

canned

pumpkin
Directions:
1. Cook the pasta according to package directions.
2. In a separate saucepan, melt the butter on medium heat. When melted, add onion and sauté until it is translucent and fragrant.
3. Add chicken broth and herbs. Use a spatula to deglaze the pan a bit and get any cooked bits of onion off the bottom. Add pumpkin and whisk to combine, and cook until heated through. Serve immediately over cooked pasta.

Recipe formatted with the Cook'n Recipe Software from DVO Enterprises.
---