Bee-a-utiful!

Honey Beauty Treatments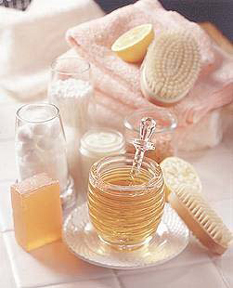 As an all-natural sweetener without any extra ingredients, honey already has a place in your kitchen but did you know there are many ways that honey can sweeten your beauty treatments as well?
honey is a humectant, which means it attracts and retains moisture. This makes honey a natural fit in a variety of moisturizing products including cleansers, creams, shampoos and conditioner. Here are a few honey treatment recipes to whip up at home:
Cucumber Honey Eye Nourisher
Makes 4 treatments
1 ½ Tbsp. aloe vera gel
2 tsp. cucumber, peeled with seeds removed
1/2 tsp. chamomile tea
1/2 tsp. honey
Steep chamomile tea in boiling water. Set aside to cool. In food processor or blender combine cucumber, aloe vera and honey. Blend on low setting. Add chamomile tea. Blend until smooth. Apply gently under eyes using ring finger. Store in glass dish covered with plastic wrap in refrigerator for up to one week. Best applied chilled.
Benefits: Reduces puffiness, cools and refreshes contours under eyes.
---
Hair Shine
Makes 1 treatment
1 teaspoon honey
4 cups warm water
Lemon (for blondes)
Stir honey into warm water. Blondes may wish to add a squeeze of lemon. After shampooing pour mixture through hair. Do not rinse out. Dry as normal. For a quick hair shine tip: add 1 teaspoon of honey to your bottle of shampoo or conditioner.
Benefits: replenishes and adds shine to dry or damaged hair.
---
Peppermint Honey Feet Treat
Makes 2 treatments
4 Tbsp. aloe vera gel
4 tsp. grated beeswax
2 tsp. honey
2 tsp. fresh mint, optional
6 drops peppermint essential oil
6 drops eucalyptus oil
Rinse mint leaves and place on a paper towel to dry. Grind mint using coffee grinder (or by hand using mortar and pestle). Set aside. Melt beeswax using a small double boiler. In a microwave safe glass bowl combine aloe vera and honey, mix well. Stir in beeswax. Let cool. Add mint and oils stirring until completely mixed. Apply after bath or shower to entire feet and toes. Store remaining feet treat in covered in cool place away from sun or heat.
Benefits: Aids in circulation of overworked feet. Moisturizes and softens while it soothes and restores tired aching feet.
---
Cranberry Lip Gloss
Makes 1 treatment
1 Tablespoon sweet almond oil
10 fresh cranberries
1 teaspoon honey
2 drops vitamin E oil
Mix all the ingredients together in a microwave-safe bowl. Microwave for two minutes or until the mixture just begins to boil. (Bowl may also be heated in a pan of water on a stovetop). Stir well and gently crush the berries. Cool mixture for five minutes and then strain through a fine sieve to remove all the fruit pieces. Stir again and set aside to cool completely. When cool, transfer into a small portable plastic container or tin. Apply a small amount to lips as needed.
*Sweet almond oil can be found at natural food stores.
Benefits: Protect sensitive lips from the drying winter elements with this simple yet rich lip balm. Delightful to wear alone or on top of your lipstick for extra shine!
---
There are so many ways that Honey can improve your beauty routine and there are endless other uses as well.
Add honey to your bottle of water for an energy boost during your next workout, the next time you come down with the flu, take a spoonful of honey as needed to soothe a sore throat, or before bed as a cough suppressant, and don't forget to try it as a healthier alternative for sugar in many baking recipes.