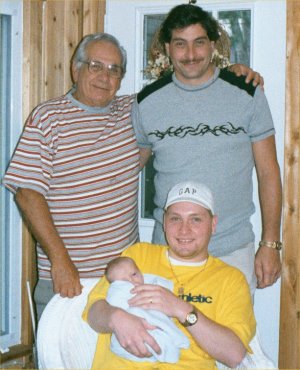 Four generations of Persichilli's: Frank, with son Martin, grandson Richard, and great-grandson Cade.

A Taste of Italy
Fast as an Olympian to respond to my quest for recipes showcasing international flavors, Frank Persichilli sent in some winning family recipes to share with other Home Cook'n readers. A first generation Italian, Frank lives in New Jersey with his wife of 13 years, Violet.

Frank's heritage, rooted in Ripi, Italy (a town just outside of Rome) triggers memories of his mother. He recalls the importance of Italian tradition passed to him in the recipes she brought from Naples and in the spices she sprinkled on her family cuisine.



Violet's life experiences bring a multitude of recipes to the Persichilli table as well. Growing up next door to a family of Italian neighbors in Northern New Jersey, she stayed wide-eyed in the kitchen and launched her recipe box and cooking talent. Later, combining her own English/Dutch heritage with the Castilian background of her first husband's family, she gleaned many Spanish cooking techniques and more recipes.

Visits to Italy and Spain with Frank continue to expand the collection. With their talented children, the Persichilli's experiment and adjust the recipe collection to suit family tastes and available ingredients.

Currently, Frank and Violet are compiling their lifetime of recipes, improved upon with every passing generation, onto their Cook'n Holiday CD. They will pass on these recipes--no, this legacy steeped in tradition and love--to the 7 children, 13 grandchildren, and one great-grandson that make up their combined family so far.

But, before that happens, we each get to taste a bit of Italy, a bit of Spain, and a dash of Americana in a few of these Persichilli family favorites: Pasta Con Fogioli, Paella, Spanish Rice, White Sauce for Rigatoni, and Biscotti.




Happy Cook'n!

Desi @ DVO


Looking for more International recipes? Check out the "Meals of Many Lands" cookbook in the Cook'n 99, Cook'n 2000, and Cook'n Deluxe software. You'll find tempting vegetarian dishes from the world over in Cook'n Vegetarian, too.

To download these recipes into Cook'n or see a photo of the food, visit the Recipe Archive.

Do you have any fabulous recipes to share with other Cook'n readers? Email your recipes to us. Include any preparation or serving hints, tell us about you and your family, and send us a picture. We'd love to hear from you...and who knows...perhaps you will be the star of the next newsletter!