Biscotti
DVO Recipe Center
DVO Recipe Center
Serves: 4
3 1/2 cups unsifted flour
1 cup almonds (or any other nuts), toasted, chopped
1/4 teaspoon baking soda
3/4 teaspoon salt
3 large eggs
1 1/2 cups sugar
1/2 cup butter, melted
1/2 teaspoon anise extract (or use instead: 2 tsp anise seed, dash of lemon and orange zest, 2 tsp. vanilla and 1 tsp. almond flavoring)

1. Preheat oven to 350 degrees. Grease baking sheet and set aside.

2. In medium bowl, combine flour, baking soda, salt, nuts. Set aside. In large bowl beat at medium speed eggs, sugar, butter and flavorings for 4 to 5 minutes or until well blended. With a wooden spoon gradually stir in the flour mixture until mixture forms a stiff dough.

3. Divide dough in half. With flou s, shape each piece into a log and press into 12 to 15" x 3-1/2" roll. Place both rolls in the same prepared sheet. Bake until firm and lightly brown (approx. 25 to 30 minutes)

4. With a long spatula, transfer rolls to cutting board. With a se knife, cut each crosswise and at a diagonal, into 3/4" slices. Place slices, cut side down on baking sheet. Bake 10 to 15 minutes turning once again until firm and crisp on both sides. Cool on wire rack.

Makes approx. 40. It depends on how wide you place the dough on the baking sheet.

Help on downloading recipes
Be sure to check the Cook'n Recipe Archive for more recipes.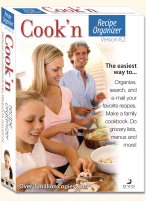 for Windows 9x/2000/ME/NT/XP/Vista

Not sure what to order?

Piles of recipe cards in your drawer?
Download Cook'n today and get organized!
Cook'n Cookbook Software Download - MSRP $99.95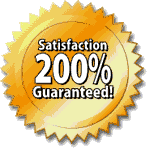 (Save 20%)
Download: $79.95

CD: $79.95



Buy the CD or download the full version of Cook'n right now! Includes over 300 of our best recipes.