White Sauce for Rigatoni
DVO Recipe Center
Serves: 4
4 hots italian sausages (Hots meaning approximately 6-inch links of Italian sausage...the sausage that comes in casing.)
1 stick sweet butter (no salt)
2 small cans button mushrooms
1/2 cup grated parmesan cheese
2 cups heavy cream
1/4 pound prosciutto,* shredded thin
1 tablespoon parsley and a pinch of basil
3 cloves garlic, chopped

* Proscuitti is a very flavorful Italian ham that is dry cured (not smoked), air-dried, and often coated with black pepper.

Remove casing from sausage and saute in a large skillet, crumbling while cooking. When sausage is done, add mushrooms and saute lightly with the sausage.

Add butter and chopped garlic. When the butter has melted, add heavy cream, 1-tablespoon parsley and pinch of basil.

Once the cream is heated (starts to simmer), add grated cheese. Stir often; cook until mixture gets thick.

Add shredded Proscuitti 5 minutes before your are ready to serve. Heat Proscuitti slightly with the mix of pasta.

Help on downloading recipes
Be sure to check the Cook'n Recipe Archive for more recipes.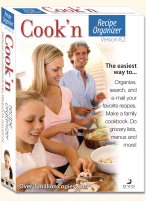 for Windows 9x/2000/ME/NT/XP/Vista

Not sure what to order?

Piles of recipe cards in your drawer?
Download Cook'n today and get organized!
Cook'n Cookbook Software Download - MSRP $99.95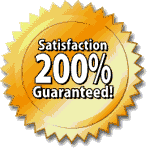 (Save 20%)
Download: $79.95

CD: $79.95



Buy the CD or download the full version of Cook'n right now! Includes over 300 of our best recipes.