Paella
DVO Recipe Center
Serves: 8-10
2 pounds skinless chicken breasts, legs, and thighs
1/4 cup olive oil
1/2 pound chorizo sausages (Chorizo is a highly seasoned, smoked, Spanish Sausage.)
2 large onions, chopped
3 cloves minced garlic
1 28-ounce can whole tomatoes, undrained, chopped
1/2 cup chicken broth, undiluted
1 1/2 teaspoons salt, divided
1 large bay leaf
1 cup long grain rice, uncooked
3/4 teaspoon oregano, dried
1/4 teaspoon white peppers
1/2 teaspoon dried, whole, saffron
1/4 cup boiling water
3 pounds shrimp, unpeeled, medium size
12 clams or mussles--fresh and clean
1 10-ounce package frozen green peas, tiny English
1 14-ounce can artichoke hearts, drained and halved
1 4-ounce jar diced pimiento, drained

Brown chicken in hot oil in a large Dutch oven; remove chicken, reserving oil in Dutch oven. Set chicken aside. Remove and discard casings from chorizo; add chorizo, onion, and garlic to oil in Dutch oven. Saute until chorizo is cooked and onion is tender, stirring to crumble meat. Add tomatoes, chicken broth, 1 teaspoon salt, and bay leaf; return chicken to Dutch oven. Cover and simmer 30 minutes. Add rice, oregano, remaining 1/2 teaspoon salt, and pepper to chicken mixture, stirring gently to combine.

Combine saffron and boiling water; stir well. Add saffron mixture to chicken mixture, stirring gently to combine. Cover and simmer 30 minutes.

Peel and devein shrimp; add shrimp and clams to chicken mixture. Cover and cook over medium heat 10 minutes or until shrimp turn pink and clams open. Remove bay leaf. Spoon mixture into a paella dish or onto a serving platter; keep warm. Cook peas according to package directions. Combine peas, artichoke hearts, and pimiento. Spoon vegetable mixture around chicken mixture.

Help on downloading recipes
Be sure to check the Cook'n Recipe Archive for more recipes.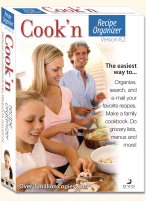 for Windows 9x/2000/ME/NT/XP/Vista

Not sure what to order?

Piles of recipe cards in your drawer?
Download Cook'n today and get organized!
Cook'n Cookbook Software Download - MSRP $99.95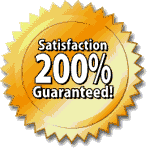 (Save 20%)
Download: $79.95

CD: $79.95



Buy the CD or download the full version of Cook'n right now! Includes over 300 of our best recipes.