Table Talk: The Best of the Rest, From Pinterest Spicy Black Bean Burgers
---
Serves: 5
Total Calories: 336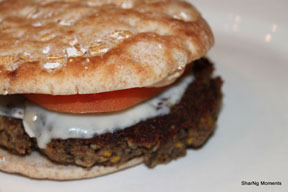 Place onion, chili and garlic in a food processor and pulse 8 times. Add beans, oats, corn, cumin, curry powder, and cayenne. Season with salt and pepper and pulse 8 additional times. Place mixture into a mixing bowl, cover with plastic wrap and place in the refrigerator for at least two hours (this is essential, I chilled mine overnight). Remove chilled mixture from refrigerator and stir in breadcrumbs. You want the mixture to be able to hold together in a patty. Form mixture into patties. Cook in skillet over medium heat, with 2 T. olive oil, add additional oil as needed. Cook patties for 5 to 7 minutes on each side or until a crust develops and the patties are heated through, this crust is essential in holding the burgers together. Hint- The crust will look dark, and may look burned, mine were dark and not burned.

----------------------------------------------------------------

My patties fit on smaller sized hamburger buns (the flat, healthy ones), and were very, very filling. The beans are high in protein so they take the place of meat nicely. We served our burgers with spicy mayo. My husband informed me that the spicy mayo was not needed. Note- this guy puts sriracha on everything, prior to even tasting it. We also served provolone and tomato on our burgers. These would have been delicious with avocado and sprouts... and maybe even a fried egg, BUT we are going for healthier here.

We froze our leftover cooked patties in a stack, with waxed paper or freezer paper in between patties. My husband has been eating them for lunch in a wrap. Maybe next time I will whip up some kind of fancy burger dressing perhaps yogurt based, avocado and do a side of sweet potato fries!

This is our final product. Keep in mind that I am just a regular chef in the kitchen, and I don't doctor or fancy up any of my food photos. So this is what this recipe might look like in YOUR kitchen!