1. Preheat oven to 350 degrees F (175 degrees C). Butter the bottoms and sides of a 9x13 inch pan.

2. Chop nuts and toss with cinnamon. Set aside. Unroll phyllo dough. Cut whole stack in half to fit pan. Cover phyllo with a dampened cloth to keep from drying out as you work. Place two sheets of dough in pan, butter thoroughly. Repeat until you have 8 sheets layered. Sprinkle 2 - 3 tablespoons of nut mixture on top. Top with two sheets of dough, butter, nuts, layering as you go. The top layer should be about 6 - 8 sheets deep.

3. Using a sharp knife cut into diamond or square shapes all the way to the bottom of the pan. You may cut into 4 long rows the make diagonal cuts. Bake for about 50 minutes until baklava is golden and crisp.

4. Make sauce while baklava is baking. Boil sugar and water until sugar is melted. Add vanilla and honey. Simmer for about 20 minutes.

5. Remove baklava from oven and immediately spoon sauce over it. Let cool. Serve in cupcake papers. This freezes well. Leave it uncovered as it gets soggy if it is wrapped up.

------------------------------------------------------------------------------------------

My tips and review:

I used pistachios as my nut in this recipe, which I purchased shelled in the bulk bin aisle of my grocery store. Instead of chopping by hand, I pulsed them in my food processor. After pulsing, I put the nuts in a bowl and tossed them so that the finer pulsed bits mixed in with the larger pieces of nut. I did need about 1/4 cup more butter. It is also essential to keep a damp towel over your phyllo sheets. Phyllo dough is located in the freezer case at the supermarket. If you do not use a damp towel, the sheets will dry out and tear very easily.

If a sheet does tear, just try to smooth it a little, but a few small tears and wrinkles will be hidden as you layer sheet upon sheet. The top layers, do need to be as tear free as possible, because that part is what will be seen. When unrolling the phyllo dough, I used a pair of kitchen sheets to cut the sheets in half to fit the pan, and it worked perfectly.

Another essential part of this (which I made an error and forgot to do right away) is cutting the Baklava before starting to bake. I missed this step and had to pull it out of the oven to do it, which cracked the pastry, and it just wasn't as pretty. I suggest cutting the pieces a little smaller than you might think. This baklava is very rich. A tip for storing: Cover with tin foil that has holes poked in it to release air, do not use plastic wrap as it will get soggy.

The recipe did not call for melted butter, as other recipes I have viewed in the past have, and it worked out fine with room temperature (soft) butter.

Here is my result...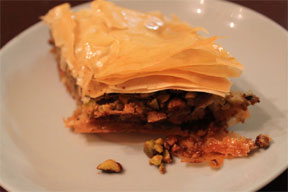 DELICIOUS!

I will definitely be making this one again! I had always been intimidated by Baklava, but after trying out this recipe, I can say I am over that fear!

Do you have any suggested Pinterest pins you would like me to try out for upcoming issues? Let me know!