Once New Year's Day has come and gone there are lots of things that get packed up and put away, hidden from daylight for another year. With the tree, the stockings, and the boxes full of frustration-inducing twinkle lights this plan makes perfect sense. Unfortunately, at my house the cookie cutters all too often end up in that crowd too.

I have the greatest of intentions and never mean for them to end up at the very back of that very out of the way cabinet (you know the one!), but somehow every year they do! I even bought that box with 100 cookie cutters so I would have "something for every holiday" but somehow, they end up neglected and unused ever year from early
January to late November.

Not this year! 2013 is the year of the cookie cutter at the Rhoades house! A little too dramatic? Okay, maybe. I do mean it though. I would like to actually use the 96 cookie cutter shapes that have never been loved like they should. So get ready Easter Bunny, shamrock, sailboat, and beach ball! It's your year to shine.

Here are 10 alternate ideas for using those neglected cookie cutters all year long!

#1 Fun Fruit Salad: Use your cookie cutter to cut your watermelon, cantaloupe, pineapple, and other fruits in to fun shaped to dress up any fruit salad. (Photo credit: vegetablefruitcarving.com)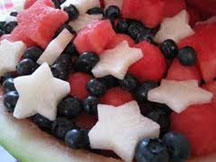 #2 Cake Decorating Stencil: Simply place the cookie cutters on top of your cake and then pour on colored sugar or sprinkles. You can add frosting too.

#3 Playful Pancakes: I definitely recommend the metal cutters here, but it is so easy. Just spray the cutter and set it on the griddle. Then fill it with pancake batter and pull the cutter off when it is time to flip. So easy and so fun. (Photo Credit: www.ziploc.com)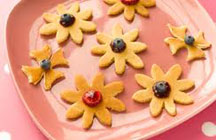 #4 Snazzy Sandwiches: What could be better than a PB&J cut into a flower? Yeah, you're right... a dinosaur would be better! From every day lunches to a party platter that will get them talking, this is one fun way to get the most out of your cookie cutters.

#5 Cake Stacks: These will be a party favorite. Use the cookie cutter to cut shapes out of pound cake. Layer your cute cake and frosting to make a deliciously adorable dessert.

#6 Fruit Pops: Along the same lines of the fruit salad, these fun little fruit pops are an easy way to get the kids to grab some fruit and eat it up. (Photo credit: bakersroyale.com)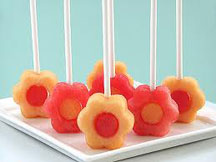 #7 Cheesecake: Instead of using a springform pan the next time you make cheesecake, use a 9 x 13 inch pan. Once the cheesecake has cooled use cookie cutters to cut out fun shapes. Then dip the cheesecake into melted chocolate and allow to harden until ready to serve. Yum!

#8 Ice Cream Sandwiches: Spread softened ice cream into a cake pan or cookie sheet. Freeze. Once frozen punch out shapes, place them between two cookies of the same shape and freeze each sandwich in a baggie until ready to eat.

#9 Meat and Cheese Tray: Sure little squares taste just as good, but punching it up a notch will make it all the better!

#10 Cake and Pie Decorations: A great way to decorate pies that have a double crust is to simply cut out pieces of pie dough and place them on top of the crust. Just take a piece of store bought pie dough and cut out different shapes. Use an egg wash to help the pieces to stick to the other pie dough. For cakes, use the cutter to cut shapes out of fondant and decorate away!