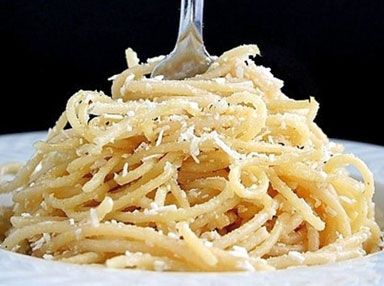 I adore the Old Spaghetti Factory; on occasion we have planned trips around making it to this restaurant. My favorite is the Portland, Oregon location, but any will do. Also, I should mention that I am not a risk taker when eating out. Nothing leaves a sour taste in my mouth (pun intended) as much as paying as much for one plate, as I could have fed a family of four, as having that plate be not tasty! So, once I find a dish I like, it's hard to sway me.

That being said, The Old Spaghetti Factory has never disappointed me on any meal. Since our closest location in Los Angeles is only open for dinner, and we don't enjoy getting stuck in rush hour traffic, I thought I might try my hand at copying my favorite dish from the restaurant. So I gave the Mizithra Cheese with Brown Butter a go. My result was delicious. I haven't been back to The Factory, but I know that my plate usually runs me about 10.50 with tax. I have made this dish for four, with extra cheese, for less than that. The best thing, it is ridiculously fast AND easy.

Let's start with Mizithra. It can be a little hard to find, so keep an eye out for it. You may find it in cheese shops, or higher end delis. I have found it in my local grocers (and let's be honest, I bought several hunks of the stuff, because I was afraid they got it as a fluke), and it was relatively affordable. The cheese is Greek in origin, and is an unpasteurized goat's cheese.

Don't let that freak you out; it's a deliciously salty semi soft cheese. I suggest you taste your mizithra before you cook with it to determine the saltiness. When I cook this meal, I do not salt the pasta, as I feel the salt you get from the butter and the cheese is enough. Mizithra stands up well in the freezer, and grates exceptionally well. In this dish a little goes a long way.

Let's get started! Most of these skills you have, and it's a fast meal. The whole thing takes me about 20 minutes. I start by boiling water, and getting my spaghetti going. Cook spaghetti according to the directions on the package. Taste Mizithra as you put the pasta on to boil, depending on the saltiness of the cheese you can choose to add salt to your pasta water as you boil the noodles.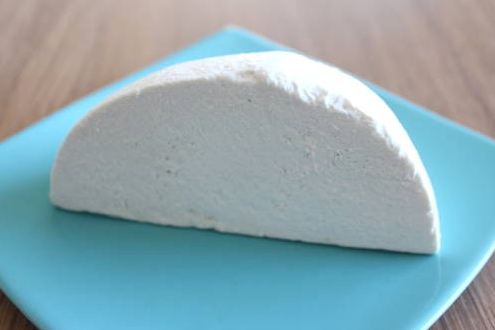 As your pasta boils, finely grate up the mizithra. For two adults (and enough for dinner the next night), I use about two and a half ounces of grated mizithra, estimating this to be about 1/3 of a cup and seems to be a lot more than I have ever had on a dish, in the restaurant. You can adjust this to taste.

In your last 3 minutes or so of pasta cooking, add butter to a separate saucepan. I would choose one with high sides if you have that option. Browning this butter sounds scary, but it is really not too bad. Add butter to a cold pan, to avoid splatters. Turn burner onto medium high heat. Swirl the pan occasionally. This process is going to go fast, so keep an eye on it. Continue to heat the butter, it will completely melt and then start to bubble and get frothy. At the frothy point stop swirling the pan. Watch for brown specks to form. The butter starts brown and gets darker as it cooks, as it browns, I remove it when it is a light orange color, because it will continue to cook after you take it off the burner. At the light orange color, I pull it from the burner, and give it a final swirl, and wa-la, you are done!

To drained pasta, add the mizithra cheese, and toss, then add the browned butter and toss again. You can add chopped parsley for garnish, or add garlic (I would add sautéed garlic to the butter mixture after you have browned the butter).

Serve warm.

I have provided you some basic amounts for ingredients, but really, this recipe is so easy to adjust. It is also easy (and cheap) to serve to larger groups of people. Keep in mind if you are serving larger amounts of people, you will need more butter, and it will take longer to brown. It helps to cut the butter into little slices to get even melting.

For Christmas Eve, we did Brown Butter Mizithra, a side Cesar salad, toasted garlic bread, stuffed mushrooms and Sparkling Cider. It was a very elegant meal, but also surprisingly easy and cheap. I used 3 lbs of Pasta for approximately 10 adults with these sides. I think asparagus would be delicious as a side as well.

Estimates for about 4 servings, adjust all to taste.

1 small box of spaghetti noodles, cooked and drained (do not rinse)
1/3 c to 1/2 cup unsalted butter, browned
2.5 ounces (about 1/3 cup) finely grated mizithra cheese