101 Things To Do With a Potato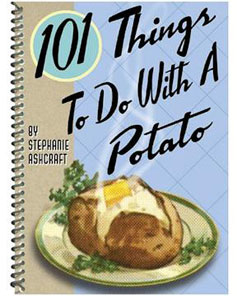 Our first cookbook offer this month is from the very popular "101 Things" line and it's all about potatoes! Who knew that potatoes were so versatile? This cookbook goes so far beyond just your typical baked potato with butter and sour cream, it has all kinds of amazing recipes in it for Soups and Stews, Salads, Main Dishes, Side Dishes, Fries and Wedges, Breakfast, Breads and Desserts (yes, desserts!), and of course two whole chapters on various Baked and Mashed potatoes!

There are a bunch of helpful hints in the introduction all about the different kinds of potatoes, storage tips, and lots of cooking tips for both real and instant potatoes to make using this cookbook even easier. This is a great cookbook when you need a fun dinner idea but don't want to cook something that will be time consuming and tricky. The recipes are easy to make but so delicious!

I own this cookbook and I use it frequently in my home because I think just about everyone likes potatoes! It's not all about just using your standard russet potatoes, this cookbook uses all different types of potatoes, including frozen potatoes, instant potatoes, and flavored potato box mixes to create hearty meals that will satisfy your family and their appetites. The soup recipes are great for this chilly time of year, and I was surprised by how yummy the breads, rolls, and desserts in this cookbook were! Your family would never guess that the delicious Chocolate Chip Banana Spice Bread you just made has a whole cup of mashed potatoes in it!

Here are some of the recipes you will find in this cookbook - I've tried them all and we loved them! Cheddar Potato Soup, Tomato Beef Stew, Hot Bacon Potato Salad, Honey Mustard Chicken and Hash Brown Casserole, Mashed Potato Taco Pie (I love this one, and I add 1/2 cup sharp cheddar cheese to the top of the casserole in the last 15 minutes of baking), Ben's Japanese Curry, Cornbread Stuffing Potatoes, Oven Roasted Rosemary Potatoes (we have this one ALL the time at my house), Twice Baked Ranch Potatoes, Chicken Salsa Baked Potatoes, Asiago Mashed Potatoes, Baked Cottage Cheese Mashed Potatoes, Parmesan Potato Spears, Italian Potato Chips, One Skillet Bacon Breakfast, Smoked Sausage Egg Skillet, Peanut Butter Chocolate Fudge, Family Favorite Potato Rolls, Potato Chip Cookies, and Sweet Potato Cheesecake-don't knock it until you've tried it!

The Happy Heart Cookbook

We thought that since it was February, the month all about Valentine's Day and hearts, we would offer a cookbook to keep your heart healthy and happy! This is a great low cholesterol cookbook, without tasting like "diet food".

This cookbook starts out with a whole bunch of great information about cholesterol, how to understand it, why fad diets don't help it, how to read nutrition labels to spot it, cooking principles, and even ways to "cheat" when you eat out in restaurants! This is truly a cookbook about making a healthy lifestyle change, without extreme measures of never getting to eat what you like. There is also advice about commercially prepared foods and tons of tips on learning to "Eat for Life", how to make a low cholesterol diet work for you and your families.

There are even tips on how to keep your lunches healthy for people on the go, which I thought was great. That is the hardest part of almost anyone's diet, trying to find nourishment that is fast and easy but also healthy can really be a challenge. I like that this cookbook has a whole chapter dedicated to just sandwiches, how much easier could it get? There are also some great breakfast recipes, since that seems to be another area that we sometimes take the easy, and very unhealthy, way out.

I was also surprised by the amount of meat recipes in this cookbook, I was always under the impression that was something that had to be cut out of a diet for those watching their cholesterol! There are recipes for beef, pork, poultry, lamb, veal, and all kinds of seafood including shrimp, clams, tilapia, flounder, and even swordfish! If you are a big meat-eater, this is still a great cookbook for you because it's all of the flavor but cooked in a healthier, smarter way! There are still plenty of vegetables for those of you who aren't as into the meat side of a diet, so it's got something for everyone.

There are recipes for every possible thing you could think of in this cookbook; appetizers, soups, meats, fish, poultry, vegetables, salads, dressings, noodles and sauces, breads and muffins, and even desserts! And not the kind of desserts that won't satisfy a sweet tooth, these are real desserts that just have a few smart substitutions in them, like using polyunsaturated margarine and oil, non-fat milk, and egg substitutes. The Mandarin Orange Cheesecake is a must-try! The recipes in this cookbook are simple and easy to prepare, so anyone will be able to get into a healthier, happier routine for a much better lifestyle.

Here are some of the recipes you can find in this cookbook: Spicy Black Bean Dip, Oriental Chicken Wings, Honey Glazed Lamb Meatballs, New England Fish Chowder, Meat Loaf, Stuffed Peppers, several kinds of steak recipes, Beef Stroganoff, Italian Braised Pork Ribs, Baked Stuffed Tilapia, Broiled Halibut, Garlic Lemon Shrimp, Glazed Sweet Potatoes, Broccoli Casserole, Maple Lemon Carrots, Stuffed Acorn Squash, Corn Salad, Cabbage Slaw, Lasagna, Pasta with Roasted Sausage, Toasted Chicken Sandwich, Corned Beef Omelette Sandwich, Corn Bread, Chocolate Chip Walnut Banana Bread, Apple Crumb Pudding, Blueberry Pineapple Trifle, Pear Cobbler, and of course, Chocolate Cake, with Chocolate Frosting!