During the winter months, I love a good cinnamon roll. I make them homemade and its one of the few sweet treats that my Asian hubby likes (he didn't grow up with many sweets). Lately though, my taste buds have been cheating on my standard roll. So, to aid this cinnamon roll disloyalty, I present to you, my solution.

You can pretty much anything inside a cinnamon roll. The rules are to not overfill, and to make sure it's thick enough that it doesn't just slide right out. Here are some options for you. These alternative are for the filling part, when the directions tell you to sprinkle with a sugar and cinnamon mixture. Remember to keep the filling a good distance from the edge of the dough, so that when you roll it up, it doesn't seep out, and onto your hands.

Baking Chips- I suggest melting these before spreading.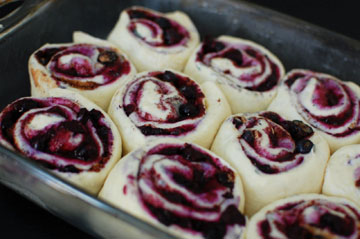 Fresh Fruit - Try rolling fresh blueberries in sugar, slightly mashing them, and adding them. Chopped apple, peaches, strawberry, cherries are also yummy options.

Dried Fruit- Cut small, cranberries are especially delicious. *can be added to dough as well*

Nuts- Chopped fine. *can be added to dough as well*

Spreads- Think Peanut butter, Nutella, or the new JIF hazelnut spread.

Jams, Jellies, Preserves- Keep in mind some of these may have seeds, and some may be tart, you can add sugar for sweetness, or keep it tart for a little bit of edginess. I am lumping in fruit butters and marmalades here too.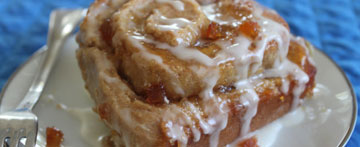 Pudding- Butterscotch, chocolate, white chocolate, caramel, coconut cream, mix up the jello pudding with less water to make a thicker pudding.

Here is something you might want to try. I haven't yet, as my hands are full of an infant. Marshmallow fluff and chocolate shavings... S'more rolls, I am salivating.

Really the possibilities are endless, you can get creative, or stick to simple. If you are stuck though, here are a few of my favorites. Sweet orange marmalade with chopped, toasted walnut, and cranberries mixed in the dough OR Cherry preserves, OR butterscotch, OR raspberry preserve (seeds strained out) with white chocolate.

What are your favorite flavors? If you decide to try the S'more roll, please comment and tell me how it goes, so that I can live vicariously through you. Search the Cook'N database for your next cinnamon roll recipe!