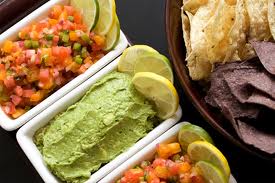 Feeding a crowd can be a challenge. That's why I almost always choose buffet style. A buffet setup is great for serving salads, baked potatoes or my favorite, a taco or nacho bar. Taco bars don't require a lot of work and everything can be done ahead of time. Meat can be prepared a day or two before or even the day of, in a crock pot. Toppings and sauces can be prepared earlier in the day and put into containers with lids and refrigerated. Easy, easy, easy!

Taco bars are great fun for family or neighborhood get together, Cinco de Mayo, or the Super Bowl. Because everyone likes their tacos made with different ingredients, serving them buffet style is the only way to go.


Flour or Corn should be first in your setup. Don't forget to put out some tortilla chips.
Fillings: Shredded beef, chicken or pork chili, refried beans or black beans.
Topping:
-Onions (chopped or caramelized)
-Shredded lettuce or cabbage
-Grated cheese such as Mexican blend, cheddar or pepper jack
-Sour Cream
-Chopped tomatoes and or salsa
-Corn
-Guacamole
-Hot Sauces (mild, medium or hot)
Green rice is also a good dish to serve with this. Fancy drinks and a light dessert would make this taco bar more than complete.