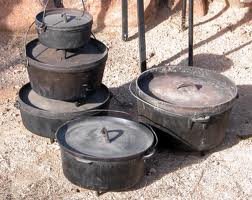 Dutch ovens are great cooking tools. They can be used in several ways for cooking and are quite resilient. Dutch ovens take relatively little care, and will last years with just a little effort. It is also possible to resurrect old timer Dutch ovens, which, if you are lucky, might be found at a thrift sale, or a yard sale. Dutch ovens even develop a natural nonstick surface if seasoned and cared for correctly.

What are some things to look for when picking a Dutch oven?

Legs are important because they allow the dutchie to be able to sit on the ground, with coals underneath. This is important for good heat distribution. A wire bail is important because it allows for easy transportation and a handle gives ease for lifting of a very hot lid. Look for a lid that has a well, meaning a lip on the edge, with a flat, depressed surface. This allows the coals to be piled on top of the dutch oven to cook from the top. The flat lid will allow you to stack one oven on top of each other. If you can find an oven with a contoured lid, that lid can be placed in coals and used as a sort of skillet. Make sure the lid is snug and secure, and that the thickness of the kettle is uniform.

Here are some tips for Dutch oven care.

Seasoning/oiling

Often when you buy a brand new dutchie, it comes preseasoned. With those ovens, the work is already done for you, however, it will still need seasoning upkeep. Oiling or seasoning prevents rust and keeps the Dutch oven non stick, sometimes it will take several seasonings to build up to the nonstick surface. The aluminum Dutch ovens will not rust like iron, but seasoning still builds up a nice coating and makes the food cooked within even better. You will want to season the oven after every cleaning and a proper seasoning will take about 30 minutes to an hour.

To season a Dutch oven simply start with a clean and warm dutch oven. A warm (not hot) dutch oven's pores will be open and this helps in the oiling process. Using a paper towel or soft cloth, oil the inside of the oven with vegetable or olive oil. Don't over-oil, the amount of oil is just enough to lightly coat the bottom and insides of the dutch oven. After oiling the oven, use some wadded up tin foil to rest the lid on top of the oven, while giving it enough room to breath. Let the pot cool completely and dry before putting into storage.

For information on how to season your Dutch oven in your kitchen, the Dutch oven dude has some great instructions. They can be found here. http://www.dutchovendude.com/dutch-oven-seasoning.shtml

Cleaning

After every use, it is important to clean your pot. Do this by gently removed all food bits. NEVER use soap on your dutch oven. After all food is removed, place a few inches of water in your dutchie, and heat. It is important to not put cold water into a hot oven, doing so can warp the metal and possibly even crack your oven. When the water is nice and hot, use a plastic food scraper to remove any stubborn bits. Rinse the pot out and allow to dry completely before seasoning.

Storage

Keep your clean, seasoned oven in a well-ventilated, dry place. Allow the lid to be slightly askew, keeping air moving in the inside of the pot as well. There are storage bags that can be purchased, but we always stored ours in a plastic bin. Another suggestion is a large paper bag for storage.