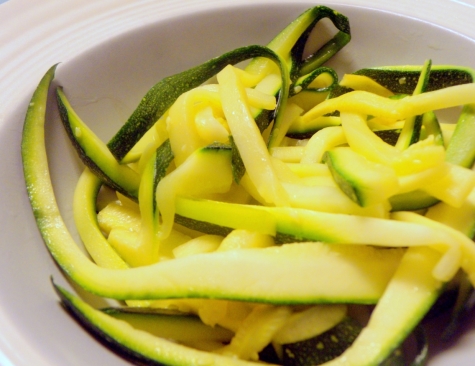 I'll admit, Italian food is a major weakness of mine and our family eats Italian at least three nights a week. I'm addicted to the sweet tomato sauces covered in cheeses and spread over warm noodles. This has always been a source of comfort food for me. You can imagine how skeptical I was of replacing my delicious pasta noodles with lean green zucchini. It didn't seem as appealing and comforting as my carb-loaded strings of goodness. I set aside my skepticism and decided to see if these noodles could really deliver that same fulfillment.

Here is how I made the zucchini noodles. First I chopped off the ends of the zucchini then cut it lengthwise into thin slices like this: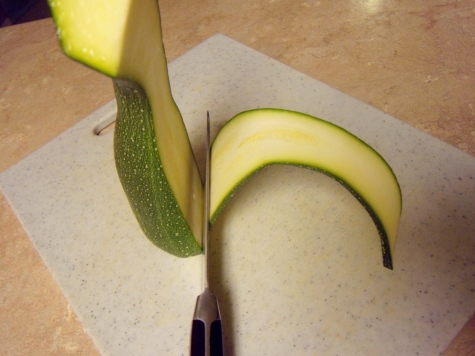 I then took each slice of zucchini and cut it into several thin strips like this: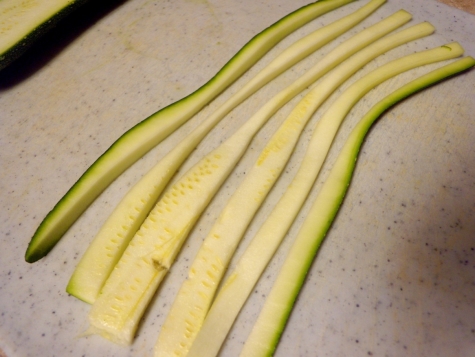 I placed the zucchini noodles in a colander and tossed them with a little salt and let them sit for a few minutes to let the juices drain a bit.

I heated up a little olive oil in a pan and sautéed the zucchini noodles just until they started to become tender and release some of their moisture. I then drained them in the colander again and then they were ready to serve.

The moment of truth arrived. I smothered them in some homemade spaghetti sauce and sprinkled a little parmesan cheese on top. I twirled a big bite around my fork and slowly delivered it into my mouth. It was...amazing! I couldn't help but have a second helping. The best part was I didn't feel weighed down after dinner. This low-carb alternative to pasta noodles has become a new family favorite at our house.

What other creative ways have you found to cut out some of the carbs from Italian food? Please share!