Featured Recipe: Classic Apple Pie... With a Twist
---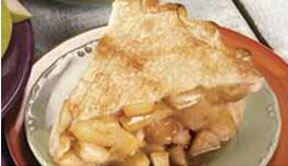 Serves: 8
Total Calories: 107
Prep time:
Cook time:
Total time:

1
(15-ounce) package
refrigerated pie crust
1/4
cup
brown sugar
2
tablespoons
flour
1 1/2
teaspoons
cinnamon
6
medium Granny Smith
apples
, peeled, cored, and sliced
12
caramels
, unwrapped and cut in half
2
tablespoons
butter
Preheat oven to 425 degrees F. Lay 1 crust in the bottom of a 9-inch pie plate. In a medium bowl, stir together sugar, flour and cinnamon. Add apples and toss well. Place half of the apples in the prepared crust; top with half of the caramels. Repeat with remaining apples and caramels; dot top with butter. Roll out crust to make slightly larger and lay over the apples. Turn the crust under and press lightly to seal. Crimp or flute edge decoratively, if desired, and cut several slits in the top. Bake for 40 to 50 minutes, covering the edges with foil halfway through the cook time if edges get too brown. Let cool slightly before serving.