One of my favorite memories growing up was coming home from school every day, and not just because then it meant the school day was over, but because my mother always had a treat on the kitchen table for my siblings and I. I don't think a day went by that there wasn't some kind of treat, snack, or goodie waiting for us after school. Sometimes it was a store bought something, but usually it was something my mom made.

My favorite days were the ones where the treat was "some assembly required." We especially loved Cookie Art! Cookie Art is great because it is made with refrigerated cookie dough, so it's fast, easy, and less clean up! I have listed some quick, easy, and fun ideas below.

Cookie Art is a great way to build memories, have fun, and dress up your average cookies! We always forgot to tell our mom until the day before when we needed a dozen cookies for school the next day, or that we signed mom up to bring a treat to the party, or something like that, and these quick cookie ideas are perfect for those circumstances too. These are great ideas for all of the holiday parties, birthdays, and other occasions that need a special activity!

1. Cookie Sundae Cups: Use your favorite kind of refrigerated cookie dough and press one square into each cup of a lightly greased muffin tin. Bake according to package directions and then top with ice cream, sprinkles, hot fudge, or any other favorite ice cream topping!

2. Sugar Cookie Shapes: Cook a package of sugar cookies according to package directions. Blend together cream cheese (8 oz.), orange marmalade (about 1/4 cup), and 2 teaspoons of sugar for frosting. The fun part of these cookies is decorating them! Use fruit segments to create shapes, animals, and patterns. For example: use a strawberry segment for the body with a Mandarin orange wing in each side make a butterfly. Any kind of fruit is delicious on these cookies, we usually use strawberries, Mandarin oranges, kiwis, blueberries, pineapple, and peaches. These cookies end up being a more healthy and delicious treat! If you have the Cook'n software, don't forget that you can analyze the nutritional value of a recipe easily to see what kind of treat your family is eating!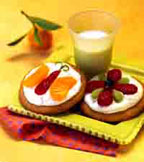 3. Donut Cookies: These are so much fun for little ones to decorate! Use any refrigerated dough and separate into 12 pieces. Let it stand for a few minutes at room temperature until pliable. Shape each piece into a long rope. Coil the ropes into the cups of a greased muffin tin, leaving a hole in the center. Bake for 12 minutes at 350 degrees, remove from oven and reshape the holes with the round handle of a wooden spoon. Return to oven and bake for another 5 minutes or until set. You may want to reshape the holes one last time if necessary. Let them cool in the pan for a few minutes, and then remove and cool. Once cooled, you can frost them and top them with sprinkles or small candies to give them a glazed donut look!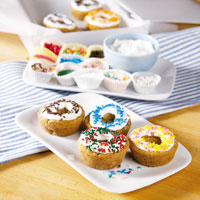 4. Peanut Butter S'Mores: Cook up a package of refrigerated peanut butter cookies according to package directions. Once cooled, you may begin to assemble the s'mores! Place a square of chocolate on the flat side of a cookie and then top with one large marshmallow. Microwave until the marshmallow is puffy, then top with another cookie and press until the chocolate and marshmallow spread to the edges of the cookie. Enjoy!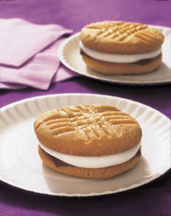 These fun, innovative cookies will be sure to delight tummies, entertain busy fingers, and create memories that will last much longer than the treats do!