The steaks are on the grill and drinks are in the cooler, but what sides can you prepare without running back and forth from the backyard to the kitchen all evening? If your house works anything like mine does, it require two sets of hands.

I stay in the kitchen preparing the salad and other side dishes while my husband enjoys the view from the deck as he mans the grill – an unfair deal if you ask me! So this summer we are going to focus on side dishes that can be grilled! That way I can spend some extra time enjoying the sun as well!

Try these sides and see if you enjoy a little extra time outside that warm kitchen this summer.

1. Zucchini: Grilled zucchini has the most amazing flavor once it comes off the grill. The flesh loses its starchy, squash-like taste and grows sweet. Making it is easy: Slice zucchini the long way and rub with olive oil. Then sprinkle with chili powder, salt, and pepper and grill until you have nice grill marks on each side. Simple, delicious, and healthy too!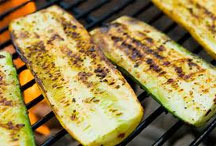 2. Potato Wedges: Grilled potato wedges are a burger's best friend. They're also a low-fat alternative to French fries. For best results, par-cook potatoes first in a pot of boiling water, but stop before they're fork tender. Brush with olive oil, salt, and pepper and grill on both sides until crisp and charred. Serve with the Utah favorite "fry sauce". Just a mix of Mayo and ketchup and it is yummy!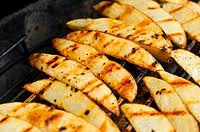 3. Flatbreads: Mini pizzas are easy and fun to grill. They please hungry appetites of all ages too so they are a great option for any get together. You can go as fancy or as classic and your crowd pleases. Simply grab some prepackaged flatbreads, or if you're making dough from scratch, par-cook on one side. Then top with whatever you want: figs and Gorgonzola cheese, tomato-basil and mozzarella, or even some of that pulled pork and barbecue sauce you were making anyway. Grill over low heat with the top closed and you'll get a crisp, melty mini-pie that you can slice and share.

4. Honey-mustard-glazed kielbasa: Try this with kielbasa sausage: Slice down the middle to make the sausage into two halves. Then grill on each side. As you turn them over, baste in a sauce made with honey, whole-grain mustard, olive oil, and garlic. As the sauce caramelizes on the grill, it turns sweet and the garlic cooks in. To serve, slice each half into small bite-sized pieces and let your guests go to town.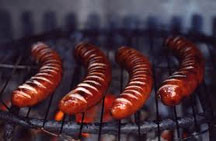 5. Pineapple and watermelon: For dessert, these fruits hold up great on the grill. For the pineapple, you can grill it whole or slice and grill individually. If you grill it whole, use low heat and cook for 30 minutes or more. The inside will practically melt apart -- even the tough core. The watermelon works best in inch-thick slices, cooked quickly over high heat. Both gain a smoky, grilled flavor that really impresses. For bonus points, sprinkle your pineapple with cinnamon, and salt your watermelon. Your guests will love you for it.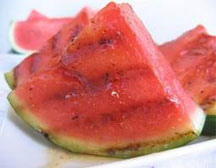 6. Corn on the cob: Grilled corn with bits of char all over is really incredible. Making it is super easy too. There are two ways: First, leave it in the husk but remove all the stringy grass from the inside. Wet the husk and it will sort of steam the corn inside. The other way is remove the husk and all and grill the corn bareback. The kernels are a little bit drier that way, but the smoky flavor is better. Top with butter and sprinkle on salt and ancho chili powder to finish. Check out my other article this month for more variations on this awesome grilled side!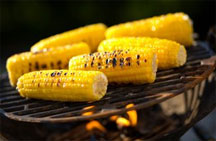 7. Cherry tomatoes: Skewered tomatoes don't steam and lose too much juice thanks to the piercing. So try this instead: Toss a package of cherry tomatoes in olive oil and sea salt and set them on your grill's top grate. Close the lid and cook slowly for about ten minutes and you'll have the absolute best tomatoes you've ever tasted. The heat and flame turns them into little sweet-savory orbs that pop open when you bite into them. Be careful not to pop them on the grill!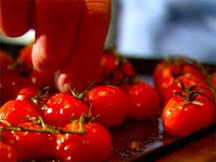 8. Grilled eggplant dip: Here's something to toss in the smoker or grill with that slow-cooking barbecue: eggplant. Simply cook over very low heat until the eggplant is completely soft and roasted. Then scoop out the insides and treat like you would an oven-roasted one. Turn it into savory dip like baba gannouj.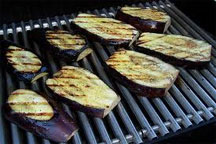 9. Bacon-wrapped jalapeños: Slice the core off of fresh jalapeños and remove the seeds with a knife. Then stuff with cream cheese and wrap in salty bacon. A toothpick will keep them together as you grill them till the bacon is crisp and the jalapeños get soft. These are so good, you'll want to make them all the time – summer or not!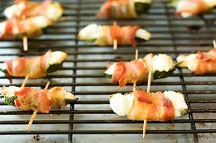 10. Bananas with rum and brown sugar: This is great- Take slightly underripe bananas and slice on a bias like you were making bananas foster. Then soak the pieces in a bit of dark rum for 30 minutes. Roll them around in brown sugar until they're coated, and grill over high heat for just a minute or two per side. The sugar should caramelize, and the banana will get all soft and sweet. Serve it over ice cream for a cool dessert to end the perfect bbq.

Sources: http://blogs.browardpalmbeach.com, google images