If you are wondering about the title of this article, it really fits my life right now! I am a new writer for the newsletter, and I would like to introduce myself. My name is Megan Anderson. I have been married to the love of my life, Ben, for about 5 1/2 years, and I just gave birth to our first baby! That explains the hair brained part... My new little son, Noah, not even a month old yet, is a joy and I love being a new mom.

It's a little crazy, I didn't realize how much I would miss sleeping, and I had no idea the amount diapers I could go through in a day, but being a stay-at-home mom has been a very rewarding, uplifting experience that I wouldn't trade, and I look forward to the years to come! As for the half-baked part, well, that is because I am taking on this newsletter, with the hope that I can provide meaningful, helpful, and informative articles for you to read and enjoy!

Until recently with the addition to our family, I have spent the past couple of years working as the manager of a bookstore. I LOVE books! My house is littered with them, I have books in every room on multiple bookcases, piled on chairs, and sitting on about every flat surface, and that includes my kitchen! I love cookbooks as much as I love a good novel. Working at the bookstore provided me with the opportunity to read a lot of great books, and also to experiment with a lot of great cookbooks! I thought I would share my method of picking a good book, as well as picking a good cookbook, it rarely fails!

For picking a good fiction book, my favorite thing to read, I have what my husband has termed the "three flip" rule. I like about any genre, but I am picky about the content of my fiction, and I have been frustrated in the past to pick up something intriguing, only to put it down halfway through because of disappointing content. So, I always flip to three random places in the book and I read a few paragraphs on each page. If I don't find anything objectionable, boring, or distasteful I am almost always assured of a good read.

I have gotten many funny looks from people as I peruse bookstores by flipping to random places, reading a moment, and then putting a book down, but it's worth it! It saves me money by not buying something I won't like or sometimes even finish, and it saves me the frustration of a disappointing read. Picking a good book is like picking a friend, I want one that I can turn to time and again! Be careful not to read anything too close to the ending though, or you may spoil a good suspense novel, or solve the mystery before you intend to!

As for cookbooks, I have a pattern. We have all done it, picked up a cookbook, glanced through it a little bit, taken it home, and then never used it again because it just wasn't what we thought. How frustrating! I have so many books, I don't have room for ones that I don't truly want to keep! So, here is my system: I always look on three pages of a few sections of the cookbook. If I would actually like, and make, something on two of the three pages, the cookbook will be great!

For example, I always check the desserts (who wants a cookbook with bad desserts?!), the main dishes (since dinnertime is what I do most of my cooking for), and, if the cookbook includes it, the breakfast section (my favorite foods are breakfast foods!). These are the sections that are usually most important to me, unless it is a specific type of cookbook-just salads or just desserts for example. In that case, I would check what all of the chapters are, find the ones that I am most interested in, and then still do my three flip method. Find your own method, and make sure that if you find yourself using the same sections of your current cookbooks over and over, main dishes or breakfast for example, that you pay special attention to those sections of a cookbook before you take it home! This is, of course, in addition to flipping through the whole book anyway, I could read through cookbooks all day long!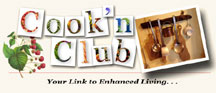 I thought, since we are talking about cookbooks, that I would share a review of one of my recent cookbook acquisitions. For those of you who are Cook'n Club members, this book is actually one of our best sellers. Don't forget that you can get a free cookbook every month with your membership! We have noticed that not all of our club members use their free cookbook offer, so this is a reminder, and a recommendation, to get the Barbecue Bible cookbook by Steve Raichlen for free! Not a Cook'n Club member? Find out how to join the Cook'n Club here!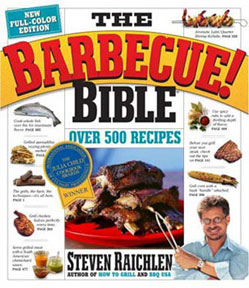 The Barbecue Bible is a cookbook that I, admittedly, got more for my husband than for me. I love barbecue food, and I love when my husband gets to do the cooking! It was a great gift, he was excited about it and I got the benefit of all the great food! This cookbook has tons of great marinades, rubs, salsas, and sauces that are easy to make, and he even gives a meat recommendation for most of them.

It is a great way to dress up your average chicken or steak, and a great way to give more variety to ribs and kebabs. He also talks about seafood, pork, and of course, burgers. He gives over 500 recipes in this incredible cookbook, and it's not just meats! He has vegetables, salads, side dishes, and even desserts! One of our favorites that we have made over and over again all summer long is a grilled corn on the cob that you soak in brown sugar water and grill in the husk. Delicious! With summer coming to a close and the fall coming in, this is a great time to grill!