The Quickest Way to Peel Tomatoes and Peaches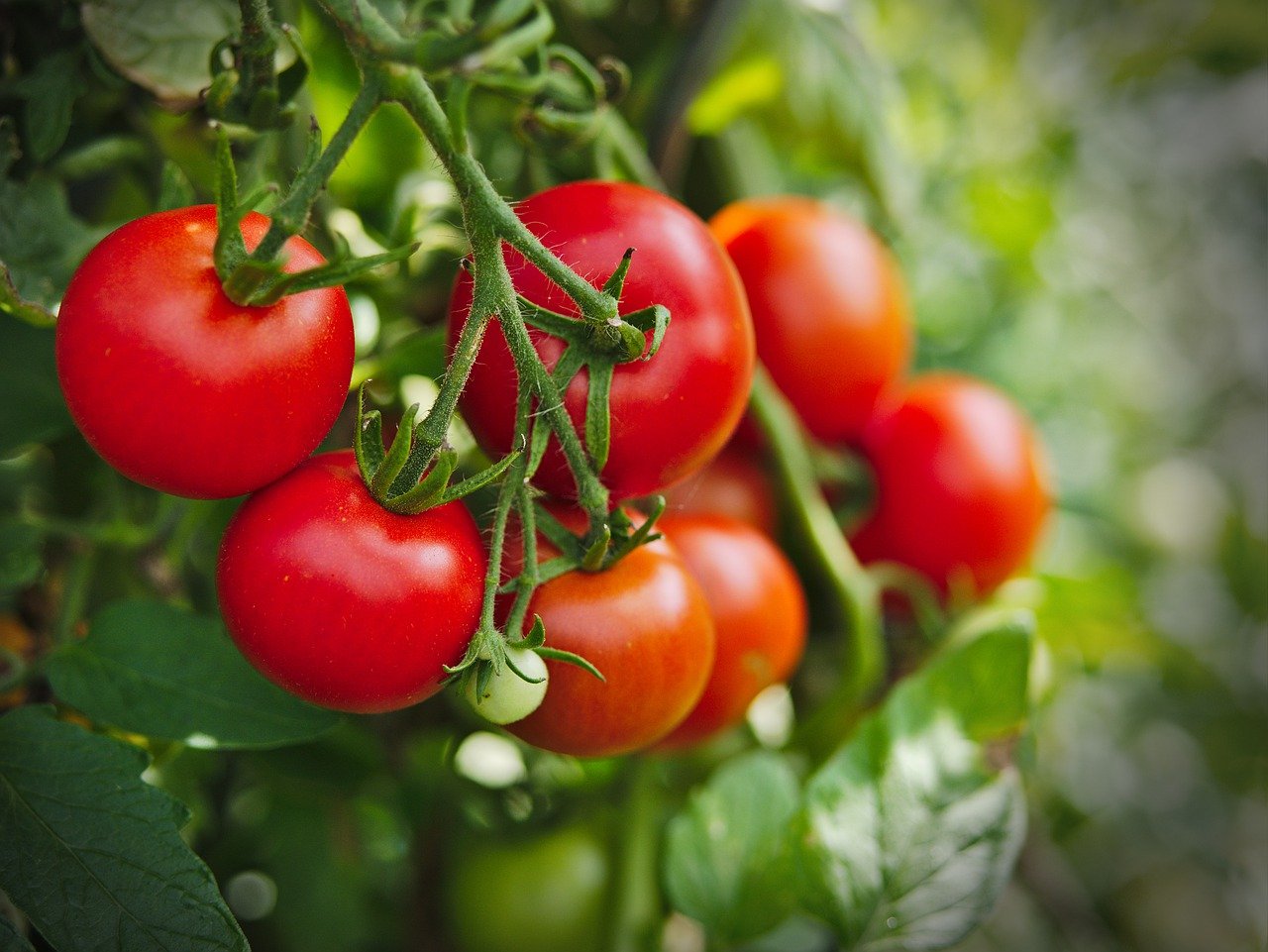 If you have any canning to do with a bountiful garden of tomatoes or peaches (home grown or farm grown :) ) I have a little trick for you today of the quickest way to get off the peels of tomatoes and peaches. All it takes is a boiling pot of water and a bowl of ice water next to it. Simply bring a pot of water to a rolling boil, add the tomatoes or peaches, boil for just one minute then dunk in the ice bath until they are cool enough to touch. The skins will then slide right off.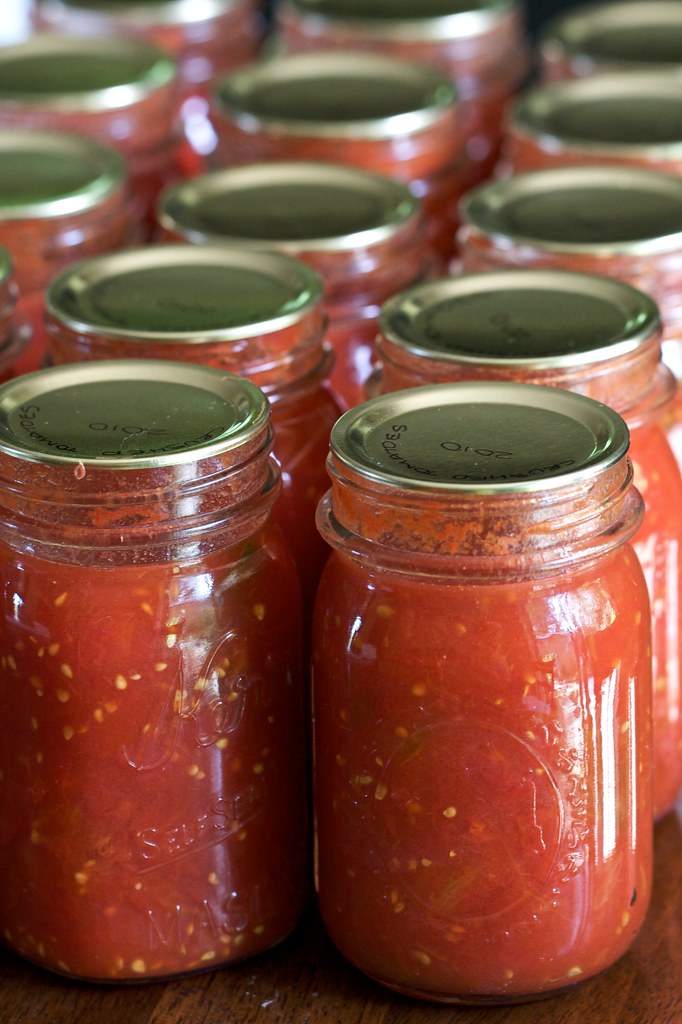 This is great if you are going to be prepping for canning these items, or even making a homemade tomato sauce or stew of any kind. Most of us find tomato skin undesirable texture-wise when tomatoes are cooked. There is quite a great debate about whether you need to take the skins off peaches for canning and baking things like cobblers and pies. For example, I read a lot of comments on the subject and plenty of people love to leave the skins on for their canned peaches and they don't make a sugary syrup for them to bathe in because they say that leaving the skin on creates a beautiful, sweet pink syrup in the canned peaches that you cannot attain if you skin them first. So it is really a personal preference and perhaps one you'd want to experiment a bit with to see what you like. 
Something fun I learned about peaches is you know how they are more golden at the top and get that deep pink/red towards the bottom? Did you know that this is actually because they ripen and get that beautiful deep color from the sun? The top doesn't ripen as much and stays more golden because it is hidden from the leaves. Some peaches will actually even have a leaf print on it where it ripens all the way around the outline of the leaf--almost like a suntan or sunburn line from a bathing suit.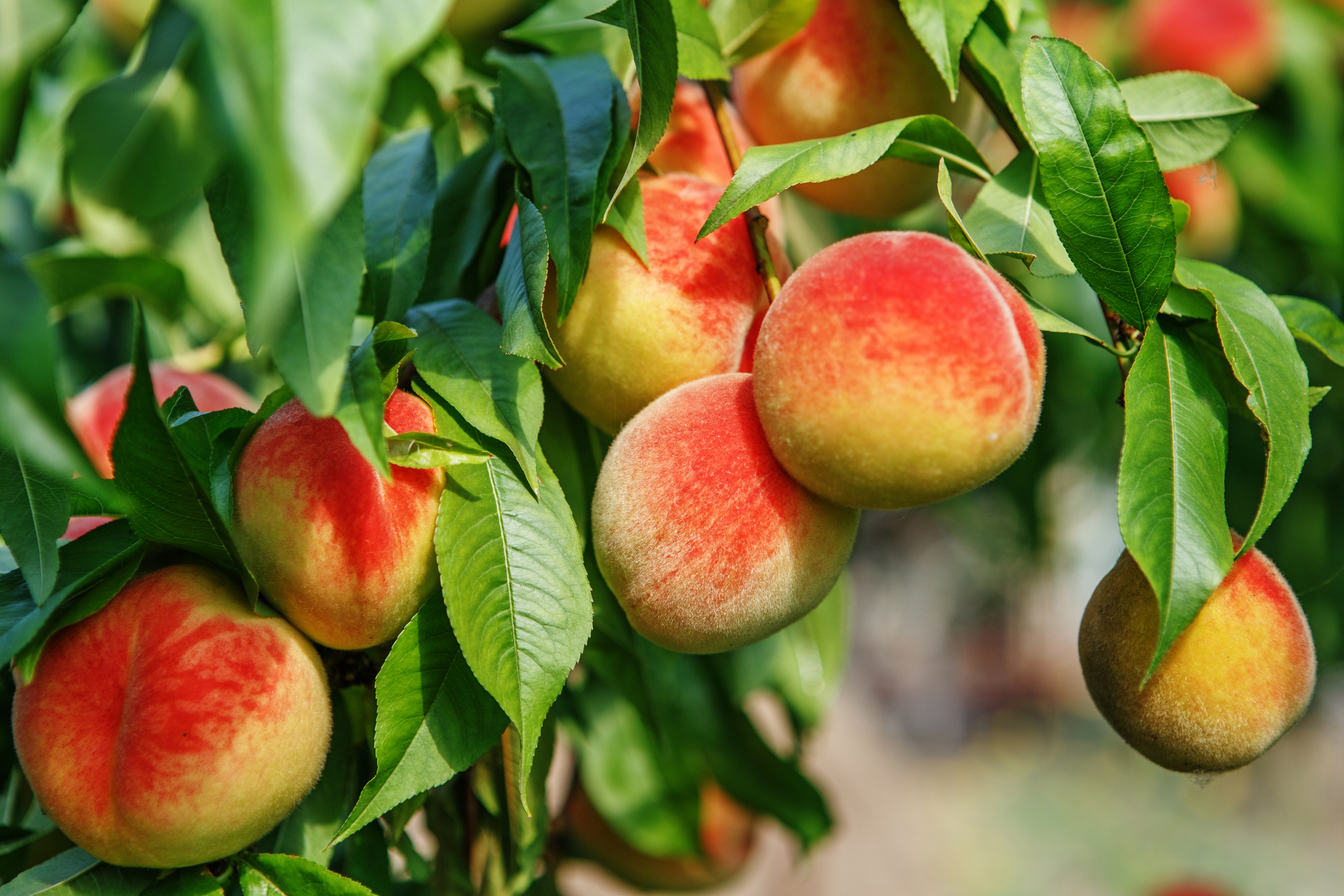 Here is a great recipe I wanted to share today for peach crisp for one. It seems most of the time when we pick up peaches at the store they are always gone in a flash, but occasionally you just have that one single peach one the counter that starts to get a little wrinkly and undesirable. Here is the perfect recipe to whip up a really easy peach crisp. This recipe actually works really well to use with any other stone fruit like apricots, nectarines, plums and even cherries. You can also use fresh, frozen or canned peaches and the ultimate question for you is whether you want to leave the skins on or off in this particular recipe :) I feel that in most recipes I don't mind peach skin at all, in fact I think the peach skin helps create a beautiful pink syrup that you don't get otherwise, but feel free to use the trick discussed today to get those peach skins off in a snap.
Do you do any canning of fruits and vegetables in your house this time of year? What do you can? And the ultimate question--do you can these two items with the skins on or off? Please share your thoughts in the comments below.
Peach Crisp For One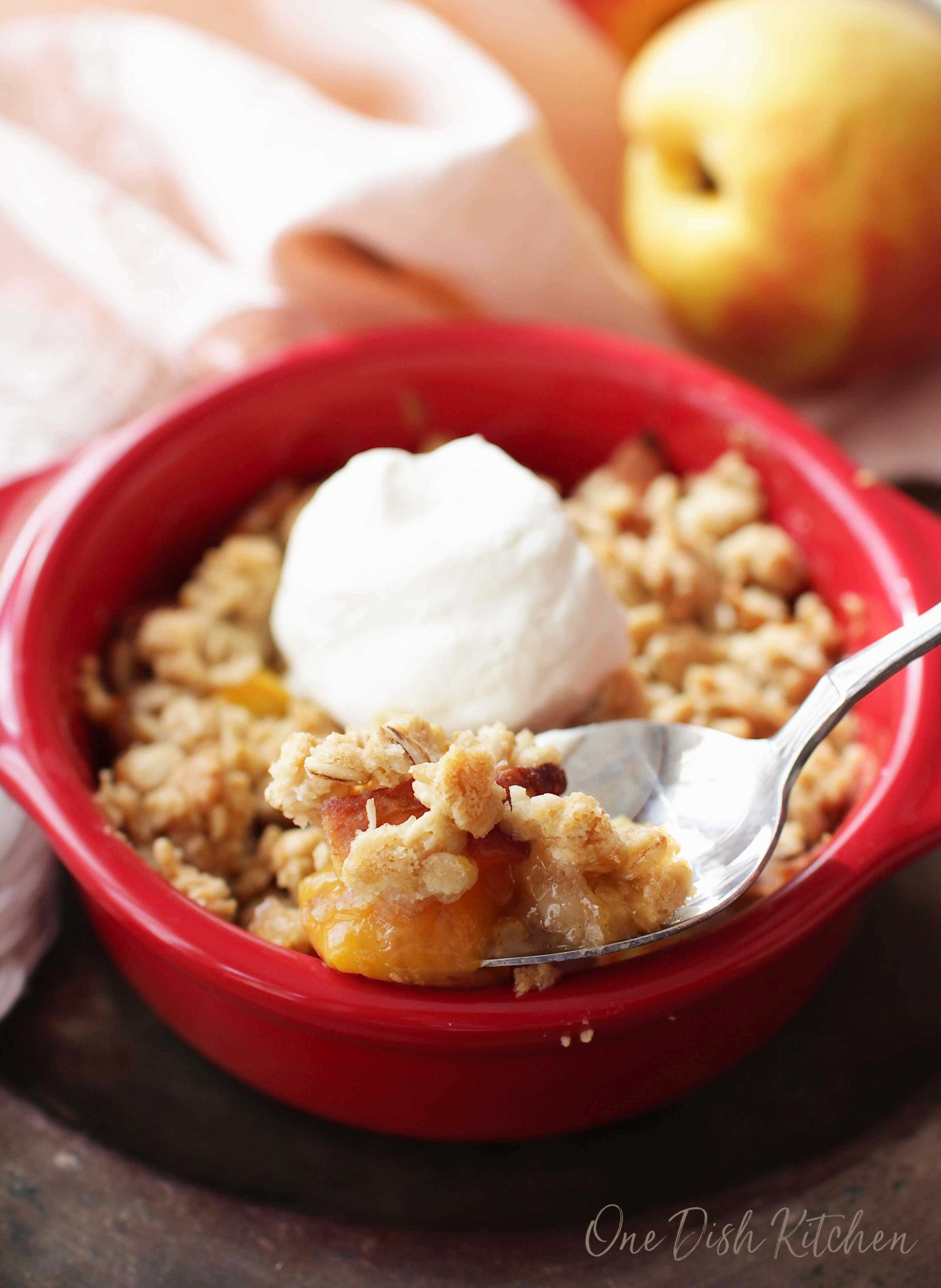 This glorious peach crisp is made with a 1 fresh peach and topped with a buttery crumb topping. The recipe can be used with any stone fruit (plums, cherries, apricots). It's an easy to make single serving dessert that can be ready in minutes. Author: Joanie Zisk Recipe Type: Dessert
Prep time:
Cook time:
Serving size:
4
Calories per serving:

58




Ingredients:
1
large
peach
, diced
1
tablespoon
brown sugar
1
teaspoon
all-purpose
flour
1/8
teaspoon
ground
ginger
3
tablespoons
all-purpose
flour
3
tablespoons
old fashioned
oats
1
tablespoon
brown sugar
2
tablespoons
salted
butter , melted
Directions:
Heat oven to 350 degrees F (177 degrees C).
TO MAKE THE FILLING
Mix together the diced peaches, brown sugar, flour, and ginger in a small bowl.
Transfer peaches to a small baking dish or ramekin.
TO MAKE THE TOPPING
In another small bowl, mix together the flour, oats, brown sugar and melted butter.
Scatter the topping over the peaches evenly.
Bake in the oven for 30-35 minutes or until topping is golden.
Source:
onedishkitchen.com

Recipe formatted with the Cook'n Recipe Software from DVO Enterprises.
Add Recipe to Cook'n
Sources:
www.flickr.com
www.spendwithpennies.com
www.onedishkitchen.com
www.pixabay.com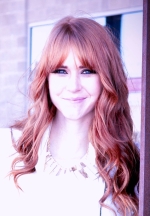 Mary Richardson
Weekly Newsletter Contributor since 2014
Email the author! mary@dvo.com