Cinnamon: MUCH MORE Than Meets the Eye!
Whether it's apples, squash, sweet potatoes, mulled cider or wine, cinnamon is essential. It's sweet and warming ways lend beautifully to holiday baking and cooking. But with cinnamon, there's MUCH MORE than meets the eye!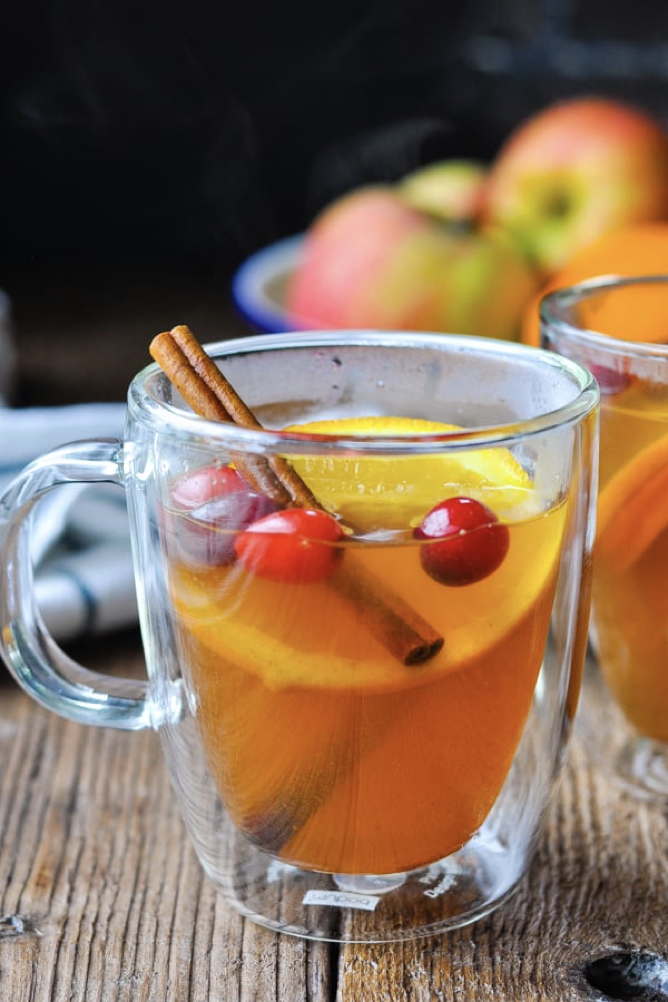 First of all, did you know that not all cinnamon is created equal? While there are hundreds of types of cinnamon growing in the world, there are four primary varieties that are sold commercially. These are Ceylon, Saigon, Korintje, and Cassia cinnamon.
All types of cinnamon come from evergreen trees in the genus Cinnamomum. Cinnamon itself is derived from the bark of the tree. The bark is harvested from the tree and laid out to dry in the sun. It is during this drying process that the cinnamon takes on its signature scrolled form. The cinnamon is either sold like this, ground, or the lesser quality is turned into pieces.
All of the varieties mentioned look quite similar with the same scroll-like quill. However, upon closer feel and taste, their differences begin to emerge.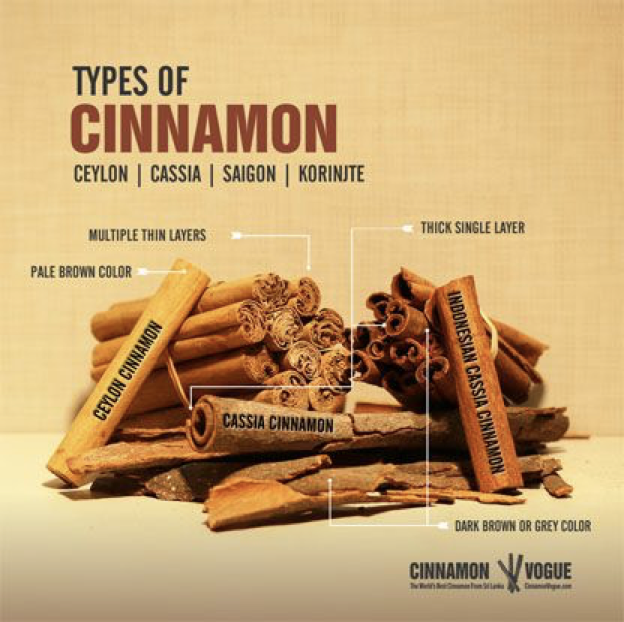 Of the four varieties, there is only one "true cinnamon." This is known as Ceylon cinnamon (Cinnamomum verum). Ceylon is grown mostly in Sri Lanka and is commonly found in kitchens throughout Mexico, India, South Asia, and Latin America. The quills of Ceylon differ from that of the other varieties. Ceylon bark is brittle and therefore easily broken. It's light brown in color with a taste that is sweet and mild with a note of citrus.
The remaining three varieties all fall under the category of cassia. They are known for their hard, thick, dark-red scroll or quill and are what would most likely be found ground in your spice cupboard. In most parts of the world these varieties are referred to simply as cassia. Of these three, the Saigon or Vietnamese cinnamon (grown in Vietnam) has the most intense flavor of all. It is something like a fireball with its surprising heat paired with a sweet note that is just amazing.

The other two, Korintje and Cassia, both have a more subtle sweetness and fragrance to them.
All forms of cinnamon contain a compound called coumarin which is toxic to humans (especially to the liver). But the levels vary drastically. Cassia cinnamon is so high in coumarin that even regular intake of the spice in moderate doses is likely harmful. In contrast, research shows Ceylon cinnamon to contain "hardly any" coumarin. Ceylon cinnamon is considered the healthiest of the four types because it contains all of the health-promoting properties of the other three types, but with none of the toxic properties.
There are lots of ways to add cinnamon to your diet besides the usual apples, squash, sweet potatoes, mulled cider or wine mentioned above. Some folks will take a piece of cinnamon quill and grind it with their coffee beans to infuse a hint of sweet, cinnamony flavor. Cinnamon tea with honey is another beverage that is delicious and can be served warm or iced. In India and Asia it is much more common to use cinnamon in savory dishes than we do here. Many professional chefs suggest adding a cinnamon quill to stew or broth.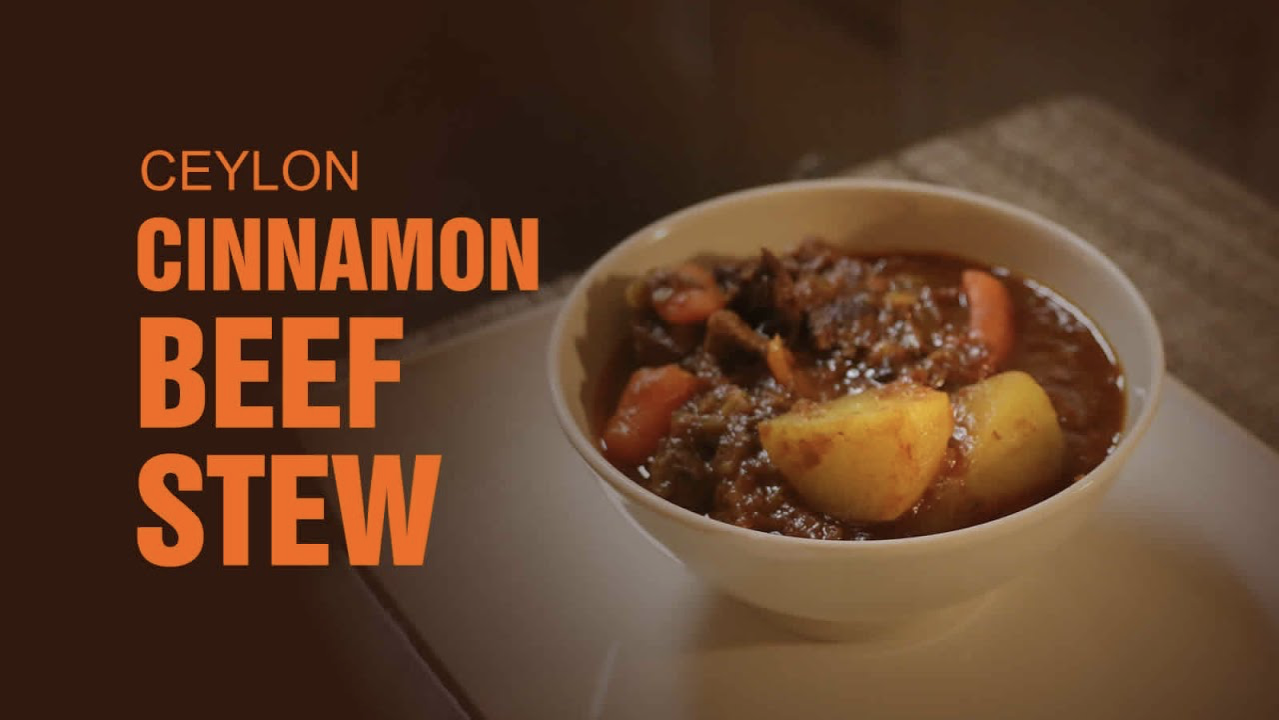 Do you have a favorite way to enjoy it besides the proverbial baked goods like pumpkin pie, apple pie and sweet potato pie? Myself, I like to mix it into my vanilla Greek yogurt. But then, it's terrific in waffles with pure maple syrup slathered all over them.
With that said, how about a wonderful recipe for cinnamon waffles? It's a favorite that's been served at the Mountain Fare Inn in Campton, New Hampshire for many years.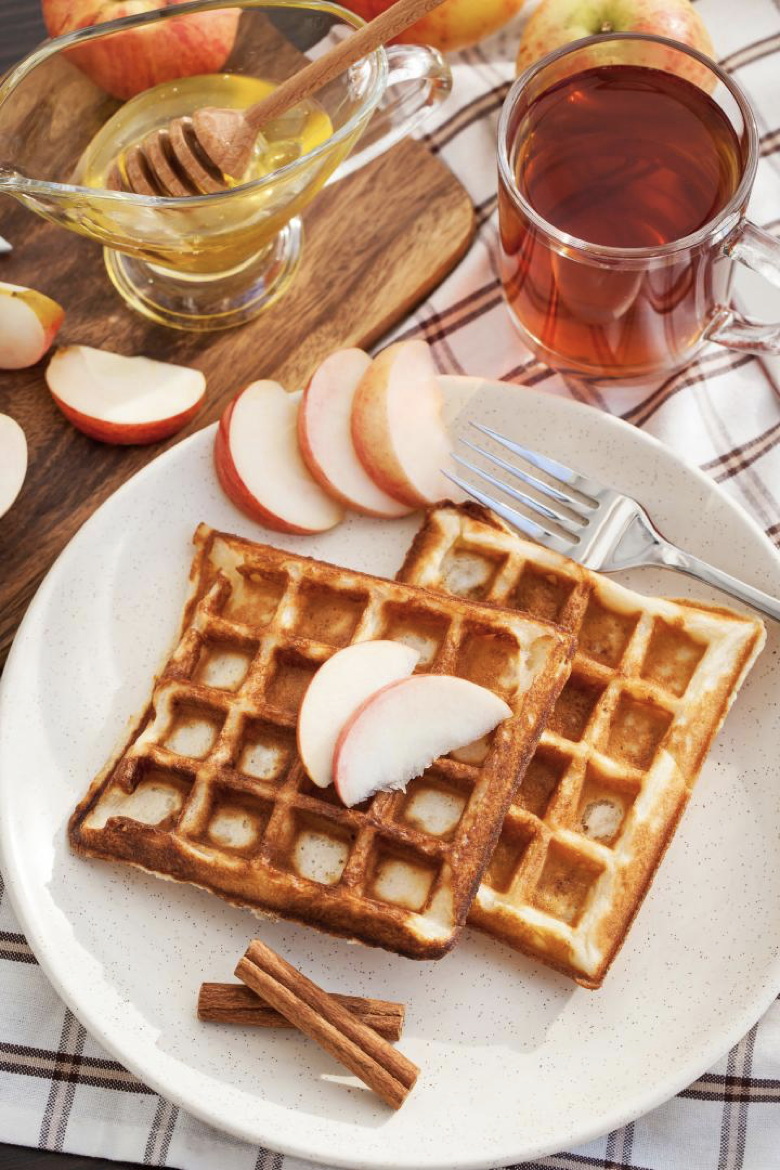 Apple Cinnamon Waffles
Ingredients:
1 1/2
cups
all-purpose
flour
1/2
cup
whole wheat flour
1
tablespoon
baking powder
2
teaspoons
packed
brown sugar
3/4
teaspoon
ground
cinnamon
1/2
teaspoon
salt
3
eggs
separated
1
cup
milk
1/4
cup
melted
butter
plus extra for waffle iron
1 1/4
teaspoons
vanilla extract
1/2
sweet
apple
cored and grated (such as Fuji or Gala)
Directions:
1. Preheat waffle iron.
2. In a bowl, whisk together flours, baking powder, brown sugar, cinnamon, and salt.
3. In the bowl of a stand mixer, beat egg whites until soft peaks form. Set aside.
4. In another bowl, whisk together egg yolks, milk, butter, and vanilla. Stir egg yolk mixture into dry mixture until combined (some lumps are fine). Gently fold in egg whites, then fold in apple.
5. Brush melted butter over hot waffle iron. Spoon batter into waffle iron and cook for 3 to 5 minutes, or until nicely browned.

Recipe formatted with the Cook'n Recipe Software from DVO Enterprises.
Add Recipe to Cook'n
Sources:
www.theseasonedmom.com
www.pinterest.com
www.pureandplantbased.com
www.youtube.com
www.farmersalmanac.com

Alice Osborne
Weekly Newsletter Contributor since 2006
Email the author! alice@dvo.com