Enjoy Kiwi's Health Benefits Along with a Delicious Recipe!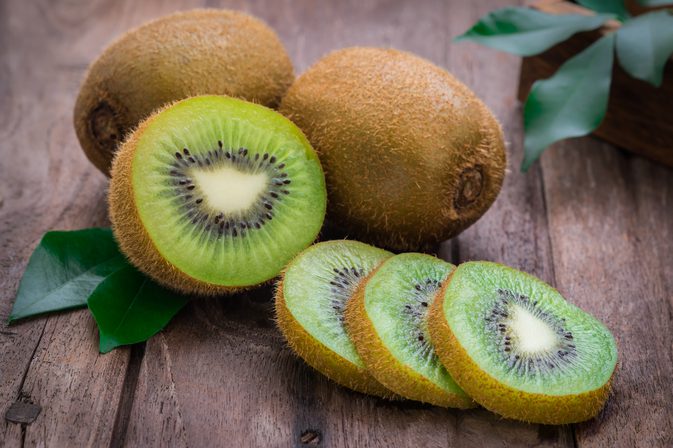 Kiwi is one amazing fruit. This affordable delicacy does so much good. For instance:
1. Its high enzyme count helps digestion. Raw kiwi contains actinidain, a protein-dissolving enzyme that can help digest a meal much like the papain in papaya or bromelain in pineapple. And because it's so high in fiber, kiwi also prevents constipation and other intestinal problems.
2. It helps with blood pressure management. Kiwi's high level of potassium counteracts the effects of sodium, thus keeping electrolytes in balance.
3. I helps repair DNA damage. Research shows kiwi's unique antioxidant combination protects cells from oxidative damage, which has been shown to help prevent cancer.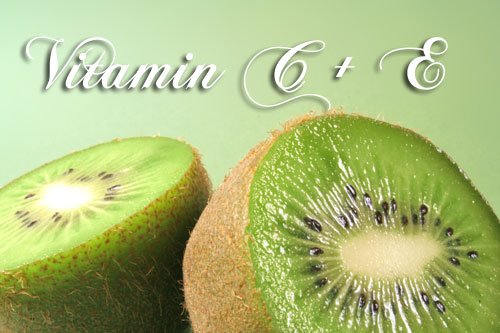 4. It strengthens and boosts immunity.
Again, this is because of kiwi's abundant antioxidant compounds, especially its high vitamin C content.
5. It supports weight loss. Thanks to its low glycemic index and high fiber content, kiwi won't create a strong insulin rush like other high-sugar fruits. This means your body won't be storing fat! And this also means kiwi is safe for diabetics.
6. It's an efficient toxin eliminator. The fuzzy fiber of kiwi helps bind and move toxins from your intestinal tract.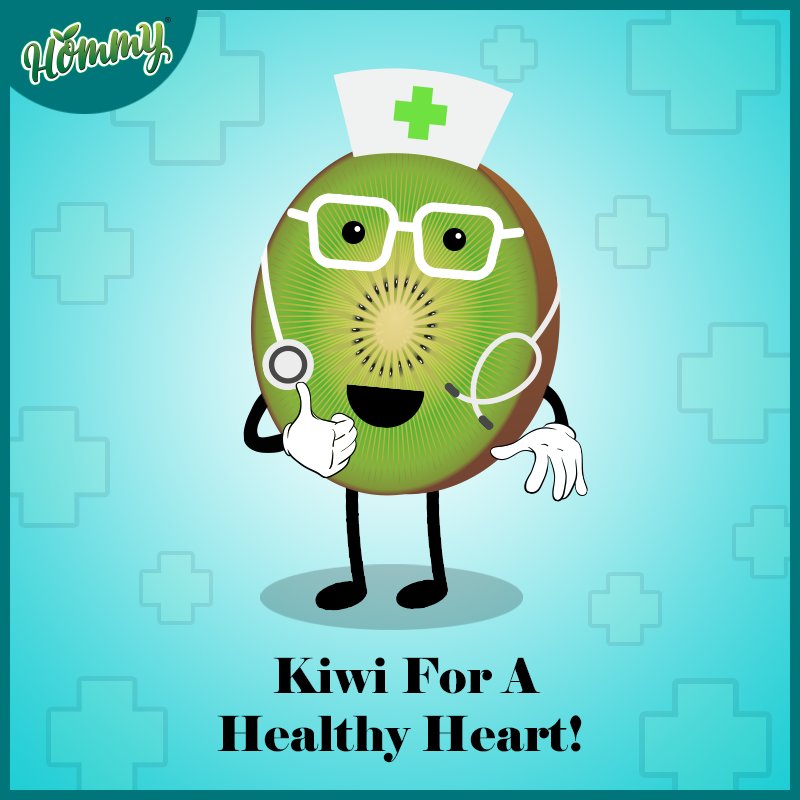 7. It promotes heart health, and fights heart disease.
Studies show eating 2 to 3 kiwi a day reduces blood clotting potential by 18 percent and reduces triglycerides by 15 percent. For those that take aspirin to reduce blood clotting, this is good news. Unlike aspirin, kiwi comes with no side effects (i.e. inflammation and intestinal bleeding).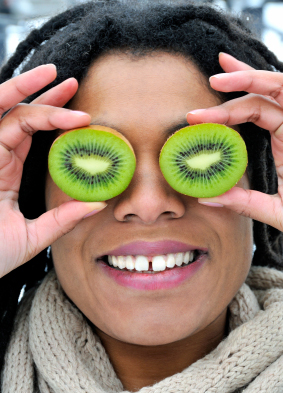 8. It protects the eyes from vision problems such as macular degeneration.
Macular degeneration is the leading cause of vision loss in older adults. A study on over 110,000 men and women showed that eating 3 or more servings of fruit per day decreased macular degeneration by 36 percent. This is thought to be associated with the kiwi's high levels of lutein and zeaxanthin, natural chemicals found in the human eye.
9. It balances the body's alkalinity. Kiwi is in the "MOST ALKALINE" category for fruits, meaning its rich mineral supply easily replaces acid excesses that most individuals consume. A few of the benefits of a properly acid/alkaline balanced body are: youthful skin, deeper sleep, abundant physical energy, fewer colds, less arthritis and reduced osteoporosis.
10. It protects the skin. This is dues to kiwi's excellent vitamin E content. Vitamin E is an antioxidant that protects skin from degeneration.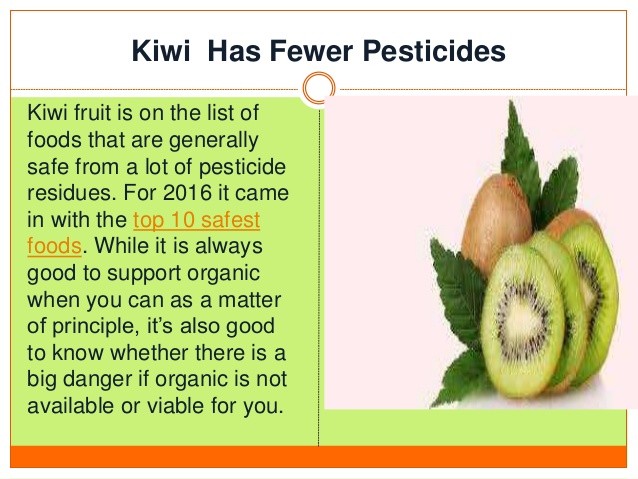 11. It comes with far fewer pesticides that other fruits.
12. It is delicious. They have a beautiful look and amazing tastes and texture. What more can I say?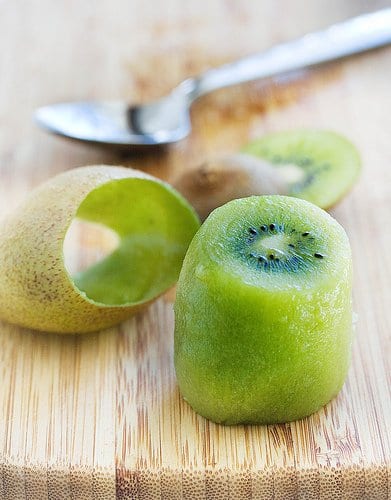 And it's kiwi's deliciousness that makes it such a good base for salads, smoothies, and desserts. But before I launch into one of our favorite kiwi dessert recipes, let's look at how to peel them. I use to think this was a pain in the neck, but no more. Simply cut a little off both ends then use a large spoon to remove the fruit. You just slide it around the inside of the peel and the fruit comes out nicely intact. (See how-to video, https://steamykitchen.com/1692-how-to-peel-and-cut-kiwi-fruit.html.)
Now the recipe. If you like upside down cakes, this is a gem! I found this a while ago on the very nice site, www.manilaspoon.com. Here's to better health and a remarkable dessert to boot!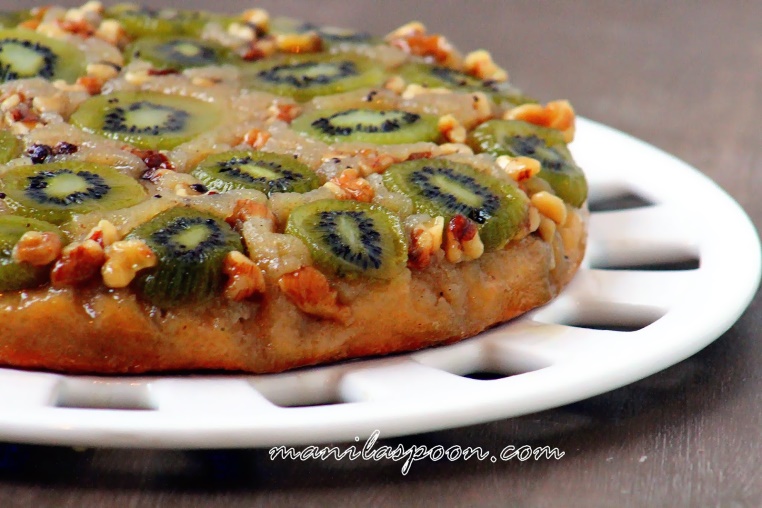 KIWI AND WALNUT UPSIDE DOWN CAKE
1 1/2 cups all-purpose flour
1 teaspoon baking powder
1/2 teaspoon ground cinnamon
1/2 teaspoon ground nutmeg
1/4 teaspoon salt
6 tablespoons butter and 1 stick butter (softened, room temp)
6 tablespoons sugar plus 1/2 cup sugar (both white, divided)
1/3 cup chopped walnuts or pecans
5 kiwi fruits, peeled and thinly sliced (about 1/3 of an inch)
1 teaspoon pure vanilla extract
2 large eggs
1/2 cup whole or 2 % milk
Preheat the oven to 350 degrees F.

Grease a round cake pan with a little butter. In a bowl, whisk together the flour, baking powder, cinnamon, nutmeg and salt. Set it aside.

Melt 6 tablespoons butter and 6 tablespoons sugar on medium heat in a small saucepan. Stir until the mixture starts bubbling. Pour the hot butter mixture evenly on the cake pan. Top with the Kiwi slices. Make a lovely arrangement of the Kiwi fruits.

Evenly sprinkle nuts on top.

Using an electric mixer beat the remaining stick of butter on medium speed until smooth. Add the remaining 1/2 cup sugar and continue to beat until pale and creamy, about 3 minutes. Pour in the Vanilla extract and then add the eggs one at a time, beating for 1 minute after each addition and scraping down the bowl as needed. Reduce the mixer speed to low and add half of the dry ingredients, mixing only until they disappear into the batter. Pour in the milk, then the rest of the dry ingredients and then mix until combined. Batter will be thick.

Spoon the batter over the fruit slices and smooth the top with a rubber spatula.

Bake in a preheated oven for 40-45 minutes, or until the cake is golden and a tester inserted into the center of the cake comes out clean.

Remove from the oven and run a blunt knife between the sides of the pan and the cake. Carefully turn the cake out onto a serving platter. If any of the fruits stick to the pan – as they might – just scrape them off with a knife and return them to the cake.

Serve warm. It's wonderful on its own but if you want an even more indulgent version, serve with ice cream or a vanilla custard sauce. Enjoy fruity and buttery goodness in every bite!
Add Recipe to Cook'n
Sources:
www.livestrong.com
www.vivawoman.com
www.twitter.com
www.slideshare.net
www.pinterest.com
www.steamykitchen.com
www.manilaspoon.com

Alice Osborne
Weekly Newsletter Contributor since 2006
Email the author! alice@dvo.com