Why YOU Should be Eating a Few Pumpkin Seeds Everyday (Especially If You're 50+)
The other day I was eating a breakfast I have pretty regularly: plain Greek yogurt, drizzle of honey, fresh berries and bananas and some granola on top. This breakfast is a good balance of protein, good carbs and healthy fats to keep me feeling full for a long time in the morning. You have probably bought this particular granola yourself if you are a regular Costco shopper like so many of us are. You know the box….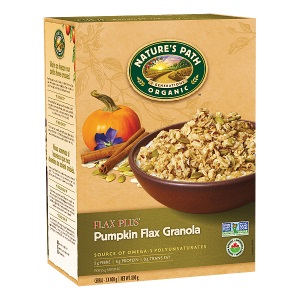 Nature's Path organic pumpkin flax granola. It is a really healthy, delicious granola that I love to get, especially when they have a coupon for it for a couple bucks off Anyway, as I was eating my filling breakfast I was doing the stereotypical thing you do when you're eating a cereal of some sort for breakfast and was reading the cereal box. I was reading what ingredients were in this delicious mix and wanted to learn more about why they chose pumpkin seeds as one of their few ingredients they carefully choose to put in it. And boy, what I learned sure made me want to incorporate pumpkin seeds into my diet EVERY day. I sure feel like you don't hear enough about these magic little powerhouse seeds. Here's what you need to know about pumpkin seeds: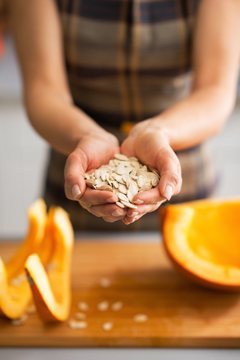 Full of Valuable nutrients.
There are roughly 151 calories in an ounce (28 grams) of shell-free pumpkin seeds, mainly from fat and protein.
In addition, a 1-oz (28-gram) serving contains:
Fiber: 1.7 grams.

Carbs: 5 grams.

Protein: 7 grams.

Fat: 13 grams (6 of which are omega-6s).

Vitamin K: 18% of the RDI.

Phosphorous: 33% of the RDI.

Manganese: 42% of the RDI.

Magnesium: 37% of the RDI.

Iron: 23% of the RDI.

Zinc: 14% of the RDI.

Copper: 19% of the RDI.
They also contain lots of antioxidants and a decent amount of polyunsaturated fatty acids, potassium, vitamin B2 (riboflavin) and folate.
2. High in Antioxidants
Antioxidants can reduce inflammation and protect your cells from harmful free radicals. Because of this, consuming foods rich in antioxidants can help protect against many different diseases.
3. Linked to a Reduced Risk of Certain Cancers
Diets rich in pumpkin seeds have been associated with lower levels of stomach, breast, lung, prostate and colon cancers.
A large observational study found that eating them was associated with a reduced risk of breast cancer in postmenopausal women. Others studies suggest that the lignans in pumpkin seeds may play a key role in the prevention and treatment of breast cancer.
Further test-tube studies found that a supplement containing pumpkin seeds had the potential to slow down the growth of prostate cancer cells.
Breast and prostate cancers are some of the most common that we are more at risk for developing at some point in our lives so I really like thinking that I can just add a few pumpkin seeds to my diet every day as an easy way to try and prevent breast cancer for myself.
4. Improve Prostate and Bladder Health
Pumpkin seeds may help relieve symptoms of benign prostatic hyperplasia (BPH), a condition where the prostate gland enlarges and can cause problems with urination.
Several studies in humans found that eating these seeds reduced symptoms that are associated with BPH.
There is also research to suggest that taking pumpkin seeds or their products as supplements can help treat symptoms of an overactive bladder. Taking a supplement of 10 grams of pumpkin seed extract daily can improve urinary function in men and women.
5. Very High in Magnesium
Pumpkin seeds are one of the best natural sources of magnesium. This is important, since magnesium deficiency is common in many Western countries.
In the US, around 79% of adults had a magnesium intake below the recommended daily amount.
Adequate levels of magnesium are important for:
Controlling blood pressure

Reducing heart disease risk

Forming and maintaining healthy bones

Regulating blood sugar levels
6. May Improve Heart Health
Pumpkin seeds are a good source of antioxidants, magnesium, zinc and fatty acids, all of which may help keep your heart healthy.
Animal studies have also shown that pumpkin seed oil can help reduce high blood pressure and high cholesterol levels.
7. Very High in Fiber
Pumpkin seeds are a great source of dietary fiber. Whole seeds provide 5.2 grams of fiber in a single 1-oz (28-gram) serving. However, pumpkin kernels with the shell removed contain 1.7 grams of fiber per ounce. These are the green pumpkin seeds available in most supermarkets.
A diet high in fiber can promote good digestive health. In addition, they have been associated with a reduced risk of heart disease, type 2 diabetes and obesity.
8. May Help Improve Sleep
Pumpkin seeds are a good source of tryptophan, zinc and magnesium, all of which help promote good sleep.
In Summary
I think it's safe to say that pumpkin seeds are amazing for your health. There are so many benefits for our bodies and one of the coolest things about them are so are so easy to incorporate into your diet. You can throw them onto salads, into smoothies or cereals, or even bake them into sweet or savory breads or cakes. What are your favorite ways to eat pumpkin seeds?
If you would rather save some money and preservatives and make some pumpkin flax superfood granola yourself, here is a wonderful version for you to try from Natashaskitchen.com: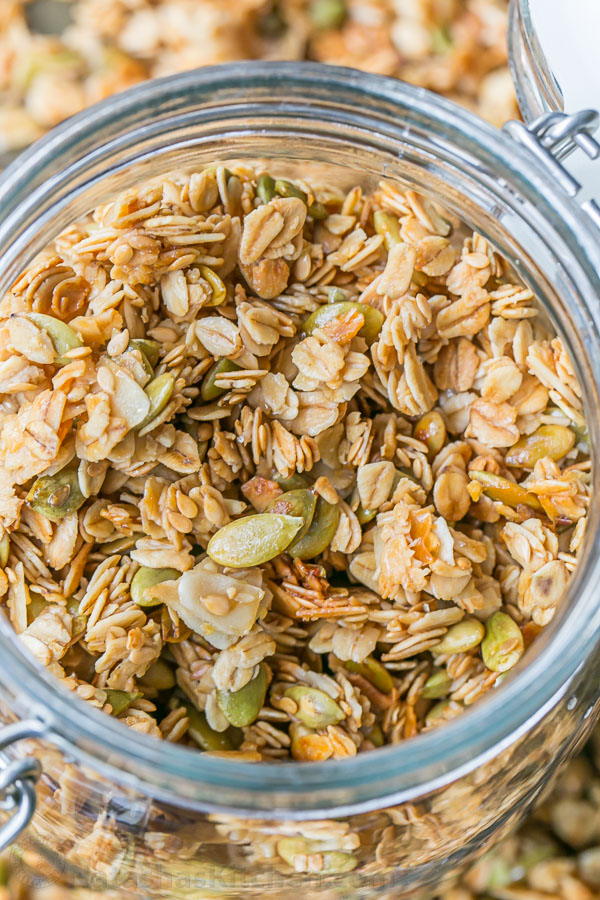 Homemade Pumpkin Flax Granola
3 cups old fashioned rolled oats (whole grain – I used Bob's Red Mill)
1/2 cup unsweetened coconut flakes, or shaved almonds
1 cup pumpkin seeds, shelled
1/4 cup flax seeds
1/2 cup honey or (1/4 cup honey and 1/4 cup maple syrup)
1/4 cup coconut oil (can sub with butter or oil of choice)
1/2 tsp salt
Instructions
In a large mixing bowl, combined 3 cups rolled oats, ½ cup coconut flakes, 1 cup pumpkin seeds and ¼ cup flax seeds.
In a second bowl, stir together ¼ cup honey, ¼ cup of maple syrup, ¼ cup coconut oil and ½ tsp salt. They will combine easier if you heat them in the microwave 15-30 seconds.
Drizzle the liquid mixture over the dry ingredients and gently toss/stir until evenly coated. Spread out onto a really large ¾ baking sheet lined with parchment paper and bake at 325 for 18-20 minutes, stirring once halfway through baking for even toasting. Remove from the oven and let cool completely then crumble with your hands and store in an airtight container at room temperature.
Notes:
Measure your coconut oil first then measure honey in the same cup. The oil coats the cup so the honey slides out easily.
Add Recipe to Cook'n
Sources:
www.natashaskitchen.com
www.authoritynutrition.com
www.naturespath.com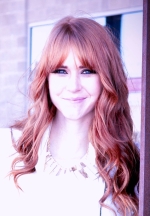 Mary Richardson
Weekly Newsletter Contributor since 2014
Email the author! mary@dvo.com