This Substitute Ingredient Slashes Fat and Boosts Protein Big Time!
Greek yogurt is definitely nothing new on the market today. It has been all the rage for a couple years now. I absolutely love yogurt so I remember when I first heard about the Greek variety which had tons more protein I was so ecstatic. I couldn't wait to get my hands on the stuff. I headed off to the grocery with higher than high hopes. I chose a honey flavor and dug in immediately when I got home. It was the most heavenly, rich decadent treat I had ever had! (As far as thinking it was a "healthy" snack.) It far exceeded my wildest dreams!
Well my bubble got burst pretty quickly when I looked at the fat content, seeing that it was not fat-free or even low-fat at all! And it had quite a bit of added sugar to boot! This just goes to show you that all Greek yogurts are not created equal and not all of them are "healthy". I feel like I might as well have been eating a pint of Ben and Jerry's.
Since that time I stick with plain, fat-free yogurt and I find tons of different ways to incorporate it into my diet. Here are the nutrition facts for the Kirkland Signature fat-free Greek yogurt that I buy most of the time.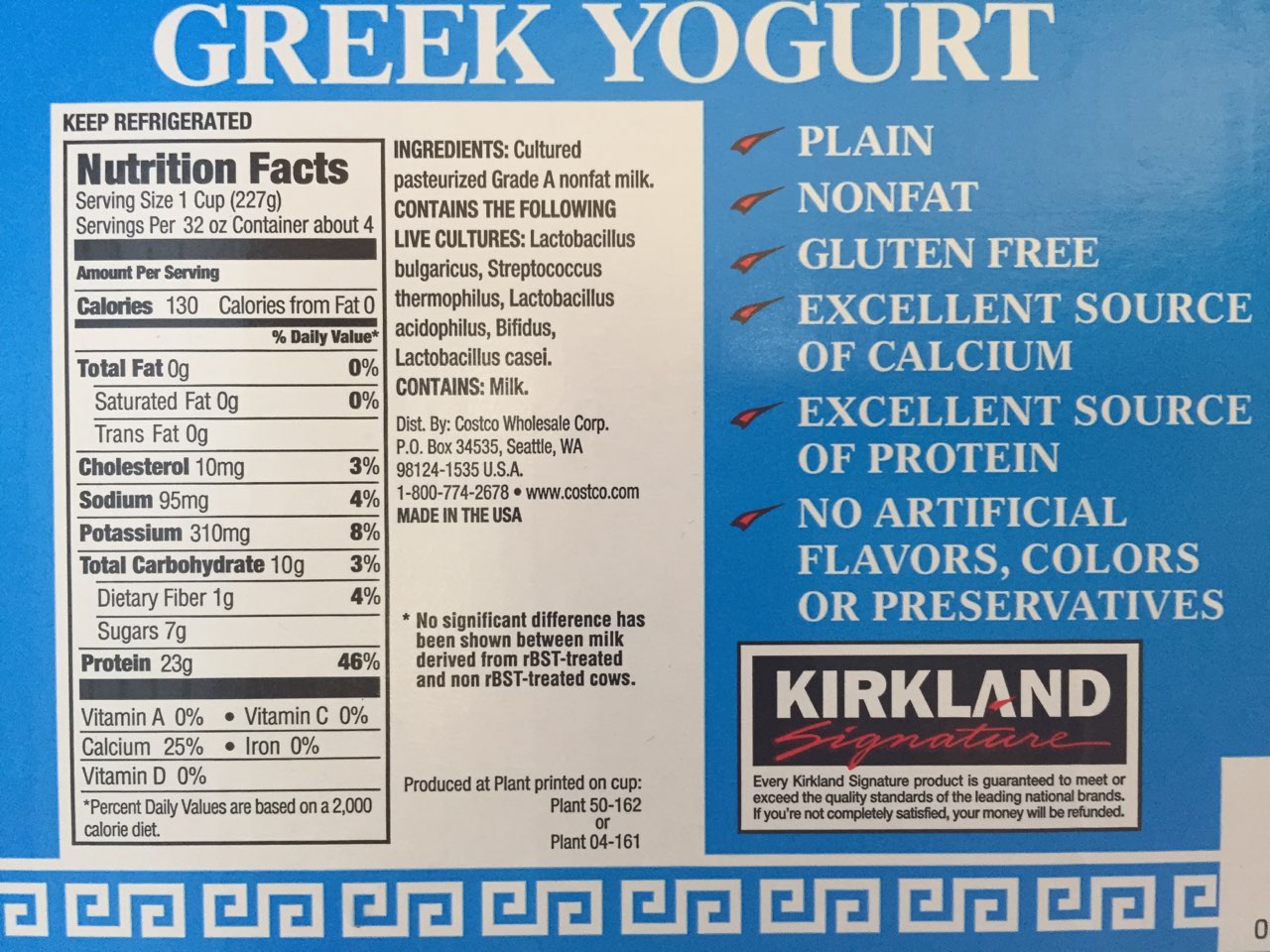 That's right 23 grams of protein in 1 cup! And there are 0 grams of fat and 10 grams of carbs in it. Of course, those carbs do not come from added sugars and fruits. The only ingredient in this is milk so it is only coming from that. Pretty cool! Whereas 1 cup of Daisy Sour cream has 40 grams of fat (28 Saturated!), 6 grams of carbs, and 8 grams of protein. I know which one I will try to choose if I can help it.
Greek yogurt is extremely versatile in the kitchen and can be used in all sorts of different recipes ranging from sweet to savory and from breakfast to dinner. Greek yogurt is high in protein, filling, and easy to cook/bake with!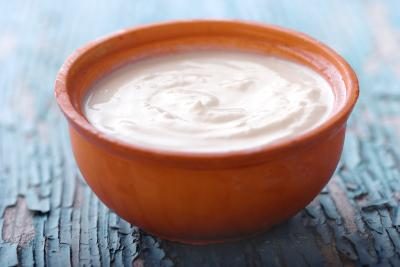 The thing it is probably most highly know as a substitute for is sour cream. Greek yogurt and sour cream have similarities in both taste and texture. Greek yogurt has very little whey, the watery component that is present in most thinner yogurts, so it's just as thick as sour cream. If you compare equal portions, they're both good sources of protein, calcium and vitamin B-12. However, a typical serving of sour cream has significantly fewer nutrients and more fat than a 1-cup serving of Greek Yogurt.

You can definitely easily substitute it any time you use sour cream in recipes like tacos, loaded mashed potatoes, on top of taco soup, in potato salads, chicken salads, etc. or you can this conversion chart to substitute it into other recipes to make baked goodies with far less fat and tons more protein! Hooooooray!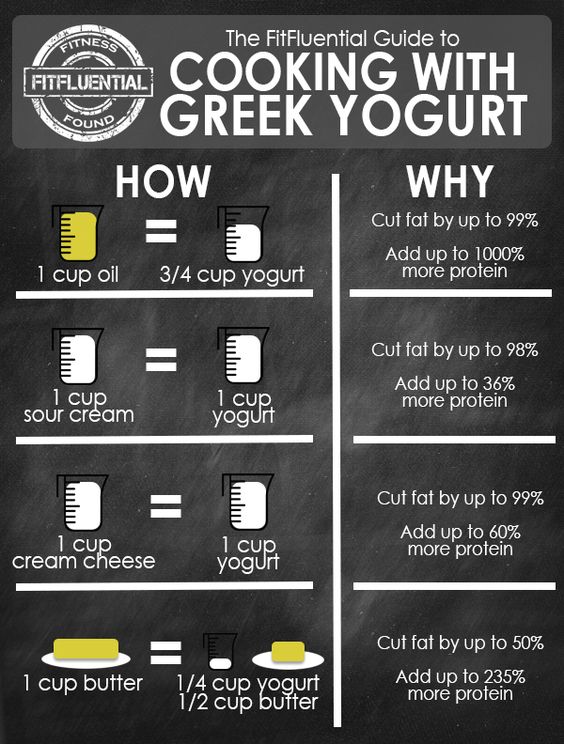 One of my favorite ways to eat a healthy snack guilt free is making ranch dip out of Greek yogurt to dip my veggies in. It is so delicious!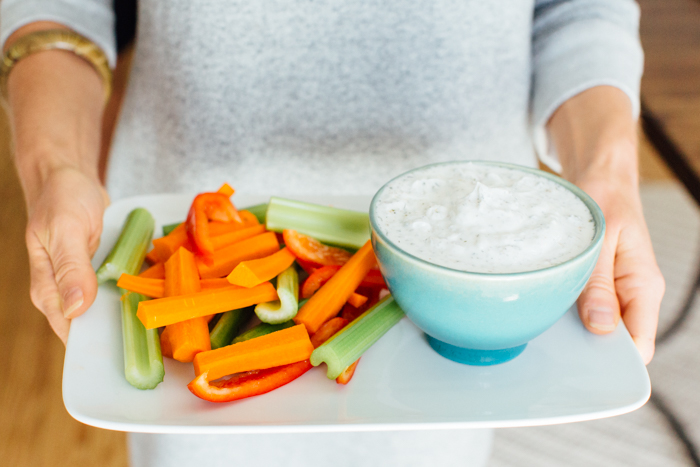 Skinny Greek Yogurt Ranch Dip
Ingredients:
1 large shallot

18-ounce container 2% Greek yogurt

1 tsp. garlic powder

1 tsp. dried parsley

1 tsp. dried dill

½ tsp. kosher salt

Fresh ground black pepper
Directions:
Mince 1 shallot.

Measure 2 tablespoons of the minced shallot and mix together with the remaining ingredients. Store refrigerated.
Do you use Greek yogurt instead of sour cream? Have you used it as a substitute for butter or oil or anything of the others before? What did you think? I'd love to know in the comments below.
Add Recipe to Cook'n
Sources:
www.livestrong.com
www.fitfluential.com
www.fooducate.com
www.myfitnesspal.com
www.brodandtaylor.com
www.acouplecooks.com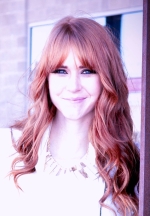 Mary Richardson
Weekly Newsletter Contributor since 2014
Email the author! mary@dvo.com