Cauliflower Can Wear So Many Hats!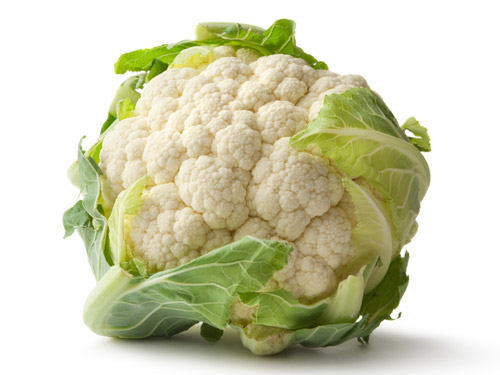 Cauliflower seems to be in every dish these days, and for good reason: The cruciferous white veggie is crazy versatile—it can wear so many hats! It acts as a starchy substitute in dishes that call for potatoes, rice, and even flour, while also standing in for meat in chicken and steak meals—and there's plenty more this nutritious crucifer can do. 
I first learned about the many hats cauliflower can wear when skimming Prevention Magazine in 2014. For instance, if you like potato pancakes, but you're watching your carbs, consider substituting cauliflower for the potatoes. These are scrumptious! (This and the other recipes that follow are from the aforementioned Prevention Magazine.)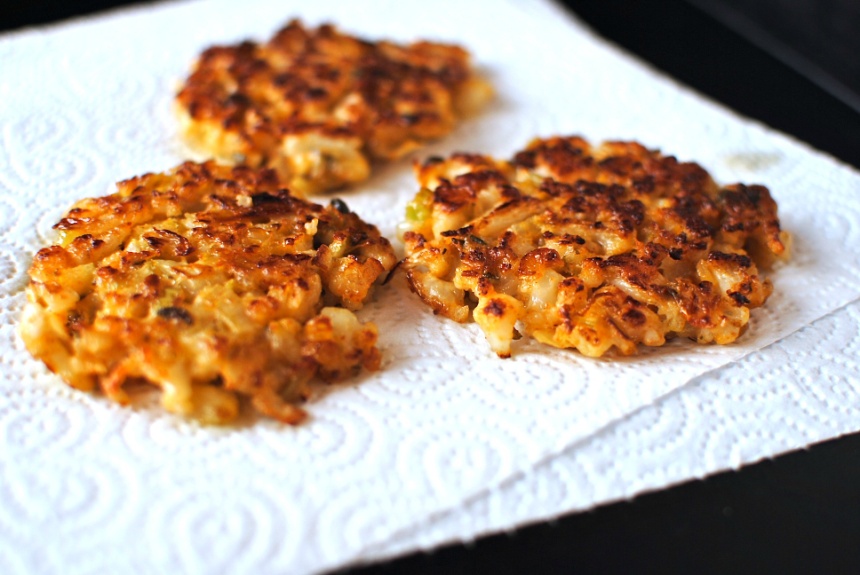 CRISPY CAULIFLOWER FRITTERS
(yield: 12 servings)
To help the fritter mixture stick together, slice the cauliflower as thinly as possible.
1 medium head cauliflower, very thinly sliced
1 small yellow onion, thinly sliced
1½ teaspoons salt
1½ teaspoons garlic powder
½ teaspoon black pepper
2 large eggs, beaten
½ cup almond flour
¼ cup extra virgin olive oil
1. COMBINE cauliflower, onion, salt, garlic powder, pepper, eggs, and almond flour in a large bowl and mix well.
2. REFRIGERATE mixture for at least 30 minutes.
3. HEAT olive oil in wide skillet over medium-high heat. Use a ¼-cup measure to carefully scoop fritters into the skillet, working in batches if necessary. Cook fritters for 3 to 4 minutes on one side, until crispy. Flip and cook for 3 to 4 more minutes. Serve warm.
But superb fritters isn't all that cauliflower can be used for. Process cauliflower into tiny pieces, and you get a tasty stand-in for rice that's packed with nutrition. And you don't have to stand over the stove stirring forever.
And who needs chicken when you have roasted cauliflower florets? Then toss them in a smoky, syrupy sauce for a game-day snack that satisfies. They're an amazing substitute for those proverbial chicken wings everyone loves. (Vegans can thank me later.)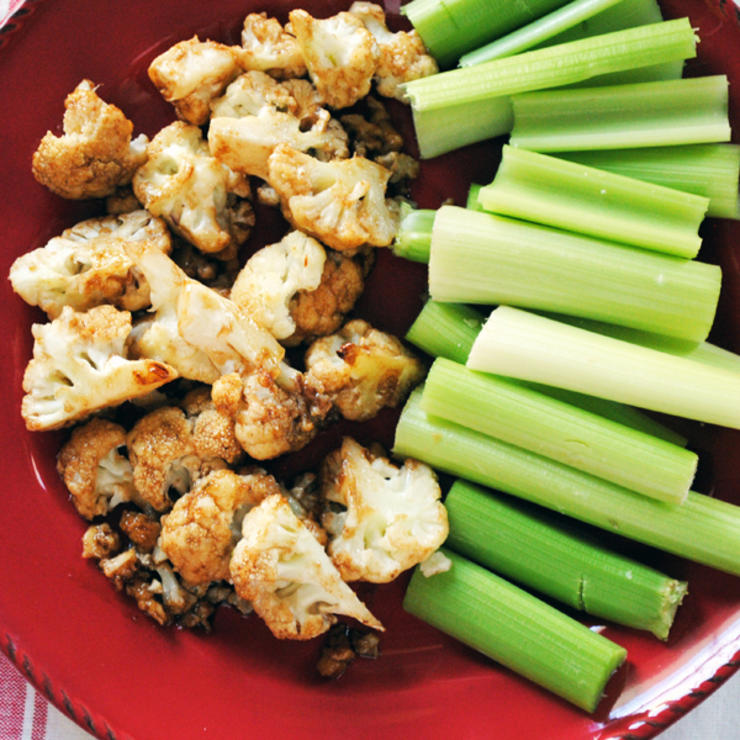 SMOKEY GLAZED CAULIFLOWER WINGS
(yield: 4 servings)
1 medium head cauliflower, chopped into florets
1 tablespoon extra virgin olive oil
Salt to taste
Pepper to taste
¼ cup balsamic vinegar
2 tablespoon honey
2 tablespoon low-sodium soy sauce
1 tablespoon unsalted butter
1 tablespoon sriracha sauce
1 teaspoon garlic powder
1 teaspoon liquid smoke
1. TOSS cauliflower florets with canola oil, salt, and pepper. 
2. ROAST cauliflower on a baking sheet at 450˚F for 12 to 15 minutes, or until caramelized.
3. ADD balsamic, honey, soy sauce, butter, sriracha, garlic powder, and liquid smoke to a small sauce pan. Simmer, stirring occasionally, until thickened slightly, 8 to 10 minutes.
4. TRANSFER roasted cauliflower to a bowl. Drizzle balsamic sauce over top and toss well to coat.
One of our favorite ways to use cauliflower is to steam and then mash it. But we go one step further and mix the mashed veggie with grated cheese and then bake it with a topping of bread crumbs and more shredded cheese. Simple and quick, but oh so tasty! This creamy-cheesy dish makes a perfect stand-in for potatoes and feels right at home alongside juicy roast chicken.
Then there's this amazing substitute for everybody's favorite, tater tots. Here you meet grown-up finger food at its finest (and healthiest). Be sure to serve these crispy tots with plenty of all-natural ketchup for dunking.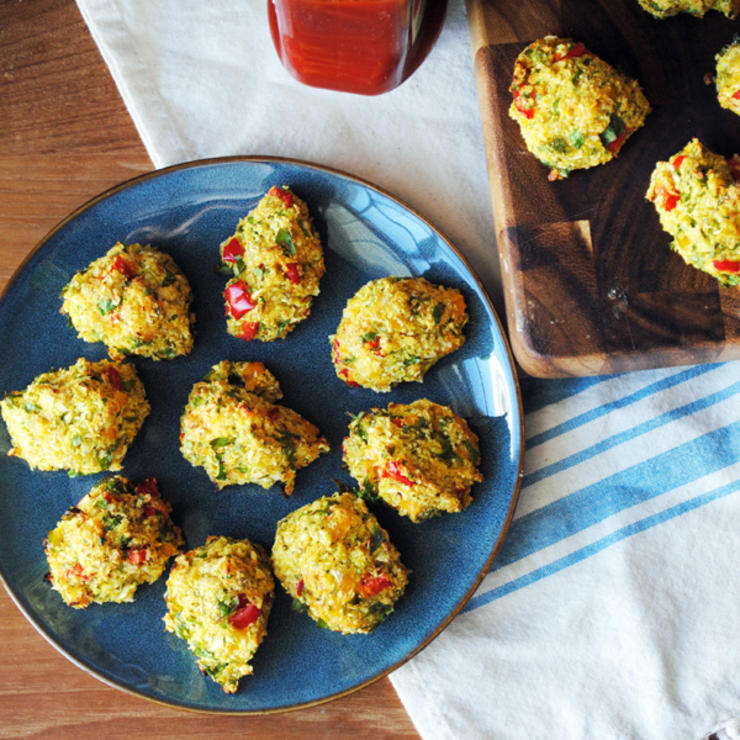 BAKED CAULIFLOWER TATER TOTS
(serves 6)
1 medium head cauliflower, chopped into florets
½ small yellow onion
½ red bell pepper, seeded and diced
½ cup chopped fresh parsley
½ cup panko breadcrumbs
⅓ cup shredded cheddar cheese
1 large egg, lightly beaten
½ teaspoon salt
¼ teaspoon black pepper
¼ teaspoon ground turmeric
1 tablespoon extra virgin olive oil
1. PREHEAT oven to 375˚F. Line a baking sheet with parchment paper. 
2. PROCESS cauliflower and onion in a food processor until finely chopped. Transfer mixture to a large bowl.
3. ADD bell pepper, parsley, breadcrumbs, cheese, egg, salt, pepper, and turmeric to cauliflower. Mix well to combine.
4. FORM mixture into 16 to 18 tater tots (about 2 Tbsp each) and place on baking sheet. Brush the top of the tots with the canola oil.
5. BAKE tots for 30 to 35 minutes, or until lightly golden. Allow to cool slightly before serving.
And one final idea (from a list of many) on how to use wonderful cauliflower. How about making it into cheesy breadsticks? No kidding. And why cauliflower breadsticks instead of a typical breadstick made with flour? Well, consider that they are always served with pasta, for instance. But that's a carb-fest no one needs. Serve these cauliflower-based bites instead for a more balance—but equally delicious—spaghetti or fettuccine dinner.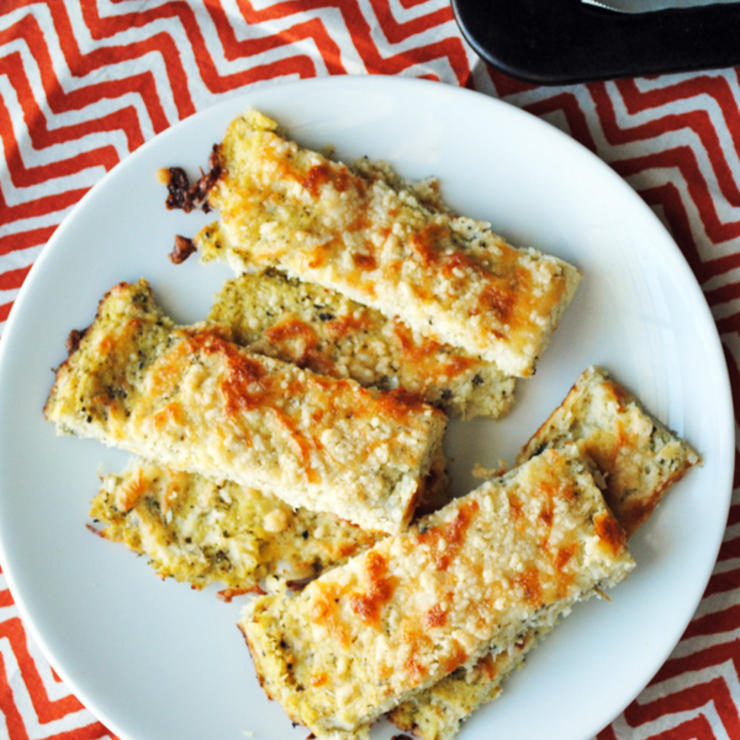 CHEESY CAULIFLOWER BREAD STICKS
(serves 8)
1 medium head cauliflower, chopped into florets
1 large egg, lightly beaten
2 cloves garlic, minced
¼ cup grated Parmesan cheese, divided
¼ cup shredded mozzarella cheese, divided
½ teaspoon dried basil
¼ teaspoon dried rosemary
¼ teaspoon salt
¼ teaspoon pepper
1. PREHEAT oven to 375˚F. Line a baking sheet with parchment paper.
2. PROCESS cauliflower in food processor until very finely chopped. Transfer to a microwave safe bowl. Microwave cauliflower for 2½ minutes. Allow to cool slightly.
3. WRAP cauliflower in a clean kitchen towel. Squeeze to remove as much water as possible. Return cauliflower to bowl.
4. COMBINE cauliflower with the egg, garlic, 2 tablespoons of each of the cheeses, the basil, rosemary, salt, and pepper. Mix well.
5. SPREAD mixture on a baking sheet into a ¼-inch thick rectangle. Top with the remaining 2 tablespoons of each of the cheeses. Bake for 20 minutes, or until the edges are golden and cheese is browned and bubbly. Allow to cool for 5 minutes before slicing into 8 pieces. Serve warm.
Now that you have a few good ideas on what to do with it, I'll conclude with a little science as to why, from a nutrition stand point, you want to include more cauliflower in your diet. Because of its beneficial effects on numerous aspects of health, cauliflower can easily be described as a super-food. Eight of its most impressive benefits (as found on the very informative site, www.mercola.com) prove this point: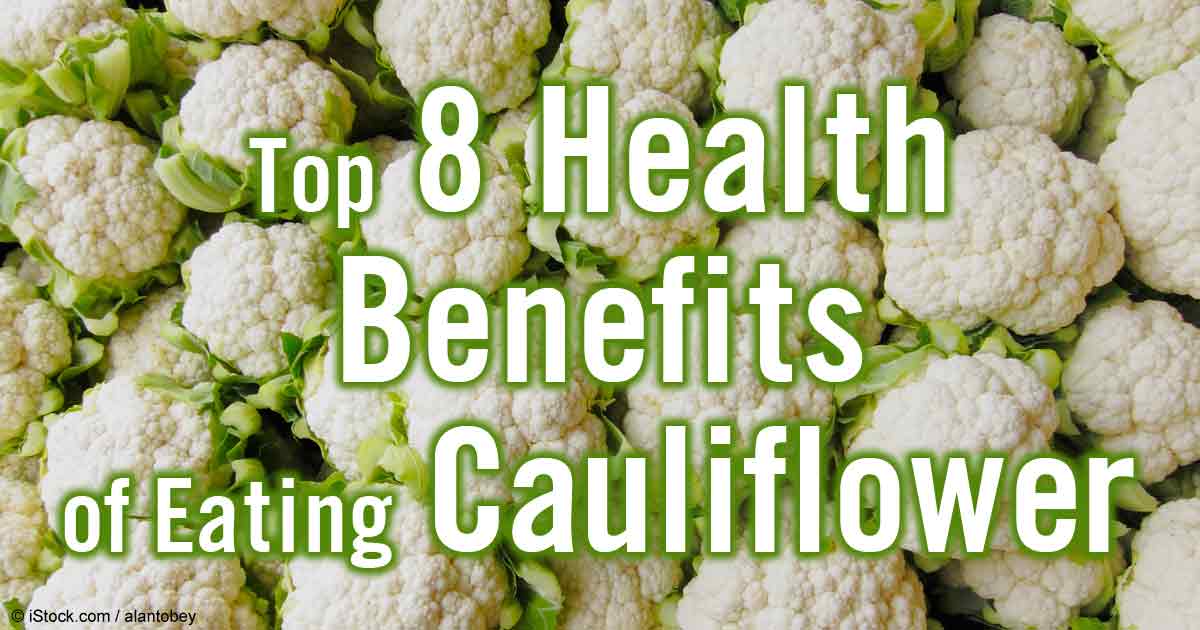 1. Cauliflower fights cancer, thanks to its sulforaphane, a sulfur compound that kills cancer stem cells, thereby slowing tumor growth. Other compounds in cauliflower also show anti-cancer effects are indoles and isothiocyanates.
2. Cauliflower boosts heart health. Sulforaphane in cauliflower and other cruciferous vegetables has been found to significantly improve blood pressure and kidney function.
3. Cauliflower is anti-inflammatory. While you need some level of inflammation in your body to stay healthy, given today's sad American diet, it's extremely easy for the inflammatory response to get out of hand. Cauliflower contains a wealth of anti-inflammatory nutrients to help keep inflammation in check.
4. Cauliflower is rich in vitamins and minerals. Most Americans are seriously lacking in nutrients their body needs to function. Eating cauliflower regularly is a simple way to get these much-needed nutrients. For instance, one serving of cauliflower contains 77% of the recommended daily value of vitamin C. It's also a good source of vitamin K, protein, thiamin, riboflavin, niacin, magnesium, phosphorus, fiber, vitamin B6, folate, pantothenic acid, potassium, and manganese.
5. Cauliflower boosts brain health because it's a super source of choline, a B vitamin known for its role in brain development. Choline intake during pregnancy "super-charged" the brain activity of animals in utero, indicating that it may boost cognitive function, and improve learning and memory. And research shows it diminishes age-related memory decline.
6. Cauliflower is a detoxifier, thanks to its abundance of antioxidants, sulfur-containing nutrients, and glucosinolates.
7. Cauliflower promotes healthy digestion and protects the stomach lining.
8. Cauliflower has antioxidants and phytonutrients galore. Eating cauliflower is like winning the antioxidant and phytonutrient lottery. It's packed with vitamin C, beta-carotene, kaempferol, quercetin, rutin, cinnamic acid, and much more. Antioxidants are nature's way of providing your cells with adequate defense against attack by reactive oxygen species (ROS). 
Add Recipe to Cook'n
Sources:
www.ourmontville.com
www.kelliesfoodtoglow.com
www.prevention.com
www.articles.mercola.com

Alice Osborne
Weekly Newsletter Contributor since 2006
Email the author! alice@dvo.com