Disney Adventures: Best Of
So this week Sword in the Stone aired on our blog (disneymeals.wordpress.com), but there really wasn't much to talk about. The week before that we had been too busy with memorial weekend activities that we just didn't have time to watch a movie and make some meals. So we did a "Best Of" post, highlighting our favorite foods so far.
Now, there actually was a bit of a feast in Sword and the Stone, but the thing is, we've made so much of the food before from previous Disney feasts that have been laid on the tables of kings. A few of those things also happened to make our, "Best Of" list. On the list, is Ichabod's Ham, Merryweather's Ginger Snaps, Goucho Goofy's Asado, and Willie the Giant's Medieval Chicken. In no particular order. I think Roxie would like to add Kanine Krunchies to the list. She's been learning all sorts of tricks to get a nibble of those! The chicken and ham were featured in Sword and the Stone.
My personal list would include all listed above minus the ham and Kanine Krunchies, as well as the Almond Jellyroll (Sleeping Beauty), Raspberry Lemonade (Fun and Fancy Free), Stewed Apples (Melody Time), Mushy Peas (Lady and the Tramp), Cleo's Cake (Pinocchio), Figaro's Fish (Pinocchio). Now I realize mushy peas are a little weird to put as a favorite, but maybe I'm just British at heart. It was actually pretty hard to narrow down my favorite from Melody Time, because by the end of cooking all the apple products, everything tasted the same (apples, cinnamon, nutmeg…). The stewed apples were great flavor as well as great texture. They made for a pretty tasty snack food.
I will share the recipe for the almond roll with jelly, because it's probably one of my top most favorites. The jelly roll will end up looking something like this: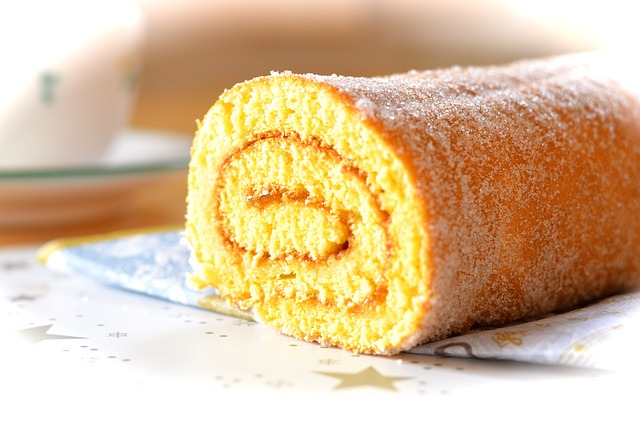 Recipe as follows:
| | |
| --- | --- |
| 3/4 cups | granulated sugar |
| 1/4 cups | almond paste |
| 1 1/2 cups | 1-1/2 water divided |
| 2/3 cups | all-purpose flour (plus some for dusting) |
| 1 teaspoon | baking powder |
| 1/8 teaspoons | salt |
| 4 | large eggs |
| 1 teaspoon | vanilla extract |
| 1/4 cup | powdered sugar, divided |
| 2/3 cup | seedless raspberry jam |
Preheat oven to 350°.
To prepare cake, combine granulated sugar and almond paste in a blender or food processor; process until well blended. Set aside.
Coat a 15 x 10-inch jelly-roll pan with cooking spray. Line bottom of pan with wax paper. Coat paper well with cooking spray. Dust with 2 teaspoons flour; set aside.
Lightly spoon remaining 2/3 cup flour into dry measuring cups; level with a knife. Combine flour, baking powder, and salt in a medium bowl, stirring with a whisk.
Place eggs in a large bowl, and beat with a mixer at high speed until pale and fluffy (about 4 minutes).
Gradually add granulated sugar mixture and vanilla, beating at medium speed until smooth (about 3 minutes).
Sift half of flour mixture over egg mixture; fold in. Repeat procedure with remaining flour mixture.
Spread batter evenly into prepared pan.
Bake at 350° for 10 minutes or until cake springs back when touched lightly in center.
Loosen cake from sides of pan, and turn out onto a dishtowel dusted with 2 tablespoons powdered sugar; carefully peel off wax paper.
Sprinkle cake with 2 tablespoons powdered sugar; cool 1 minute. Starting at narrow end, roll up cake and towel together.
Place, seam side down, on a wire rack; cool completely (about 30 minutes).
Unroll cake carefully; remove towel. Spread jam over cake, leaving a 1/2-inch margin around the outside edges. Reroll cake; place, seam side down, on a platter.
Add Recipe to Cook'n
Can you say delicious?! Rhett really liked the Jelly Roll, but he liked other foods better, so I wanted to bring the Jelly Roll to you since he won't emphasize it anywhere else. Thank you, Sleeping Beauty, for bringing the Disney food fandom such a scrumptious dessert. Until next time!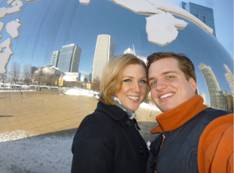 Mary Hildebrandt
Weekly Newsletter Contributor since 2014
Email the author! maryh@dvo.com