No Bake Coconut Pecan Praline Cookies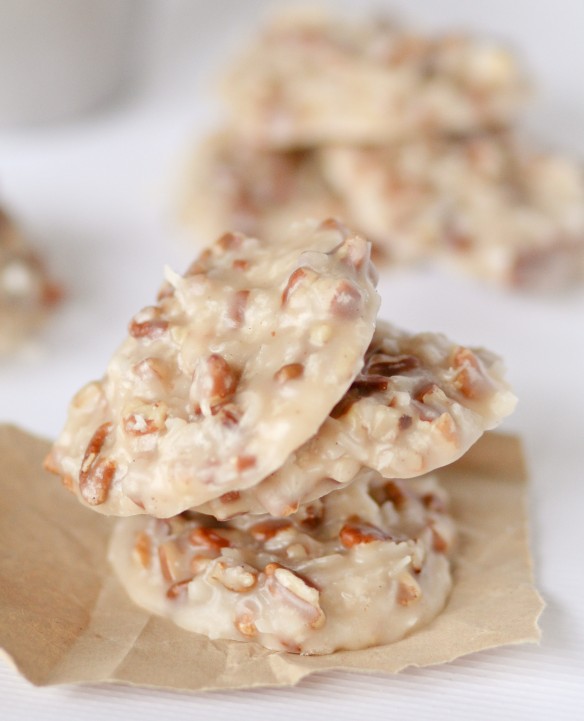 Here in Utah we have had one of the mildest springs we've had in a long time. I can't remember the last time I actually had to use my heater in May- but this year we actually had to use our jackets, and many nights were way too cold to avoid using the heater. Being my big pregnant self, this was a total blessing for me this year, as we usually blaze into summer after about one week of spring. This year was totally the exception. But, that all changed this weekend- we hit 90 degrees and it looks like summer is finally here to stay! (At least until October or so;) ).
With that said, this is also the time of year when I seriously limit my time with the oven. We live in an upstairs apartment with nothing to cool us but a swamp cooler- which, while better than nothing, is not quite as effective as an A/C unit ;). Add to that the fact that I am 31 weeks pregnant, and yeah- oven cooking is definitely out of the picture!
But that doesn't mean I don't still crave something sweet and homemade every once in a while! A couple months ago I found a great dessert that requires no baking! It's a no-bake cookie- but with a delicious twist! Now, I may not be a huge peanut butter fan, but I still enjoy your classic no bake cookie every once in awhile. But this recipe is DEFINITELY one I could eat over and over- Coconut Pecan Praline Cookies. Anything with the word praline in it definitely gets my attention ;), and this one did not disappoint!
These are totally worth making, and what makes them even better is the fact that you can cook them up on the stove so you don't need to heat up your house with the oven! The perfect recipe for when you are craving a homemade cookie but can't bear to face the heat your oven will bring. They are also pretty simple; a little chopping is involved, but if you have an automatic chopper or food processor, most the work will be done for you! The hardest part is waiting for them to be done;).
Basically, you're going to heat up evaporated milk, sugar, butter and corn syrup over the stove and let it boil at a full rolling boil for 3 minutes. Once that's done, you'll mix in vanilla, coconut, and chopped pecans and stir it all up for about 4 minutes. Then, just like the typical no bake cookie recipe, you'll drop little spoonfuls onto parchment or wax paper and let them cool.
These are pretty rich, so I would definitely make smaller cookies. Plus they'll go farther ;).
Add Recipe to Cook'n
What are your favorite desserts to make when using the oven is not an option? I've shared a few in the past, but I would love to hear your ideas on how you fix those homemade sugar cravings when the heat is just a little too unbearable;).
Sources:
www.confessionsofacookbookqueen.com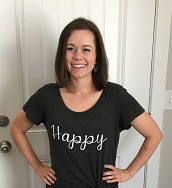 Camille Hoffmann
Weekly Newsletter Contributor since 2014
Email the author! camille@dvo.com
---
---
---