Brazilian Grilled Flank Steak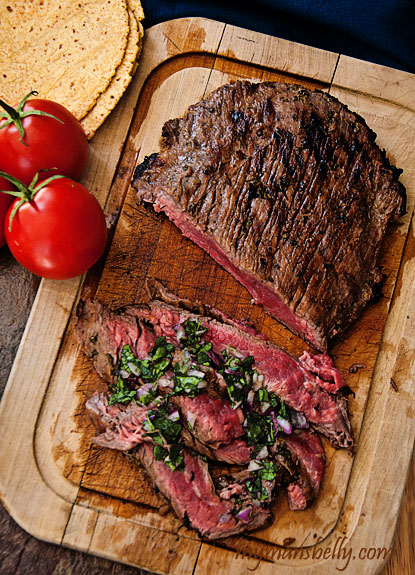 Serves: 4
Fire up the grill! This tangy and spicy Brazilian flank steak marinade will have your senses singing. Grilled flank steak means dinner is quick and tasty.
Prep Time: 15 min
Cook Time: 5 min
Ingredients:
2

teaspoons

ground

cumin

1

teaspoon

kosher

salt

1

teaspoon

freshly ground

black pepper

4

garlic cloves

(grated or finely minced)

1

small

red onion

(finely chopped)

handful

of

cilantro

(leaves finely chopped)

2

serrano chile

(finely minced)

1/2

cup

lime juice

1

cup

olive oil

2

pounds

flank steak
Directions:
1. Place all ingredients, except for flank steak, into a jar with a lid.
2. Shake (or blend) the ingredients well.
3. Pour 1/2 of the mixture into a large zip-loc bag. Refrigerate the remaining marinade.
4. Add the flank steak to the mixture.
5. Seal the top of the bag while removing as much air as possible.
6. Work the marinade around, on the meat, to make sure that all surfaces are covered.
7. Slide the marinating steak into the refrigerator and let sit overnight.
8. Pre-heat grill to highest temperature.
9. Remove steak from marinade and cook for 2 minutes on one side and 1½ minutes on the other (check to make sure meat is done to your likeness before taking it off the grill - you may need to cook it a couple of minutes longer).
10. Let the meat rest for 10 minutes before slicing.
11. Meanwhile, add extra marinade to saucepan and heat.
12. Serve steak topped with warmed marinade.
Add Recipe to Cook'n
---