Take A Road Trip across the US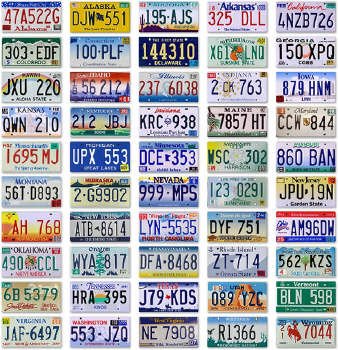 Summer is here! Do you know what that means? Vacation time! Have you ever traveled cross country? Or ever wanted to? Fifty states means a lot of amazing things to do, see and eat. I've created a small list, after doing some research, of some of the most popular things to do in each state. Take a look and hopefully you'll be inspired to pack your bags and head out!
Alabama: Do you love space? Why not go to Space camp at the U.S. Space & Rocket Center in Alabama. Or you could visit the Rosa Parks Museum. If you're looking for a landmark to visit check out the Selma Bridge.
Alaska: Alaska is well known for its natural beauty. If you're going to visit this state check out the Arctic National Wildlife Refuge and Mt. McKinley and The Prince William Sound. Alaska is also great for whale watching!
Arizona: Arizona is another great state for outdoorsy people. You can go to the Grand Canyon to hike and camp or visit Havasupai Falls. I've never been, but I've been told the falls are incredible.
Arkansas: While in Arkansas you should visit the hot springs at the Garvan Woodlands Garden and the Buffalo National River.
California: If you're going to go to California be sure to drive State Route 1 through Big Sur. Also don't miss the Golden Gate Bridge and the Santa Monica Pier.
Colorado: You can go to two different national parks while touring Colorado: Great Sand Dunes National Park and Rocky Mountain National Park. Also be sure to check out the Colorado National Monument.
Connecticut: No road trip would be complete without trying some native food. If you're in Connecticut you should visit the Mystic Seaport and then be sure to order the white clam pizza at Frank Pepe Pizzeria. You should also take a tour of Yale University.
Washington D. C.: Go paddle boarding on the Tidal Basin and of course visit all of the National Monuments.
Delaware: While visiting Delaware be sure to walk along the Rehoboth Beach Boardwalk. You should also check out the Caesar Rodney Statue and if you're in Wilmington the Nemours Mansion.
Florida: You need to visit the Kennedy Space Center! Florida is home to Disneyworld, Universal Studios and other great amusement parks, let your inner child out! If you need a break from all the Disney fun take a climb up the Shark Valley Tower.
Georgia: If you're in Savannah be sure to eat at the Olde Pink House. Visit the Ebenezer Baptist Church (I believe that's where Martin Luther King Jr. attended) and Alliance Theatre in Atlanta.
Hawaii: If you are in Hawaii this summer you're one lucky person. Enjoy everything there, and climb the Stairway to Heaven and enjoy the view. Be sure to visit the USS Arizona Memorial and eat a shave ice for me.
Idaho: Drive across Interstate 90 along the Panhandle, it'll be worth your time. If you like skiing try out Bogus Basin. Be sure to check out Middle Fork of the Salmon River. Don't forget to eat lots of potatoes.
Illinois: Have a drink at the top of the Hancock Building and then visit South Loop in Chicago for some Chicago-style Pizza. Also be sure to visit Willis Tower.
Indiana: Try the Tenderloin sandwich at Ivanhoes, and then be sure to visit the Indianapolis Motor Speedway.
Iowa: Visit the Butter Cow at the Iowa State Fair, but if you aren't there for the State Fair check out High Trestle Trail Bridge or take a tour of the Capitol Building in Des Moines.
Kansas: Sample the No. 6 Oatmeal Stout at Gella's Diner & Lb. Brewing Company, and then visit Dodge City and the Kansas Museum of History in Topeka.
Kentucky: Drive and drink along the Bourbon Trail (but don't drink and drive), visit Sheperdsville to take a Jim Bean Tour and check out the Kentucky Derby!
Louisiana: If you're going to Louisiana a must see is New Orleans. Be sure to check out the French Quarter and if you're there at the right time the French Quarter Festival.
Maine: Take your sweetheart on a romantic getaway and watch the sunrise on Cadillac Mountain. Also visit Portland Head Light and Acadia National Park.
Maryland: When in Maryland you've got to eat some crab. You can do that at Cantler's. If you've got kids you might want to check out the National Aquarium in Baltimore or visit Fort McHenry.
Massachusetts: After visiting Plymouth Rock, travel to Cape Cod to do some dancing at The Beachcomber, and ride the Freed Trail in Boston.
Michigan: First stop Detroit the "Home of Motown". Then be sure to visit the Shinola store and The Henry Ford Museum.
Minnesota: Got a shopaholic in your family? Well take them to the Mall of America in Bloomington and let them go wild! You can also canoe the Boundary Waters and visit Lake Itasca.
Mississippi: Listen to the blues at the Lyric in Oxford, visit the Blues Trail or the Sandhill Crane National Wildlife Refuge the next time you're in Mississippi.
Missouri: Explore the Ozark Caverns, take a Budweiser Tour and visit the Gateway Arch in St. Louis!
Montana: Drive Going-to-the-Sun Road on your way to Wild Goose Island located in St. Mary Lake in Glacier National Park.
Nebraska: Throw horseshoes during Popcorn Days in North Loup or visit Chimney Rock and go shopping at the Gene Leahy Mall in Omaha.
Nevada: Order a late-night Awful Awful Burger at The Nugget and then enjoy the Las Vegas strip during the day and at night. If you'd rather stay off the strip take a Hoover Dam tour.
New Hampshire: Add your pumpkin to the wall at the Keene Pumpkin Festival. Visit Mt. Washington Cog Railway and Canobie Lake Park
New Jersey: You need to visit New Brunswick and Atlantic City while in New Jersey. You should also climb the Barnegat Lighthouse on Long Beach Island.
New Mexico: Watch a Balloon Glow at the Albuquerque International Balloon Fiesta. Or discover the truth about aliens in Roswell. You should also visit Chaco Culture National Historic Park.
New York: If you like wine and pie you should go wine and pie tasting on Long Island's North Fork. If you are going to be in Manhattan you should see a Broadway play and of course visit the Statue of Liberty.
North Carolina: In North Carolina you can tour the Biltmore Estate, visit the Wright Brothers Memorial and explore the Appalachian Trail at Nantahala River.
North Dakota: There is so much nature to see while in North Dakota! Climb White Butte, visit Painted Canyon and spend some time in the Theodore Roosevelt National park and Badlands.
Ohio: Ready for an ice cream break? Be sure to get a scoop of black raspberry chocolate chip ice cream at Graeter's Ice Cream and then visit the Rock and Roll Hall of Fame Museum and the Cincinnati Zoo.
Oklahoma: If you get a chance check out the Norman Musical Festival. Don't miss the Oklahoma City National Memorial.
Oregon: Get Lost in Powell's City of Books and then find yourself at Crater Lake or Mount Hood.
Pennsylvania: Go to a mud sale in Lancaster County (I don't know exactly what that is). Visit the Liberty Bell and the Philadelphia Museum of Art.
Rhode Island: Take the Cliff Walk in Newport or visit Breakers Mansion. No trip would be complete without a visit to Green Animals in Portsmouth. This is a cool topiary garden with animals in all shapes and sizes.
South Carolina: Taste the barbecue hash at Sweatman's BBQ. Take a stroll along Myrtle Beach and visit Fort Sumter.
South Dakota: Be sure to check out Mount Rushmore! And then visit the Mitchell Corn Palace.
Tennessee: Spend a day in Dollywood (all things Dolly Parton), check out Ryman Auditorium and make some time to visit Elvis' home at Graceland in Memphis.
Texas: Tube the Guadalupe River. Go back in time and visit The Alamo.
Utah: You can hike to Delicate Arch in Moab or visit downtown Salt Lake City. Be sure to check out the Salt Lake LDS Temple.
Vermont: Take a brewery tour or a tour of Ben and Jerry's in Waterbury. Also check out Camel's Hump.
Virginia: After a lot of traveling you could see a movie at The Byrd Theater in Carytown. Be sure to not miss Monticello or Shenandoah Valley.
Washington: Hike the Ape caves. Visit the Space Needle and eat at the SkyCity restaurant.
West Virginia: Eat a pepperoni roll from Country Club Bakery, and visit the Kruger Street Toy & Train museum in Wheeling.
Wisconsin: Shop the Dane County Farmer's Market, eat some cheese and go to a Green Bay Packers game.
Wyoming: Go to Cheyenne Frontier Days if possible and then visit Yellowstone and watch the Old Faithful Geyser erupt.
As I mentioned there are so many things to do in each state, I'm sure I missed something! If you think that anything should be added to this list please let me know!
Sources:
http://www.huffingtonpost.com/2014/02/25/to-do-in-america_n_4775300.html
http://www.travelchannel.com/destinations/united-states/photos/50-states-50-landmarks
http://www.fiked.com/50-places-to-visit-in-the-50-states-of-america/
http://50statesedmd.wikispaces.com/file/view/homepage_pic.jpg/176097289/homepage_pic.jpg

Whitney Saupan
Weekly Newsletter Contributor since 2013
Email the author! whitney@dvo.com