Sugar Plums: What Are They?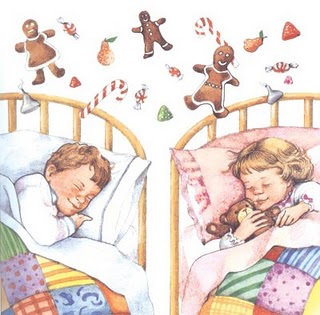 "'Twas the night before Christmas, when all through the house, Not a creature was stirring, not even a mouse; The stockings were hung by the chimney with care, In hopes that St. Nicholas soon would be there; The children were nestled all snug in their beds; While visions of sugar-plums danced in their heads."
Most of us have read or heard Clement Clark Moore's famous poem. It's a classic and in my opinion something that should be read each year before Christmas. The poem describes a picturesque Christmas, but I have always wondered what is a sugar-plum? Is it an actual plum coated in sugar? Is it some sort of plum-flavored jelly candy complete with sugar coating? Or is it something completely different? The answer: yes. Read on to find out what I mean.
To understand what I mean, we've got to examine the history of sugar-plum just a little bit. When Moore's poem came out "sugar-plum" was a term that was commonly used to describe comfit. For those of you that don't know what that is, don't worry, I didn't know either, comfits are small items like seeds or nuts that act as a base for sugary candies. Basically, it's the inside of a sugary candy. The term "sugar-plum" also used to mean "something very pleasing or agreeable." So any sort of goodie could technically be a "sugar-plum."
Now that we've explored a tiny bit of the sugar-plum history, I can explain why sugar-plums are sugared plums, flavored candies, and something completely different.
---
A sugar-coated plum?
You'd be surprised how many different things pop up when you Google "What is a sugar plum?" One thing that pops up is a recipe from Food Network (click for Sugar-plum Recipe!). This recipe calls for dried plums, apricots, figs, and, of course, sugar. There are also other ingredients that make the sugar plum complete. This is what pops into my mind when I imagine what a sugar plum is. Although I'm not a huge fan of plums, I might be willing to give this recipe a try.
---
A plum-flavored jelly candy?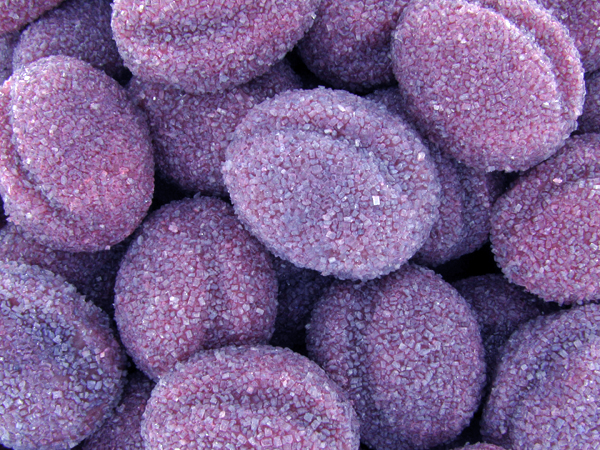 Of all the places to find "sugar-plums" the last place I'd think of is the mall. But last Christmas that's exactly where I found them. They looked exactly like the picture above. They tasted good, nothing like a plum, but good. These candies are sold only during the Christmas season and can be difficult to find.
Interestingly enough, sugar-plums, at least the candies with artificial plum flavoring and lots of sugar, were not created after Moore's poem came out.
---
Something Different?
We've talked about a literal plum that has been sugar-coated, jelly candies, but we haven't talked about the fact that "sugar-plums" can be anything delicious that you like. If we use the old meaning of the word that I mentioned before, "sugar-plum" can be any sweet treat you'd like.
There are a lot of different explanations and answers to what a sugar-plum really is. Whatever the real answer, it's become associated with Christmas and with happy memories. So whether your sugar plum is literal, gummy, or something completely different, I hope visions of sugar-plums dance in your heads!
---
Sugarplums
Author: Recipe courtesy Alton Brown, 2009
Total Time: 13 hr 45 min
Yield:
approximately 80 (1/4 ounce) balls
Serving size:

25


Calories per serving:

95




Ingredients:
6 ounces

slivered

almonds

, toasted
4 ounces

dried

plums
4 ounces
dried apricots
4 ounces

dried

figs
1/4 cup
powdered sugar
1/4 teaspoon

anise seed

, toasted
1/4 teaspoon

fennel

seeds, toasted
1/4 teaspoon

caraway

seeds, toasted
1/4 teaspoon

ground

cardamom
pinch kosher

salt
1/4 cup
honey
1 cup

coarse

sugar
Directions:
Put the almonds, plums, apricots, and figs into the bowl of a food processor and pulse 20 to 25 times or until the fruit and nuts are chopped into small pieces, but before the mixture becomes a ball.
Combine the powdered sugar, anise seeds, fennel seeds, caraway seeds, cardamom, and salt in a medium mixing bowl. Add the nut and fruit mixture and the honey and mix using gloved hands until well combined.
Scoop the mixture into 1/4-ounce portions and roll into balls. If serving immediately, roll in the coarse sugar and serve. If not serving immediately, put the balls on a cooling rack and leave uncovered until ready to serve. Roll in the coarse sugar prior to serving.
The Sugarplums may be stored on the cooling rack for up to a week. After a week, store in an airtight container for up to a month.

Recipe formatted with the Cook'n Recipe Software from DVO Enterprises.
---
Sources:
http://www.cupcakeproject.com/2012/12/sparkly-sugar-plums-for-christmas.html
http://www.foodnetwork.com/recipes/alton-brown/sugarplums-recipe/index.html
http://www.cupcakeproject.com/2012/12/sparkly-sugar-plums-for-christmas.html
http://www.theatlantic.com/health/archive/2010/12/sugar-plums-theyre-not-what-you-think-they-are/68385/
---


Whitney Saupan
Weekly Newsletter Contributer since 2013