What to Do

With One of Winter's Finest Offerings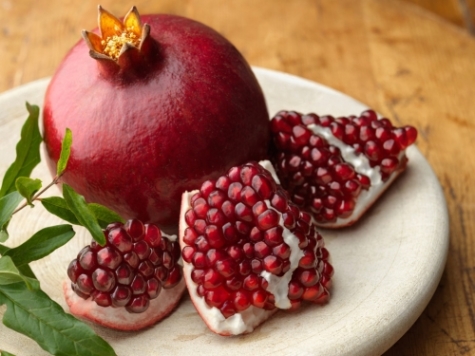 A dear friend brought me a gift the other day that included a huge, beautiful pomegranate. What a thoughtful treat! Besides being a pretty fruit, it is nutrient-dense, and antioxidant-rich. It's been revered as a symbol of health, fertility, and eternal life.
While pomegranate juice is available year round, you can purchase fresh pomegranates in most grocery stores from September through January. When refrigerated in a plastic bag, pomegranates keep for up to 2 months.
Seeding a pomegranate can be messy and may seem like a lot of work for just a piece of fruit but it's well worth the effort. They are rich in phytochemical compounds, contain high levels of flavonoids and polyphenols, and are potent antioxidants offering protection against heart disease and cancer. A glass of pomegranate juice has more antioxidants than red wine, green tea, blueberries, and cranberries.
Considered the most powerful anti-oxidant of all fruits, pomegranates offer potent anti-cancer and immune-supporting effects; inhibit abnormal platelet aggregation that could cause heart attacks, strokes, and embolic disease; lower cholesterol and other cardiac risk factors; lower blood pressure; promote reversal of atherosclerotic plaque; and relieve or protect against depression and osteoporosis.
And speaking of seeding this fruit, here's a good way to do it:
Cut the crown (protruding blossom end) off, removing with it some of the pale-yellow pith. Take care not to pierce the seeds within.
Lightly score the skin in quarters from stem to crown end.
Immerse the scored fruit in a large bowl of cool water and soak for 5 minutes.
Holding the fruit under water, break sections apart with your fingers, separating the seeds from membrane. The seeds will sink to the bottom of the bowl.
Discard the skin and membranes. Drain the seeds and dry on paper towels.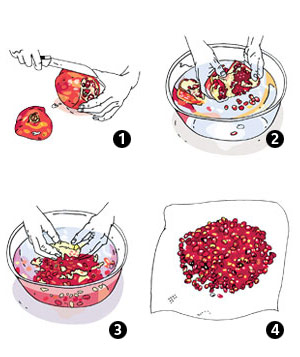 Once you have the seeding mastered, here are a few ideas for using this delicious and healthy fruit:
I like to toss the seeds (technically known as arils, or flesh-covered seeds) on a salad—they add a brilliantly colorful, crunchy, and nutritious touch.

Because we have a high speed blender (Blend Tec now, since I gave our Vita Mix to our daughter), I add seeds to my green drinks when the fruit is in season.
Besides just eating them out of hand or adding them to salads, they are wonderful in desserts (tapioca pudding, for instance!).
An adventurous nephew created a pomegranate seed and peanut butter sandwich that has now become a family favorite.
They're terrific scattered atop a bowl of hot oatmeal.
A delicious treat is mixing the seeds in plain Greek yogurt with a little raw honey.
Pomegranate slushies are easy and delicious. Just put a pomegranate's worth of seeds in the blender; blend the liver out of them and then strain it all through cheesecloth (twist and squeeze to get all the juice); add sugar (or xylitol) to taste, and freeze. During the freezing process, stir it every hour or two. This makes a scrumptious dessert served after a big hearty winter meal—refreshing and sweet but still wintry. A little can go a long way, and you can have it after dinner for a week or two.

Add them to pumpkin muffins.
They work well in couscous salad, with arugula, pine nuts, and crumbled feta. Use a citrus-y dressing.
Finally, you can put them in cottage cheese.
Now it's your turn. What do YOU do with pomegranates? While we wait for your answer, let's slice one up and enjoy—and here's to your health as we savor one of winter's finest offerings!
---
Sources:
www.htibw.com
www.realsimple.com
www.theendlessmeal.com
www.pankajbhadouria.com
---


Alice Osborne
Weekly Newsletter Contributer since 2006