Clementines or Cuties—
Whatever You Call Them, They're VERSATILE!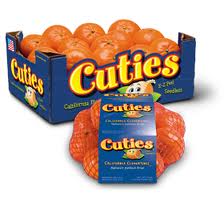 Clementines: probably the designated citrus of winter. They are small oranges that are seedless, easy to peel, and—when well-grown and ripe—perfectly sweet to eat.
We like to set out a large bowl of this scrumptious fruit as part of our Christmas d?cor. They don't stay around long, though—they're simply too good. And we just love how their sunny color brightens the house and how their floral aroma permeates the house and chases the gloomy, rainy, dark winter away!
In the U.S. clementines are often marketed as "Cuties" or "Sweeties" and sold in small crates or boxes, especially around Christmas time. Their association with the holiday season is a reasonable one since they are in season from late November into January.
While clementines should be stored in a cool place, they shouldn't be refrigerated. And if they come in a plastic bag, be sure to remove them—plastic will make them sweat and spoil much quicker than they would if they were just left out to breathe (this is true of all citrus). Keep them relatively cool and out of direct sunlight and they should last for several weeks.
Now in the off-chance you have extras hanging around, and you don't know what to do with them (seriously?), here are a few ideas on some fun and unique ways to use this awesome fruit:
Fresh clementine salsa: Combine clementine sections, diced roasted red peppers, canned black beans, diced jalapeno pepper, fresh cilantro, fresh lime juice and ground cumin.

Easy dessert topper: Top store-bought cheesecake with orange marmalade and clementine sections.
Citrus barbecue sauce: Puree clementines into your favorite barbecue sauce for chicken, pork and steak.
Clementine-infused cake: Replace the milk in your favorite white cake mix with clementine juice (made in your high-speed blender to capture the full fruit); add a little finely grated clementine zest to the frosting.

Easy citrus breakfast or snack: Top whole grain toast with cream cheese and clementine sections.
Citrusy side dish: Add chopped clementine sections to your favorite rice pilaf mix and top with toasted nuts.
Clementines dipped in chocolate and sea salt: I first saw this done with Mandarin orange sections (as shown in picture), so I tried it with my Clementines and it works great! And they're yummy!

Orange Julius made with Clementines: We love clementines pureed with vanilla Greek yogurt and an extra dash of vanilla extract. This is an amazing healthy snack or dessert.
---
Sources:
www.teenagetaste.com
www.hmrdiet.com
www.mariolacookingtherapy.blogspot.com
www.ohmyveggies.com
---


Alice Osborne
Weekly Newsletter Contributer since 2006