Keep Your Apples Crisp!
(Plus a Ymmy Recipe!)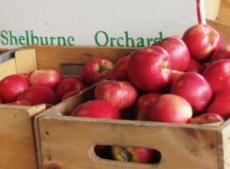 It's National Apple month, and they are grown in every state in the continental United States. Top-producing states include Washington, New York, Michigan, Pennsylvania, California, and Virginia. It's no wonder that apples are a favorite fruit and most picked choice for pies. They're juicy, sweet or tart, crisp, and they satisfy the need for chewing—a very big deal when you're cutting calories and trying to eat more whole foods.
But there are even more reasons to eat apples and apple products! They truly are the "superfruit" for everyone. The health benefits of apples and apple products were first recorded as early as medieval times, giving rise to the old English saying "Eat an apple before going to bed makes the doctor beg his bread" and its modern day variation, "An apple a day keeps the doctor away."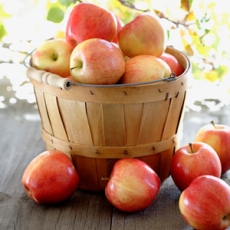 Research has verified this statement and recent studies have linked apples/apple products to helping with everything from weight loss to different types of cancer, heart disease, type 2 diabetes, and even asthma.
Some of the most recent studies on apples and apple products have linked apples with improving the symptoms of Alzheimer's disease and possibly decreasing the risk for developing it, as well as improving immunity and gut health (due to the pectin-soluble fiber) found in apple peel.
Apples stay fresher for a longer period of time when kept a little cold. Most modern refrigerators have a fruit drawer or crisper drawer, and if your refrigerator has a drawer like this, store your apples there. If not, place them in an uncovered plastic container near the back of the refrigerator, where it tends to be coldest.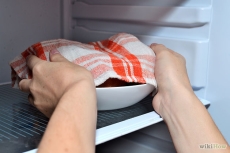 Drape a damp towel over the apples in the refrigerator (whether in a crisper drawer or not). Aside from cold temperatures, apples also need a small amount of moisture to stay their freshest. Laying a damp towel over them provides just enough moisture, but be sure not to seal them in an airtight container or drawer.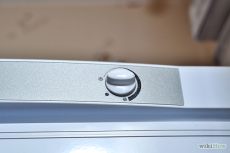 Monitor the temperature, if possible. If you have a temperature control dial for your crisper drawer, set it to a temperature between 30 and 35 degrees Fahrenheit (-1.1 to 1.7 degrees Celsius). This is the ideal temperature range for storing apples. Keeping them in colder conditions will cause the cells to break down, leading to mushy, inedible apples, and storing them in conditions that are warmer by only 10 degrees Fahrenheit (12.2 degrees Celsius) can cause them to ripen twice as quickly.
Check your apples often, but storing them this way will keep them crisp and juicy for up to 3 weeks. Now for one of our favorite fresh apple recipes: a smoothie we make for breakfast, lunch, or dinner. It's also a great accompaniment to popcorn when watching movies!
---
Apple Maple Smoothie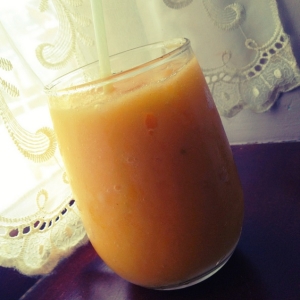 Apple and maple are a flavor combination that can't be beat. Enhance with orange and you have folks asking for seconds! This works well and is delicious even without heating the orange juice and maple syrup.
Serving size:

6


Calories per serving:

110




Ingredients:
2 cups
orange juice
4 tablespoons

natural Grade B

maple syrup
2 cups

apple cider

chilled
2-3

whole

apples

seeded, stems removed, and cut into chunks
2 cups

sparkling or mineral

water

(Perrier, for example)
ice

cubes
Directions:
Pour the orange juice in a small saucepan, and stir in the maple syrup. Place over medium heat and bring almost to a boil. Remove from heat, stir once or twice, and let cool to room temperature. Meanwhile, puree well-washed apples in high speed blender, peel and all. Pour the apple cider into a pitcher, add the cooled orange juice, the apple puree, and the sparkling water. Mix well. Serve immediately over ice.

Recipe formatted with the Cook'n Recipe Software from DVO Enterprises.
---
Sources:
www.simplystated.realsimple.com
www.delish.com
www.wikihow.com
www.flickr.com
---


Alice Osborne
Weekly Newsletter Contributer since 2006